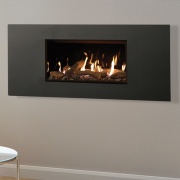 The Gazco Studio Steel 2 is for those with larger spaces who wish to create a greater presence with their choice of fire. The striking, landscape Steel 2 fascia frame in graphite finish instantly creates a distinctive and individual focal point. Operated by programmable remote control.
£2,679.00£3,354.00
---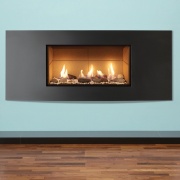 The ultra contemporary Verve surround complements the Gazco Studio Balanced Flue beautifully. With a high quality, powder coat finish in Graphite, not only does the Studio balanced flue gas fire give you high efficiency and overall performance – it has the sophisticated finish to match!
£2,879.00£3,604.00
---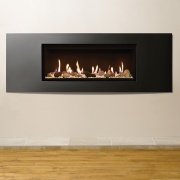 With an eye-catching 3D curve and five stylish finishes, the Gazco Studio Verve glass-fronted gas fire instantly creates a designer look in your living room and is the perfect way to accentuate the modern landscape flame picture provided by each of the two fire sizes.
£2,759.00£3,444.00
---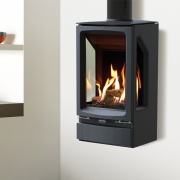 Break away from the norm with this truly stunning, wall-mounted gas stove from Gazco. Designed for fixing raised up on the wall, the Vogue Midi T Wall Mounted model will provide any home with a spectacular centrepiece that boasts superb performance and high efficiency.
£2,479.00£3,099.00
---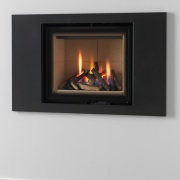 High efficiency and superb heating performance incorporated within a stylish and versatile gas fire. The Legend Ethos 550 is a glass-fronted appliance that can be fitted with various trims or fascia frame as a 'hole-in-the-wall' style fireplace or combined within a suitable fireplace surround without a trim.
£1,380.00£1,495.00
---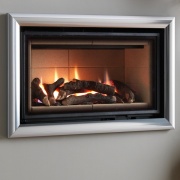 A new, high efficiency gas fireplace for 2014 from Legend Fires! The stunning Ethos Landscape wall-mounted gas fire offers the ultimate in contemporary styling combined with the very latest technology. Staggering 87% efficiency, fabulous heat output of 4.7kW and a range of designer trim options.
£1,590.00£1,695.00
---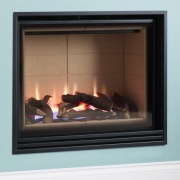 Giving you the option to fit raised up as a 'hole-in-the-wall' gas fireplace or hearth mounted into a suitable custom fireplace, the fabulous Legend Ethos 750 Portrait gas fire will create a bold feature in both classical or contemporary settings. Powerful heat output and amazing efficiency.
£1,690.00£1,795.00
---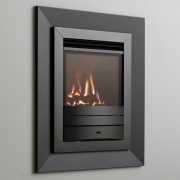 One of the few, wall-mounted balanced flue gas fires with a rear exit balanced flue kit allowing installation on to a standard, flat external cavity wall. The Legend Evora HE 4 Sided balanced flue gas fire combines stunning looks with state-of-the-art technology for homes with no chimney or flue.
£1,075.00£1,190.00
---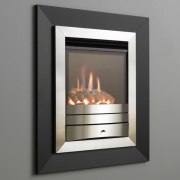 A contemporary styled, 'hole-in-the-wall' gas fireplace that features the popular Legend Evora HE gas fire combined with a sleek, 4 sided fascia frame. This glass-fronted gas fire offers excellent efficiency and impressive heating performance.
£825.00£930.00
---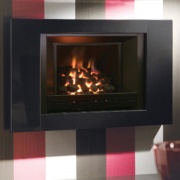 With a stylish, landscape design the Legend Mirage gas fire represents the ultimate in elegantly understated hole in the wall style. Neat lines and discreet controls ensure a minimal exterior façade in striking Piano Black finish plus a vast range of fuel effects.
£845.00£960.00
---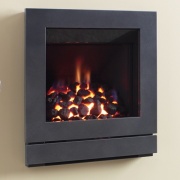 The Legend Sintra's unique, compact design is perfectly suited to the smaller size room. Its uncomplicated styling allow the flickering flames to take centre stage which are further accentuated by the contrast of the gunmetal or piano black fascia frame. Impressive heat output of up to 3.9kW.
£595.00£690.00
---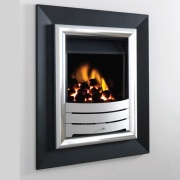 When combined with one of the various, stylish 4 sided fascia frames, the Legend Virage HE high efficiency open-fronted gas fire can be fitted raised up on the wall providing your home with a striking, contemporary feature. This 'hole-in-the-wall' model boasts a 4.6kW heat output!
£665.00£780.00
---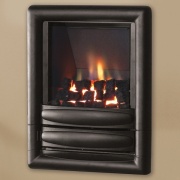 The hole-in-the-wall version of Pureglow's stunning Carmen gas fire is available in two depths and therefore suitable for all flue types including Class 2 Precast. Ideal for smaller rooms and wall spaces, this stylish model incorporates a highly desirable cast fascia in three beautiful colours.
£515.00£598.00
---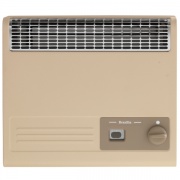 Wall heaters offer a convenient way to add warmth to colder areas around your home including hallways, extensions and conservatories. The Brazilia F5 features 3 heat settings up to a maximum of 1.5kW and is available with an optional conversion kit for LPG properties.
£329.00£449.00