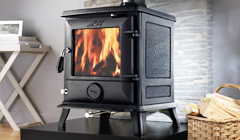 A dedicated wood burning stove burns the fuel on a flat surface inside the stove and operates more efficiently when the fuel is burnt on a bed of ash. A popular fact about wood burning stoves is their environmental benefits and heating capability. With a vast range of designs to choose from from traditional 'black boxes' to contemporary European designs, it's easy to find a woodburner that's perfect for your lifestyle.
View range »
---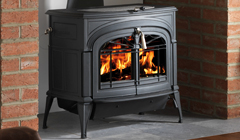 In addition to wood, a multi-fuel stove gives you the option of burning a variety of fuels subject to manufacturers recommendations. These normally include smokeless fuels, anthracite and peat briquettes. This is possible by the inclusion of a raised grate and ashpan and Unlike wood burning stoves, the fuel bed needs to be de-ashed to create optimum combustion and efficient burning.
View range »
---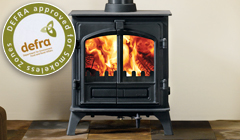 Due to the rise in popularity in wood burning stoves, manufacturers are having models in their range approved by DEFRA allowing users to burn wood even if they live in a smoke controlled area. DEFRA approved stoves are exempt from the Clean Air Act due to the way they efficiently and cleanly burn wood making them popular with home-owners in built up areas. Wood burning and Multi-Fuel models available.
View range »
---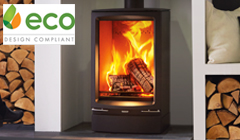 The SIA's EcoDesign Ready scheme has been put into place to ensure new British wood burning stoves meet high environmental standards ahead of the EcoDesign requirements, minimising emissions for cleaner burning products now, as opposed to later. As covered by Which?, the new scheme means that you can choose an EcoDesign compliant stove or fire for your home right away.
View range »
---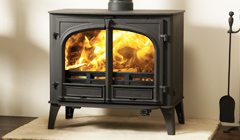 Boiler stoves have the capability of providing your home with hot water and also power central heating systems. You can enjoy the ambience and warmth of burning wood or solid fuels plus the additional advantage of exceptional, efficient heating performance for other areas in your home. Our range comprises of smaller stoves with 'clip-on' boilers for hot water only or larger, full central heating boiler stoves.
View range »
---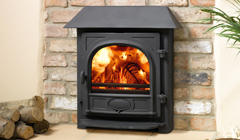 Inset stoves are built in appliances that just have the front face of the stove on show. The main stove body is inset into a fireplace opening or a newly constructed opening in the wall. Inset stoves are available as dedicated wood burning or multi-fuel models are designed to be fitted at floor level on a suitable hearth. Inset stoves are a popular replacement to an open fire as they offer improved efficiency and controllability.
View range »
---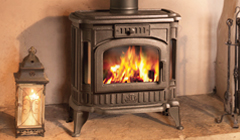 All the charm of a woodburner with the convenience of gas, gas stoves often feature the same body as their wood burning counterparts and offer a authentic feature with impressive efficiency. Gas stoves are available in both traditional and contemporary designs and can be fitted free-standing on their own or combined within a fireplace. Coal or logs fuel effects are common with remote control often available.
View range »
---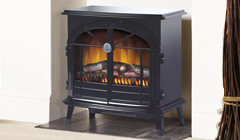 Electric stoves provide a simple way to add a warming, ambient feature in you home without the need of a flue. Many models of electric stoves utilise the same outer casing as their equivalent wood burning or multi-fuel counterparts giving an authentic feel with the added bonus of having just the realistic flames without the need to use the heater. Easy installation means simply place into position and plug in!
View range »
---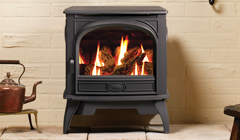 Anyone wanting the look of a wood burning stove but lives in a property with no chimney can take advantage of a balanced flue gas stove. Most models are offered with various balanced flue kits allowing you to vent the fire horizontally through an external wall or 'up & out'. Choose from classical, cast iron models or free-standing contemporary balanced flue gas stoves.
View range »
---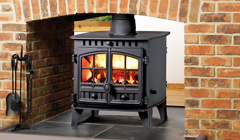 The perfect solution to add both warmth and a charming feature into two rooms, Double Sided Stoves are available in a range of traditional or contemporary models. They have been especially designed to offer superb heating performance and most are offered in a selection of sizes to suit most installation options. Double Sided stoves are suited to central chimney breasts or custom made flue systems.
View range »
---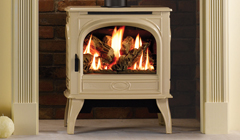 If you're looking for something different, take a look at our fabulous range of Coloured Enamelled Stoves. Available in a variety of deep, gloss finishes including cream, blue and brown, enamel is a thin coating of coloured glass which is fired on to a metal surface. To achieve its translucent and lustrous finish, each casting is especially designed for enamelling and is coated and fired twice.
View range »