We have put together this fabulous, complete fireplace package offered with incredible savings for a limited time! The beautiful Tasmin marble fireplace suite and your choice of Abbey gas fire or electric fire suitable for any home - Don't miss out on this amazing deal only whilst stocks last!
Showroom Exclusive
---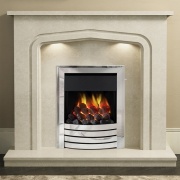 The Cassola is a Tudor Arch style fireplace from Be Modern's 'Plus' range of exclusive fireplace suites. Crafted in England using the very latest marble cutting and polishing machine to create a striking feature ideal for combining with a vast array of gas or electric fires. Also includes ambient downlights.
Showroom Exclusive
£565.00

---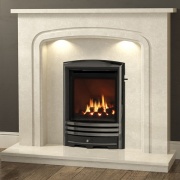 From the exclusive 'Plus' range by Be Modern, the Mirandola features a striking surround in Manila micro-marble boasting attractive scooped arch with a matching back panel and hearth plinth. The Mirandola incorporates under mantel lighting creating a beautiful effect even when fire is not in use.
Showroom Exclusive
£565.00






---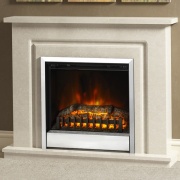 From the exclusive 'Plus' range by Be Modern, the Temperley is a complete electric fireplace suite incorporating a large, LED electric fire with log fuel effect set behind a clear panel. Made in the UK, the Temperley is a neat, compact feature fireplace crafted from luxurious Manila marble.
Showroom Exclusive
£619.00

---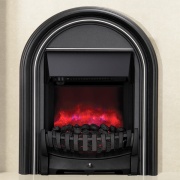 Whilst designed to be fitted into a standard, rectangle fireplace opening, the Be Modern Abbey electric fire features a beautiful, arched cast frame giving the impression of a classical cast insert. Low energy LED flame effect plus instant heat from the 2kW fan heater when needed.
Showroom Exclusive
---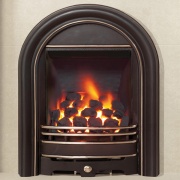 An unusual, inset gas fire that features a striking, cast arched fascia available in highlight black or full polish silver. The Be Modern Abbey gas fire is designed to fit into a standard rectangle fireplace opening and with two inset depth models available, is suitable for all flue types.
Showroom Exclusive





---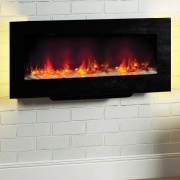 The Be Modern Amari is a stunning, LED electric fire that gives you the option to mount on to any flat wall or display it as a free-standing appliance using the plinth supplied. Panoramic low energy flame effect with ambient back lighting in a selection of colours to suit your mood.
Showroom Exclusive
---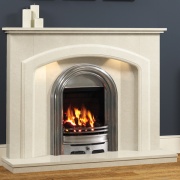 Now updated to feature a wider splayed back panel, the Be Modern Andorra will continue to be one of the most popular models in the range. Crafted in Great Britain, this Manila marble fireplace suite features a glorious sweeping edge with double stepped detail plus the option to add down-lights.
Showroom Exclusive
---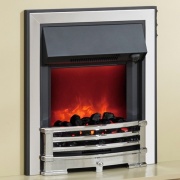 The Be Modern Aspen inset electric fire will compliment both classical and contemporary fireplaces. Supplied in chrome finish, this highly efficient electric fire features a realistic flame effect, a coal fuel bed and easy to operate controls located at the top side of the trim.
Showroom Exclusive
---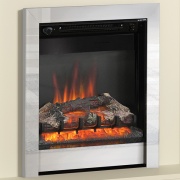 Available in two sizes, the Be Modern Athena inset electric fire provides a stylish, contemporary feature suitable to combine with virtually any fireplace surround. Realistic glowing log fuel bed with state-of-the-art LED flame technology for exceptionally long life and low energy consumption.
Showroom Exclusive
---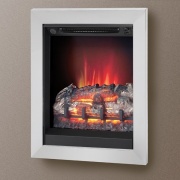 Contemporary styled, wall-mounted inset electric fire with a striking 4-sided chrome trim. The Be Modern Athena wall-mounted electric fire features thermostatic control for added energy efficiency and the latest LED flame technology producing an authentic, smouldering fire flame effect.
Showroom Exclusive
---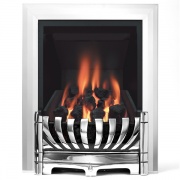 The Avantgarde has been a firm favourite in the Be Modern range of gas fires for many years. This versatile model is available in two depths - a Slimline model ideal for shallow pre-cast flues and a Deepline model giving a realistic fuel fire bed well suited to brick chimney homes.
Showroom Exclusive
---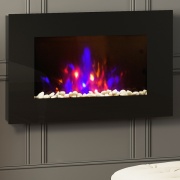 The Azonto by Be Modern is a stylish, wall-mounted electric fire designed to be simply hung on a flat wall. Supplied with 3 changeable fuel effects, the Azonto allows you to select from 7 different coloured flame effects and rear ambient lighting colours for a dramatic contrast to its black glass fascia.
Showroom Exclusive
---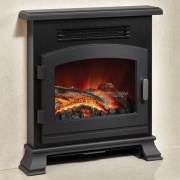 A new model from Be Modern, the Banbury electric inset stove allows any home to achieve a 'woodburner' look without the need of a chimney. Designed to be fitted into a fireplace with a standard 16" opening, the Be Modern Banbury incorporates the latest LED technology.
Showroom Exclusive