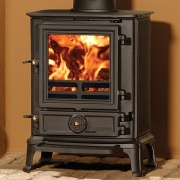 One of the longest established models in the Stovax range of premium stoves, the Brunel 1A is ideal for smaller sized rooms. Quality, cast iron construction available in matt black or a choice of four beautiful high gloss enamel colours. Multi-fuel capability with a nominal output of 4kW.
Showroom Exclusive
---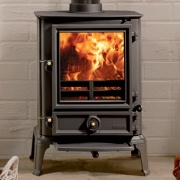 Incorporating a stainless steel baffle that warms up more quickly than cast iron so you start the feel the warmth being distributed around your room more rapidly setting new standards in performance. The Stovax Brunel 2CB has a nominal output of 6kW making it ideal for medium to larger rooms.
Showroom Exclusive
---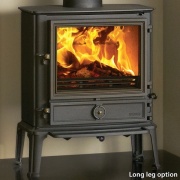 A large, powerful stove that has the ability to burn either wood or solid fuels extremely efficiently. The Stovax Brunel 3CB has a extensive viewing window that is kept clean by the active Airwash system and incorporates a highly innovative Cleanburn system providing superior performance.
Showroom Exclusive
---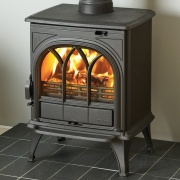 Designed to compliment a variety of interiors from country cottages to modern townhouse, the beautiful Stovax Huntingdon 25 is a versatile stove capable of wood burning or it can also be used to burn smokeless fuels or peat briquettes. DEFRA approval means its also suitable for any area.
Showroom Exclusive
---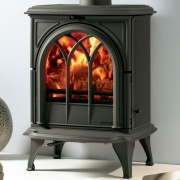 An elegant piece of furniture in its own right with the added benefit of providing an abundance of heat quickly and efficiently. The Stovax Huntingdon 28 is a gorgeous, cast iron wood burning stove featuring Gothic door mouldings in a choice of matt black or high gloss enamel colours.
Showroom Exclusive
---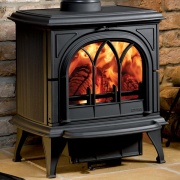 The stylish Stovax Huntingdon 30 features dual air levers, allowing you to select the amount of flames and heat output to suit your needs. It provides exacting control of combustion whilst there is also an external riddling feature to aid the efficient burning of smokeless fuels.
Showroom Exclusive
---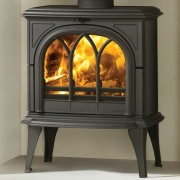 Offered as a dedicated wood burning stove in matt black cast iron with tracery door design or as a multi-fuel model in a choice of finishes. The powerful Stovax Huntingdon 35 is a stylish stove capable of producing adequate heat to medium to large rooms whilst creating a stunning feature.
Showroom Exclusive
---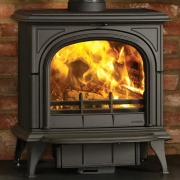 The largest wood burning and multi-fuel stove in the Stovax Huntingdon cast iron range – and the most powerful. With up to 9kW of heat output, the Huntingdon 40 stove is equally at home in both traditional inglenook and modern fireplace settings. Available in a range of colours to suit all interiors.
Showroom Exclusive
---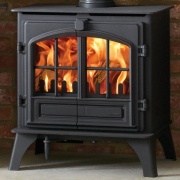 A big stove to make a big impact. Whether you are seeking significant heating potential, a magnificent focal point or have a large inglenook, this generously proportioned stove can achieve all these aspirations. The Stovax Riva Plus Large boasts a nominal heat output of 11kW!
Showroom Exclusive
---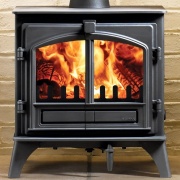 The Stovax Riva™ Plus Medium stove is available either as a dedicated woodburner or as a multi-fuel stove with a specially designed riddling grate. There are several other options to suit your individual needs, such as low or high canopies and an external air facility for draught reduction.
Showroom Exclusive
---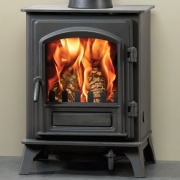 The Stovax Riva™ Plus Small stove features a Cleanburn combustion system allowing it to burn logs or solid fuels with outstanding efficiency. More heat is delivered in to the room and less heat goes up the chimney. This compact appliance is available as a dedicated wood burning stove or a multi-fuel.
Showroom Exclusive
---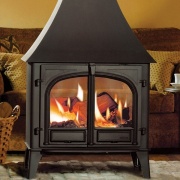 The largest and most powerful model in Stovax's range of double sided wood burning stoves, the Stockton 11 Double Sided model is a perfect solution for central chimneys in large rooms or open plan areas. Available as a flat top or fitted with a decorative large canopy as shown in main images.
Showroom Exclusive
---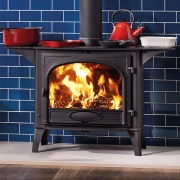 Offering superb flame visuals, the Stockton 11 Cook Stove employs Stovax's triple airflow systems to ensure a firebox filling flame. A powerful Airwash jet keeps the viewing window clear whilst providing additional combustion air. Make the most out of your stove whether cooking, dining or entertaining.
Showroom Exclusive
---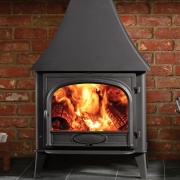 The larger sized Stockton 11 offers up to 11kW heat output and has a choice of flat top, low or high canopy, single or double door versions and four colour options. The Stovax Stockton 11 can look at home in a modern, open plan house or equally in a large inglenook of a country cottage.
Showroom Exclusive