Available in 540 or 680 models to suit all room sizes, the fabulous Stovax Elise Edge is a modern cassette fire with a minimalist, frameless design allowing you to install raised up in the wall or combine within a fireplace surround. Boasting EcoDesign compliance with incredible performance.
Showroom Exclusive
---
As opposed to the completely frameless Edge model, the Edge+ version of Stovax's Elise inset cassette fire includes a small, steel outer trim providing a neat finish whilst retaining the minimalist look. The Edge+ frame is available on both models of this highly advanced wood and multi-fuel fire.
Showroom Exclusive
---
Whether your preference is to create a modern 'hole-in-the-wall' feature or you're looking for a inset wood burner to combine within a fireplace at hearth level, the metallic black Profil frame option on the Stovax Elise is offered in a choice of 3 or 4 sided version and frames the fire beautifully.
Showroom Exclusive
---
Designed to compliment a variety of interiors from country cottages to modern townhouse, the beautiful Stovax Huntingdon 25 is a versatile stove capable of wood burning or it can also be used to burn smokeless fuels or peat briquettes. DEFRA approval means its also suitable for any area.
Showroom Exclusive
---
Adding a brand new family to the Stovax wood burning stove collection, the Sheraton 5 offers timeless aesthetics coupled with exceptional heating capability. A decorative cast iron door frames the large glass viewing window beautifully whilst the cast top and legs adds to the classical style.
Showroom Exclusive
---
With a wider format than the standard model, the magnificent Sheraton 5 'Wide' retains the same heat out due to its shallower depth. This fabulous new stove therefore provides the impact and impressive flame visuals of a much larger stove whilst being perfectly suited to standard sized rooms.
Showroom Exclusive
---
Neat and compact, the smallest model in Stovax's highly regarded range of Stockton steel stoves has been specifically designed to fit into a standard 16" fireplace opening with the chairbrick removed. Despite its modest dimensions, the Stockton 3 boasts multi-fuel capability and 4.8kW output.
Showroom Exclusive
---
Choose from a dedicated wood burning model or for those who wish to have the ability to also burn solid fuels, there is a multi-fuel model also offered. The high efficiency Stovax Stockton 4 is one of the most popular stoves in the Stockton range and ideal both traditional or contemporary interiors.
Showroom Exclusive
---
Featuring a wider body compared to the portrait style of the 3 or 4 models, the Stovax Stockton 5 ticks all boxes for modern day living. Superb high efficiency of up to 85%, a ideal nominal heat output for average rooms of 4.9kW and available as either a dedicated woodburner or multi-fuel stove.
Showroom Exclusive
---
With a wider footprint compared to the standard model, the Stovax Stockton 5 'Wide' Eco allows you to enjoy a better view of the flames from the large viewing window whilst retaining optimum heating performance for standard sized rooms. A multi-fuel appliance with fixed grate.
Showroom Exclusive
---
The Stovax Stockton 8 Eco offers you greater choice with features such as Wood burning or multi-fuel model and single or double doors. This latest model is packed with innovative features and Ecodesign ready with lower emissions and therefore kinder to the environment.
Showroom Exclusive
---
The Studio 1 Freestanding incorporates the impressive firebox performance of a cassette fire with the welcoming presence of a stove. Available with a number of optional extras to help you create the right look for your home including a glass top plate and square flue cover section.
Showroom Exclusive
---
Fitted raised up in the wall, inset cassette wood burning fires provide a stylish, modern feature and offer a perfect eye-level view of the dancing flames. The Stovax Studio 1 can be supplied with numerous frame options and has a heat output of 5kW making it ideal for standard sized rooms.
Showroom Exclusive
---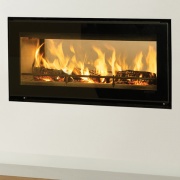 Whether as a centrepiece to an open plan living space, or as a connecting feature between two separate rooms, the Stovax Studio 2 Duplex wood burning fire offers an undeniably contemporary aesthetic and the ultimate appeal in dual space heating. A double-sided fire with a choice of trims.
Showroom Exclusive