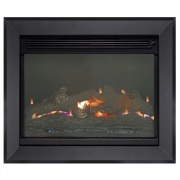 Designed for inset installation, the Burley Acumen 4111 boasts an incredible heat output of 4.2kW! Supplied with the attractive Silhouette 4-sided trim, this stylish 'hole-in-the-wall' flueless fire is ideal for homes without a flue and will provide real, dancing flames set behind a glass window.
£1,229.00£1,500.00
---
A real alternative to a wood burning stove with the benefit of not requiring a chimney or flue! The Burley Ambience Flueless Gas Stove has a authentic log effect with real flickering flames producing a impressive maximum heat output of 3.5kW whilst boasting 92% useful energy efficiency!
£899.00£1,100.00
---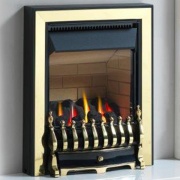 The Environ 4240 flueless gas fire is a timeless design that will enhance a wide variety of fireplace styles. Finished in Brass & Black, this highly advanced gas fire can be inset or made free-standing using the optional spacer. Enjoy real flames and 100% efficiency without a chimney or flue!
£589.00£690.00
---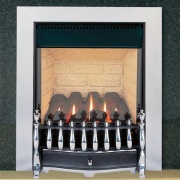 Featuring a Chrome trim and front, the Burley Environ 4242 is well suited to modern fireplaces. This highly advanced flueless gas fire incorporates a catalytic convertor which cleans the fumes turning converting the oxygen and carbon monoxide to harmless carbon dioxide.
£589.00£690.00
---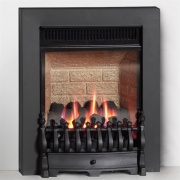 The sleek, Black trim and front on the Environ 4244 Flueless Gas Fire accentuate the dancing flames and provide a stunning feature for your fireplace. Available in Manual, Slide or Remote control, this versatile, glass-fronted gas fire is ideal for homes without a chimney or flue.
£589.00£690.00
---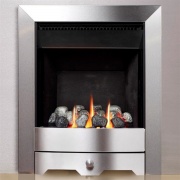 The contemporary model in Burley's Environ range of flueless gas fires. The 4247 can be inset into a fireplace back panel or if you don't have any recess depth available, an optional spacer frame allows the fire to be fitted freestanding. Stylish Brushed Steel fascia with Pebble fuel effect.
£589.00£690.00
---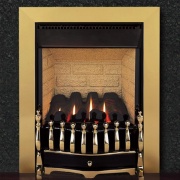 Ideal for homeowners in properties without a chimney or flue who want to enjoy the character and warmth of a real flame gas fire. The Burley Environ 4248 is a flueless gas fire incorporating the very latest catalytic technology. This glass-fronted gas fire is offered with three control options.
£589.00£690.00
---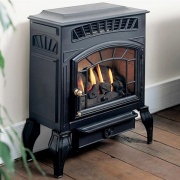 Flueless gas stove that provides flickering flames over a glowing coal fuel bed whilst not requiring a chimney or flue. Using state-of-the-art catalytic technology, the Burley Esteem 4221 oxygen depletion sensor constantly monitors the air quality in the room whilst boasting incredible efficiency!
£829.00£990.00





---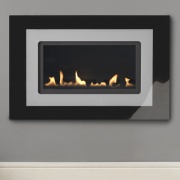 The Burley Latitude gives everyone the opportunity to enjoy a real flame fire that doesn't lose any of the heat produced up a chimney or flue. Supplied with a choice of fashionable fascia frames, the Latitude will add instant warmth and ambience in modern homes.
£999.00£1,200.00
---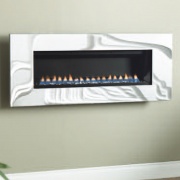 The stunning, sleek design of the Burley Longitude makes a perfect centrepiece for contemporary living areas. This highly advanced flueless gas fire is extremely slim in design which means that it can be fitted on a
flat wall without being recessed. Operated by remote control as standard.
£1,229.00£1,480.00
---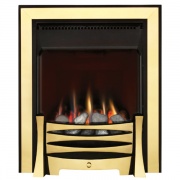 The Perception 4260 features a modern front in Brass with Black detail making it well suited to contemporary interiors. Burley's range of Flueless gas fires give levels of convenience and efficiency and with no requirement for a chimney, a beautiful instant fireplace can be created easily.
£589.00£690.00
---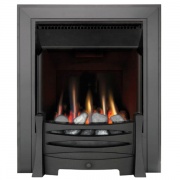 The all Black finish of the Burley Perception 4264 ensures it really stands out - especially in lighter coloured fireplaces. Flames dancing over a cool Pebble fuel effect create a lovely, cosy atmosphere whilst being a flueless gas fire, it boasts amazing efficiency with all heat produced entering the room.
£589.00£690.00
---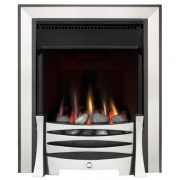 A fashionable centerpiece for your fireplace, the Burley Perception 4267 includes a modern trim and front in Brushed Stainless Steel which helps to accentuate the contemporary Pebble fuel effect. A flueless gas fire with catalytic technology which can be inset or fitted freestanding.
£589.00£690.00
---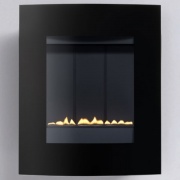 Sleek and stylish with a new black glass fascia that adds to the contemporary feel of this wall-mounted flueless gas fire. The Eko Fires 5010G is an ideal solution for homes without a chimney or flue as it can be simply hung on a flat wall and connected to a gas supply to create a modern feature.
£469.00£589.00