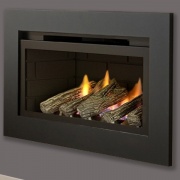 Superb performance and efficiency in a neat, modern design. The glass-fronted Crystal Boston gas fire gives you the opportunity to tailor the fuel bed, interior and trim to your personal taste to create a stylish 'hole-in-the-wall' gas fire feature ideal for fashionable modern living.
£895.00£999.00





---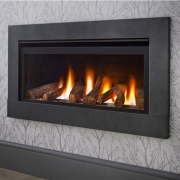 A wider option of Crystal Fires superb Boston glass-fronted, high efficiency gas fire. Offered with a wide selection of trim colours to suit any colour scheme, the 'hole-in-the-wall' Boston Wide is capable of providing up to 4.6kW of heat and is offered with manual or remote control.
£1,095.00£1,245.00
---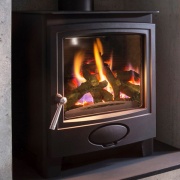 Proudly made in Great Britain, the California gas stove from Crystal Fires provides a convenient alternative to a real log burner. Strong style body coupled with an attractive cast iron door with large glass viewing window for a wonderful view of the realistic log effect fuel bed.
£1,149.00
---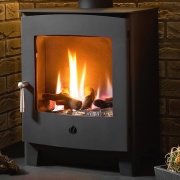 An attractive, conventional flue gas stove from Crystal Fires which includes an authentic log effect fuel bed set behind a large glass viewing window. Operated by remote control, the Connelly Gas Stove boasts an impressive maximum heat output of 4.5kW with high efficiency up to 84%.
£1,075.00
---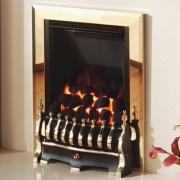 A very popular inset gas fire ideal for those with limited depth, Class 2 Pre-Cast flues. The Crystal Diamond has a slimline fire box of only 100mm (4") making it suitable for the shallowest of spaces. Despite it's reduced inset depth, it's still capable of providing up to an impressive 3.18kW of heat!
£249.00£389.00
---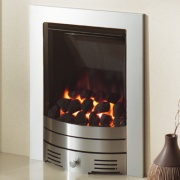 A sleek, one-piece fascia gives the Crystal Diamond inset gas fire a more contemporary feel which will provide any modern fireplace with a stylish centrepiece. Designed especially for shallow Pre-Cast flues, the Diamond has a reduced inset depth of only 100mm! Manual or Remote control option.
£249.00£389.00
---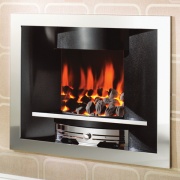 The Emerald is one of a small number of open-fronted 'hole-in-the-wall' style fireplace that has performance to match it's fashionable looks. Combing the Crystal Gem inset gas fire with a stylish outer fascia in a choice of 'Emerald' or 'Scoop' designs. Coal or Pebble effect with heat output of up to 3.88kW!
£689.00£879.00
---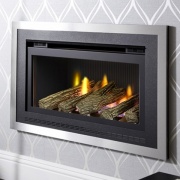 The glass-fronted Florida is a cutting-edge gas fire from Crystal Fires that incorporates a twin fan convector system within the fire that actively draws cold air from the room, circulates it around the back of the fire and expels this extra heat back into the room! Offered in a vast range of striking colours.
£1,149.00£1,349.00
---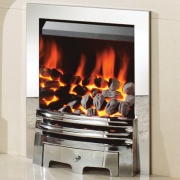 The Gem is the hottest model in Crystal Fire's open-fronted range of inset gas fires boasting a fabulous maximum heat output of 3.88kW. Mesmerising flames dancing over a coal or pebble fuel bed and offered with a large choice of trims and frets to tailor the fire to your exact requirements.
£379.00£499.00
---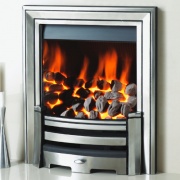 A delightful, modern looking inset gas fire providing warmth and ambience for your home. The Crystal Gem with fascia frame is a stunning gas fire which has a open front allowing you to enjoy the glowing fuel bed and flickering flames in all their glory! Superb high output of up to 3.88kW!
£379.00£499.00
---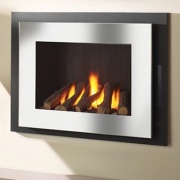 A visually stunning, contemporary gas fire that boasts high efficiency combined with impressive heating performance. The Crystal Fires Manhattan is designed as a 'hole-in-the-wall' model and is offered with a choice of fuel effects plus endless fascia options. Remote control operation for ease of use.
£1,089.00£1,399.00
---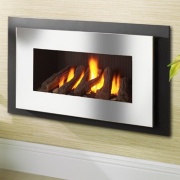 With more landscape proportions than its sister fire the Manhattan, the Crystal Fires Miami is a glass-fronted, hole-in-the-wall gas fireplace featuring a choice of logs, driftwood or pebble fuel effect and a vast array of fascia colours. Operated by remote control and with a high heat output of 4.3kW.
£1,089.00£1,399.00
---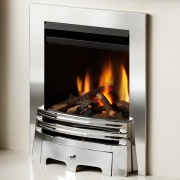 The Crystal Montana HE is a high efficiency gas fire that is the ideal replacement for an existing, standard sized fire. It is capable of offering superb heating performance but will help to reduce running costs due to lower gas consumption. Choose from a variety of trim and fret options.
£495.00£640.00





---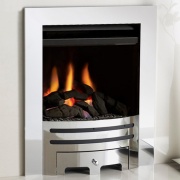 Offering excellent high efficiency and plenty of heat without compromising on style, the Crystal Montana HE is offered here with a choice of stylish, contemporary fascia options. This glass-fronted fire is available with your choice of coal, pebble or campfire logs and will suit modern fireplaces.
£495.00£640.00