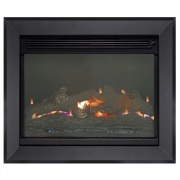 Designed for inset installation, the Burley Acumen 4111 boasts an incredible heat output of 4.2kW! Supplied with the attractive Silhouette 4-sided trim, this stylish 'hole-in-the-wall' flueless fire is ideal for homes without a flue and will provide real, dancing flames set behind a glass window.
Showroom Exclusive
---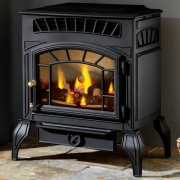 A real alternative to a wood burning stove with the benefit of not requiring a chimney or flue! The sensational Burley Ambience Flueless Gas Stove has a authentic log effect fire bed with real flickering flames producing a impressive maximum heat output of 3.5kW whilst boasting 92% useful energy efficiency!
Showroom Exclusive
---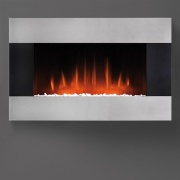 Giving you a simple solution to add a stylish focal point to most rooms in your home. The Burley Ashbury 6605 is designed for hanging on to a flat wall without the need to inset. It features a realistic flame effect created using standard bulbs which can be used independently of the 1.2kW heater.
Showroom Exclusive
£199.00

---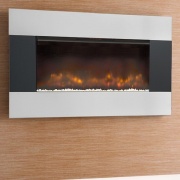 Incorporating the very latest LED technology producing a mesmerising flame picture that can be enjoyed with or without the heater function. The Burley Ashwell 570-R is another new model from Burley for 2015 which gives you the option of flush or semi-inset installation for any home.
Showroom Exclusive
---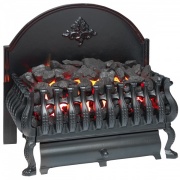 The Burley Cottesmore provides a simple way to bring any fireplace opening to life. Just plug in to a electric socket to enjoy the flickering glow effect and 1kW or 2kW heat output. The Cottesmore Cottesmore 224 has black legs and back plate ideal for classical interior settings.
Showroom Exclusive
---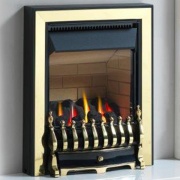 The Environ range of flueless gas fires from Burley is available in a wide variety of styles and is the perfect way to enjoy real, flickering flame even if your property doesn't have a chimney or flue. Suitable for inset installation into a fireplace or can be made free-standing using the optional spacer.
Showroom Exclusive
---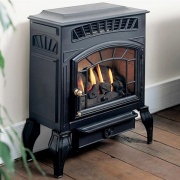 Flueless gas stove that provides flickering flames over a glowing coal fuel bed whilst not requiring a chimney or flue. Using state-of-the-art catalytic technology, the Burley Esteem 4221 oxygen depletion sensor constantly monitors the air quality in the room whilst boasting incredible efficiency!
Showroom Exclusive





---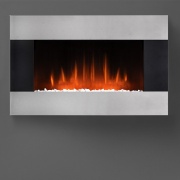 Simple, 'hang-on-the-wall' installation allowing the Burley Gaston 503-R to be fitted on to virtually any flat wall in your home. Black finish with top & bottom panels in silver creating a striking, modern feature. Impressive virtual flame effect with white stones plus an integrated 1.2kW heater.
Showroom Exclusive
£199.00

---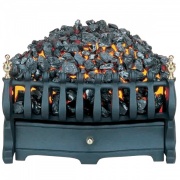 A simple solution to bring a standard 16" fireplace opening to life, the Burley Halstead is a tapered electric fire basket offered in two variants. The Halstead 292 is supplied with a antique Blenheim fret in black & brass whilst the Halstead 292 features a black Blenheim fret with brass finials.
Showroom Exclusive
£220.00

---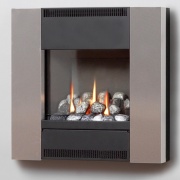 A contemporary, wall-mounted gas fire which features the very latest technology producing real flames and 100% efficiency without the need to fit into a flue. The Burley Image 4237 flueless gas fire features a brushed steel contrast fascia and boasts the very latest flueless technology.
Showroom Exclusive
---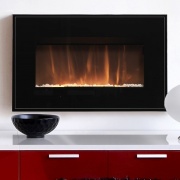 Superb low price despite boasting innovative features such as thermostatic control and a authentic, virtual flame effect. The new Burley Langham 504-R can be easily fitted on to almost any flat wall in your home including living rooms, dining rooms and conservatories with no chimney or flue needed!
Showroom Exclusive
£199.00

---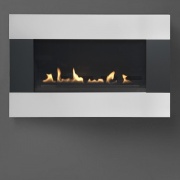 The Burley Latitude gives everyone the opportunity to enjoy a real flame fire that doesn't lose any of the heat produced up a chimney or flue. Supplied with a Contrast trim in black & stainless steel, the Latitude will add instant warmth and ambience in modern homes.
Showroom Exclusive
---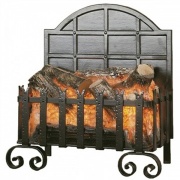 A traditionally styled electric basket fire crafted using wrought iron and featuring a log fuel bed with flicker effect glow plus a 2kW fan heater when needed. The Burley Lyddington Forge 101 is Ideally suited to inglenook and freestanding installations in properties with or without a chimney.
Showroom Exclusive
---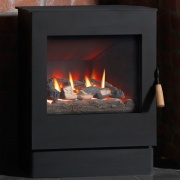 Create the charm and ambience of a real woodburner in homes without a chimney or flue with the new Burley Pickworth Balanced Flue Stove. Designed to be fitted against an external wall, the Pickworth is supplied with a rear exit flue which expels the fumes horizontally through the wall.
Showroom Exclusive
£999.00