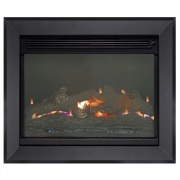 Designed for inset installation, the Burley Acumen 4111 boasts an incredible heat output of 4.2kW! Supplied with the attractive Silhouette 4-sided trim, this stylish 'hole-in-the-wall' flueless fire is ideal for homes without a flue and will provide real, dancing flames set behind a glass window.
£1,099.00£1,400.00
---
A real alternative to a wood burning stove with the benefit of not requiring a chimney or flue! The Burley Ambience Flueless Gas Stove has a authentic log effect with real flickering flames producing a impressive maximum heat output of 3.5kW whilst boasting 92% useful energy efficiency!
£795.00£1,000.00
---
If you require extra heat to provide warmth in larger rooms or open-plan spaces, the Burley Bosworth 9312 is a EcoDesign ready wood burning stove boasting a nominal heat output of 12kW and a mammoth 18.3kW maximum output! Available with optional Base Plinth which raises height by 114mm.
£1,550.00
---
A perfect choice for standard sized rooms, the Bradgate 9305 is from Burley's 'Firecube' range of highly advanced wood burning stoves which offers a nominal heat output of 5kW. Strong, steel construction manufactured in UK and boasting EcoDesign approval.
£1,020.00
---
Boasting truly remarkable efficiency rated at 90.4%, the Burley Bradgate 9305-C EcoDesign ready wood burning stove is so frugal and efficient that you can get a great night's heating from 3 or 4 logs and it is still warm in the morning! 5kW heat output which is ideally suited to standard sized rooms.
£1,150.00
---
Part of Burley's innovative 'Fireball' wood burning stoves, the Brampton 9108 is a stylish appliance that will appeal to those looking for performance, efficiency and a high level of control. With a nominal heat output of 8kW, this highly advanced stove is ideal for larger rooms or open-plan living areas.
£1,150.00
---
For those looking for more heat, the 8kW Burley Brampton 9108-C is an excellent option. Benefiting from cutting-edge features including Burley's 'Fireball' technology plus a catalytic converter for improved combustion and efficiency, this future-proof wood burner is also EcoDesign 2022 ready.
£1,300.00
---
Modern, tall proportions with a towering portrait viewing window providing the ultimate view of the flames within. The Burley Carlby 9307-C boasts the very latest catalytic technology helping the stove to achieve a powerful 7kW nominal heat output and impressive efficiency of 84.7%.
£1,300.00
---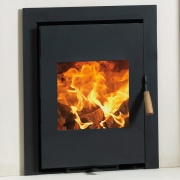 The Coppice 9050 is a Fireball stove from Burley designed to easily convert an inefficient and draughty open fireplace into a highly effective source of heat and centre piece for your home. DEFRA approved to use in smoke controlled areas and benefiting from the optimum 5kW nominal heat output.
£1,150.00
---
A classical combination of black grate with brass legs, the Burley Cottesmore 223 is a traditional basket fire with electric flicker effect plus up to 2kW of heat when needed. An ideal choice to bring any unused fireplace opening to life!
£295.00£330.00
---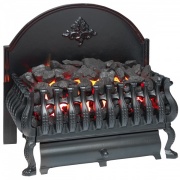 The Burley Cottesmore provides a simple way to bring any fireplace opening to life. Just plug in to a electric socket to enjoy the flickering glow effect and 1kW or 2kW heat output. The Cottesmore Cottesmore 224 has black legs and back plate ideal for classical interior settings.
£295.00£330.00
---
The Debdale 9104-C is a great choice for anyone looking for a highly efficient stove capable of providing heat to smaller sized rooms. An EcoDesign ready wood burning stove which benefits from Burley's amazing 'Fireball' technology resulting in spectacular flame visuals.
£900.00
---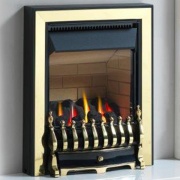 The Environ 4240 flueless gas fire is a timeless design that will enhance a wide variety of fireplace styles. Finished in Brass & Black, this highly advanced gas fire can be inset or made free-standing using the optional spacer. Enjoy real flames and 100% efficiency without a chimney or flue!
£499.00£590.00
---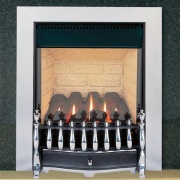 Featuring a Chrome trim and front, the Burley Environ 4242 is well suited to modern fireplaces. This highly advanced flueless gas fire incorporates a catalytic convertor which cleans the fumes turning converting the oxygen and carbon monoxide to harmless carbon dioxide.
£499.00£590.00