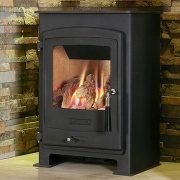 A delightful, stylish gas stove designed for properties with no chimney or flue. The Portway 1 Balanced Flue Gas Stove is supplied with a fully automatic control system and will instantly create a warm and welcoming atmosphere, whilst delivering an impressive 84.2% energy efficiency.
£1,549.00
---
With an ultra-slim body, the Portway 1 Contemporary Multi-Fuel Stove can be installed into a wider range of fireplaces, yet it still maintains a large viewing area. Offered with numerous additions including raised leg plinths, decorative door inserts and two optional gloss enameled door finishes.
£799.00
---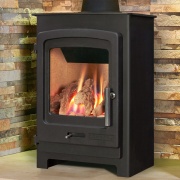 This conventional flue version of the Portway 1 Gas Stove features a realistic log fuel bed with the option to add an additional coal fuel bed. It is a superb solution for anyone looking for the charm and character of a woodburner but with the convenience and control of gas.
£1,299.00
---
With its glass door and top plate, the Portway 1 Glass Multifuel Stove is aimed for those looking for a dramatic, contemporary centerpiece. Offered in a choice of black or bronze, this stunning appliance has a output of 4.9kW and is suitable for use in Smoke Control Areas, as recommended by DEFRA.
£1,285.00
---
The styling of the Portway 1 Traditional make it an elegant addition to classical inspired interiors. Compact in size, the stove has a nominal heat output of 4.9kW and is constructed from steel with a cast iron top plate and decorative feet. The stove can be used to burn wood in smokeless areas.
£929.00
---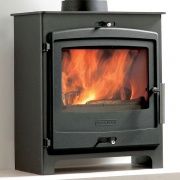 Constructed using the ideal combination of steel for the body and cast iron for the door, the Portway 2 Contemporary is well suited to larger rooms and open-plan living areas as it boasts an impressive heat output of 6.9kW although this can be reduced to 5kW using the optional 'Reducer Bricks'.
£899.00
---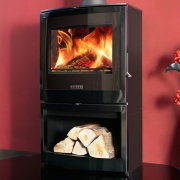 A stunning multi-fuel stove available with standard legs or a log store base. Featuring a modern, curved glass door and matching glass top plate, the Portway 2 Curved Glass has a heat output of 6.9kW which can be reduced to 5kW for standard sized rooms using the optional Reducing Brick kit.
£1,449.00
---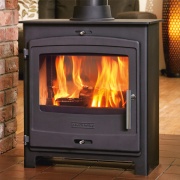 The double-sided Portway 2 multi-fuel stove offers a superb solution to add character and warmth to two adjoining rooms or as a central feature in larger open plan living spaces. Available with either a Contemporary or Traditional cast iron door and capable of providing up to 6.9kW of heat.
£1,179.00
---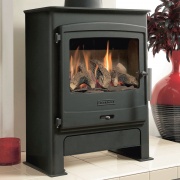 The Portway 2 Contemporary stove is one of the most realistic gas fuelled stoves on the market. Based on the popular styling of the Portway 2 Contemporary stove it is available in a choice of log or coal fuel bed and is operated by a fully automatic remote control system.
£1,439.00
---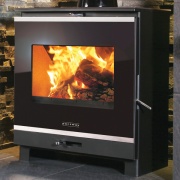 The Portway 2 Glass stove is a sleek, contemporary stove featuring a glass fronted door with polished chrome detail and matching glass top which creates an ultra-modern look and feel. The Portway 2 Glass has a maximum heat output of 6.9kW and is suitable for use in smoke control areas.
£1,389.00
---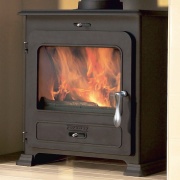 Ideal for classical inspired interiors, the Portway 2 Traditional is a multi-fuel stove boasting the very latest innovations for improved performance and efficiency. Strong, steel body with cast iron top plate, door and decorative feet. 6.9kW which can be reduced to 5kW using optional reducing bricks.
£995.00
---
The latest Portway Arundel is a stylish wood burning stove with multi-fuel capability which now boasts EcoDesign 2022 compliance. Cast iron door with a large viewing window and suitable for use in smoke controlled areas, the Arundel will fit in perfectly with modern living.
£499.00





---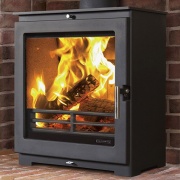 A dedicated wood burning version of the Portway Arundel XL which incorporates the very latest, high-efficiency technology. This large, Class A+ appliance attains a heat output of 5kW with a high energy efficiency value of 82%. The huge glass viewing window provides a wonderful flame view!
£905.00
---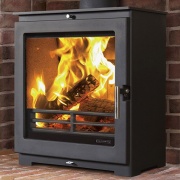 Following on from the huge success of the standard model, the Portway Arundel XL provides even more impact from it's wider body and panoramic glass window yet retains a heat output rating that is ideal for standard sized rooms. Benefits from EcoDesign 2022 compliance.
£799.00