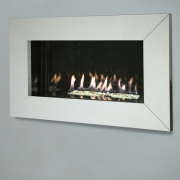 A popular model for no chimney properties, the Kinder Atina HE Balanced Flue Gas Fire features a fabulous black reflective interior which accentuates the spellbinding, dancing flames. Operated by remote control with a choice of Kinder's exclusive trims and fascia options.
Showroom Exclusive
---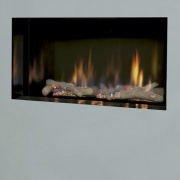 The Kinder Atina HE is a glass-fronted, high efficiency hole-in-the-wall gas fireplace offered as a minimalist, 'frameless' model or you can combine with one of Kinder's exclusive trims or fascias. It is supplied with two fuel effects giving you the option to select the best suited for your home.
Showroom Exclusive
---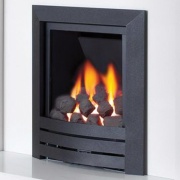 Providing a stunning, finishing touch to any modern fireplace, the sleek Kinder Black magic gas fire is a open-fronted model with a dramatic one-piece fascia in black textured paint finish. The black fascia and coal fuel effect really help to accentuate the dancing, open flames.
Showroom Exclusive
---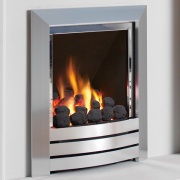 The Camber with its striking looks, clean design lines and highly realistic blazing dancing flames will captivate you on entering the room. Precision manufactured with its deep coal fuel bed, provides an individual combination of aesthetic beauty combined with high quality performance.
Showroom Exclusive
---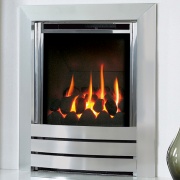 A perfect companion for any contemporary fireplace, the glass-fronted, Kinder Camber HE gas fire combines cutting-edge styling with the very latest technology to create a stunning, designer gas fire that offers low running costs with excellent energy efficiency. Manual or remote control options.
Showroom Exclusive
---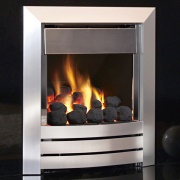 The fabulous Kinder Camber Plus gas fire is certainly a contemporary classic with a wonderfully sleek design that will never go out of fashion. Packed with state-of-the-art technology that produces up to 4.2kW of heat and a net efficiency of 68.3% whilst retaining the ambience of open fronted flames.
Showroom Exclusive
---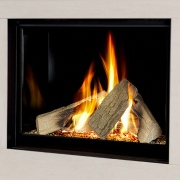 Providing a stylish alternative to a standard 16" inset gas fire, the Kinder Celena HE can be fitted into a fireplace without the need for a frame around the fire. With larger proportions, the Celena will make a striking impact allowing the authentic log effect and dancing flames take centre stage!
Showroom Exclusive
£1,275.00

---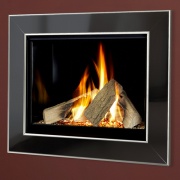 Newly updated high efficiency gas fire designed to be wall-mounted. The Kinder Celena will provide a stylish centrepiece to your home with perfect proportions which allow the authentic log fuel bed and flickering flames to be the main feature. Impressive 79.3% efficiency and up to 3.8kW of heat.
Showroom Exclusive
£1,275.00

---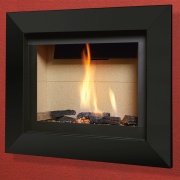 Another innovative gas fire from Kinder which has been designed especially for installation into properties where no chimney or flue is present. With reduced fire box depth, the Celena Balanced Flue can be fitted directly into an external cavity wall without a stud wall to accommodate depth.
Showroom Exclusive
£2,059.00

---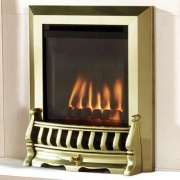 The Kinder Dakota is a inset balanced flue gas fire designed to be combined within a fireplace and is ideal for installation on to a flat, external wall in properties without a chimney or flue. Offered in a choice of brass, polished silver or black with any of Kinder's exclusive frets.
Showroom Exclusive
---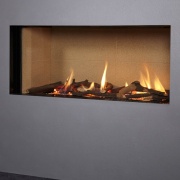 Despite it featuring a slimmer depth than the original Eden HE, the Kinder Eden Elite boasts a taller viewing window resulting in even more visual impact of the fantastic flame picture. Choose from black or cream interior and install as a hole-in-the-wall or combine within a suitable fireplace.
Showroom Exclusive
---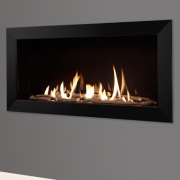 Following on from the huge success of their standard model, Kinder have introduced the stunning Eden Elite contemporary gas fire as a slimline balanced flue model. The Eden Elite Slimline is designed to be fitted on a standard external cavity wall with no need to build a stud wall in the room!
Showroom Exclusive
---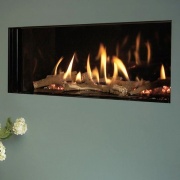 A stunning, glass-fronted hole-in-the-wall gas fireplace boasting incredible heating performance and high efficiency. The Kinder Eden HE features enchanting, flickering flames operated by a state-of-the-art thermostatic remote control allowing you to maintain optimum room temperature.
Showroom Exclusive
---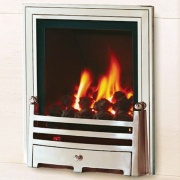 Offering the appearance of a real, open fire but with the convenience of gas, the Kinder Kalahari is a radiant gas fire with open, living flames dancing over your choice of a coal or pebble fuel bed. Available as a manual, slide or remote control plus a large range of trims and frets.
Showroom Exclusive