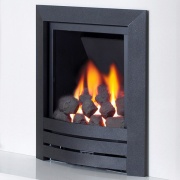 Providing a stunning, finishing touch to any modern fireplace, the sleek Kinder Black magic gas fire is a open-fronted model with a dramatic one-piece fascia in black textured paint finish. The black fascia and coal fuel effect really help to accentuate the dancing, open flames.
£659.00£825.00
---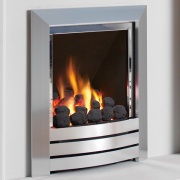 The Camber with its striking looks, clean design lines and highly realistic blazing dancing flames will captivate you on entering the room. Precision manufactured with its deep coal fuel bed, provides an individual combination of aesthetic beauty combined with high quality performance.
£739.00£919.00
---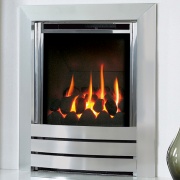 A perfect companion for any contemporary fireplace, the glass-fronted, Kinder Camber HE gas fire combines cutting-edge styling with the very latest technology to create a stunning, designer gas fire that offers low running costs with excellent energy efficiency. Manual or remote control options.
£869.00£1,085.00
---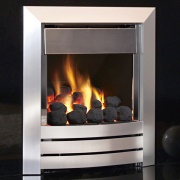 The fabulous Kinder Camber Plus gas fire is certainly a contemporary classic with a wonderfully sleek design that will never go out of fashion. Packed with state-of-the-art technology that produces up to 4.2kW of heat and a net efficiency of 68.3% whilst retaining the ambience of open fronted flames.
£779.00£979.00
---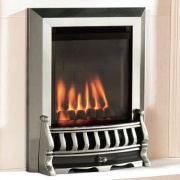 The Kinder Dakota is a inset balanced flue gas fire designed to be combined within a fireplace and is ideal for installation on to a flat, external wall in properties without a chimney or flue. Offered in a choice of brass, polished silver or black with any of Kinder's exclusive frets.
£899.00£1,129.00
---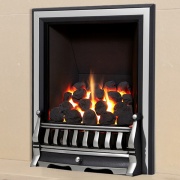 Offering the appearance of a real, open fire but with the convenience of gas, the Kinder Kalahari is a radiant gas fire with open, living flames dancing over your choice of a coal or pebble fuel bed. Available as a manual, slide or remote control plus a large range of trims and frets.
£519.00£649.00
---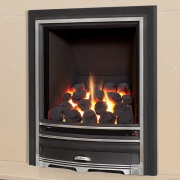 The popular, open-fronted Kinder Kalahari is offered here with a choice of exclusive one-piece fascia frames in lieu of a separate trim and fret. These stylish fascias are available in a range of colours and provide a clean, simple look to this inset gas fire.
£519.00£649.00
---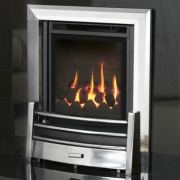 This glass-fronted, high efficiency gas fire is supplied with a realistic coal fuel bed plus there's an option to add a pebble fuel pack also. The Kinder Kalahari HE has been designed to suit all flue types including pre-cast subject to adequate depth available. Manual, slide or remote control options.
£649.00£815.00
---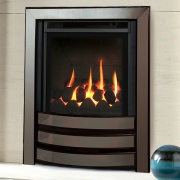 The Kalahari HE has been designed to fit most flue types including pre-cast flues when installed with a 3" rebated fire surround. As well as manual or slide control options you can also enjoy the luxury of a fully remote control system on the glass-fronted, high efficiency Kalahari HE.
£649.00£815.00
---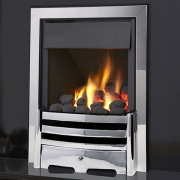 The open-fronted Kinder Kalahari Plus gas fire boasts a highly realistic flame and is offered with a selection of manual, slide, Easy-Flame' or remote control operation. Designed for all flue types including Class 2 pre-cast flues subject to adequate depth of at least 170mm.
£569.00£715.00
---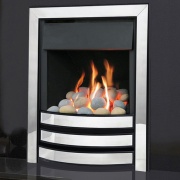 This open-fronted gas fire features a highly realistic coal fuel effect and is available as a manual, slide, easy flame or remote controlled fire. A pebble fuel bed pack is available as an optional extra. Available here with a choice of one of Kinder's beautiful one-piece fascia frames.
£569.00£715.00
---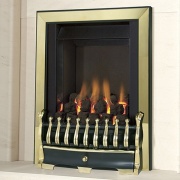 Designed to fit into the shallowest of flues, the Kinder Nevada gas fire features a slimline inset depth of only 100mm making it ideal for Class 2, pre-cast flues normally found in newer built homes. Offered with a vast range of trims or frets, you can tailor the Nevada to suit any décor.
£479.00£599.00
---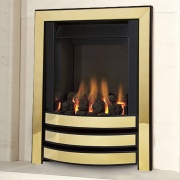 With the natural ambient glow of real-effect coals and flames, the Nevada will suit your lifestyle and your home perfectly. This version gives you the option of combining with one of Kinder's stylish one-piece fascia frames as opposed to a separate trim and fret giving a more contemporary feel.
£479.00£599.00
---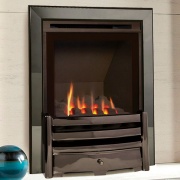 A slimline, high efficiency gas fire especially designed for shallow flues such as Class 2 pre-cast. The glass-fronted Kinder Nevada HE offers incredible energy efficiency of 81.3% and allows you to create your own style with an extensive range of exclusive trims and frets from the Kinder range.
£569.00£705.00