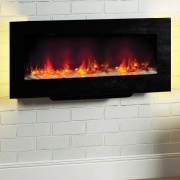 The Be Modern Amari is a stunning, LED electric fire that gives you the option to mount on to any flat wall or display it as a free-standing appliance using the plinth supplied. Panoramic low energy flame effect with ambient back lighting in a selection of colours to suit your mood.
Showroom Exclusive
---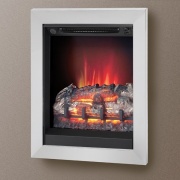 Contemporary styled, wall-mounted inset electric fire with a striking 4-sided chrome trim. The Be Modern Athena wall-mounted electric fire features thermostatic control for added energy efficiency and the latest LED flame technology producing an authentic, smouldering fire flame effect.
Showroom Exclusive
---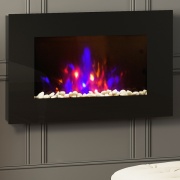 The Azonto by Be Modern is a stylish, wall-mounted electric fire designed to be simply hung on a flat wall. Supplied with 3 changeable fuel effects, the Azonto allows you to select from 7 different coloured flame effects and rear ambient lighting colours for a dramatic contrast to its black glass fascia.
Showroom Exclusive
---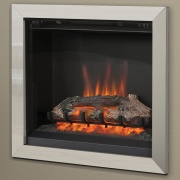 A new, inset electric fire from Be Modern offered with a four-sided trim in either brushed silver or chrome designed for fitting as a contemporary 'hole-in-the-wall' style feature raised up in the wall. The Casita boasts a lovely, low energy flame effect with log fuel bed set behind a glass panel.
Showroom Exclusive
---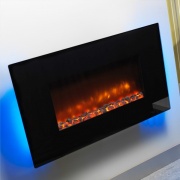 The landscape dimensions of the Be Modern Orlando Flat Black Glass electric fire will make a striking feature in any home, especially with the dramatic looks of its sleek, black glass fascia frame. Ambient, colour changing back lighting with a low energy LED flame effect mimicking a real, smouldering fire.
Showroom Exclusive
---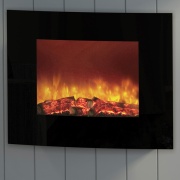 The visually striking curved black glass fascia on the Be Modern Quattro wall-mounted electric fire lets the LED effect flames really stand out. Providing a simple solution for homes with or without a chimney to add instant warmth and ambience in virtually any room.
Showroom Exclusive
---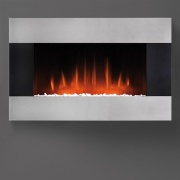 Giving you a simple solution to add a stylish focal point to most rooms in your home. The Burley Ashbury 6605 is designed for hanging on to a flat wall without the need to inset. It features a realistic flame effect created using standard bulbs which can be used independently of the 1.2kW heater.
Showroom Exclusive
£199.00

---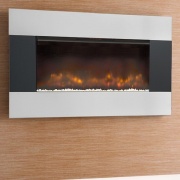 Incorporating the very latest LED technology producing a mesmerising flame picture that can be enjoyed with or without the heater function. The Burley Ashwell 570-R is another new model from Burley for 2015 which gives you the option of flush or semi-inset installation for any home.
Showroom Exclusive
---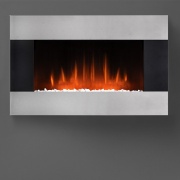 Simple, 'hang-on-the-wall' installation allowing the Burley Gaston 503-R to be fitted on to virtually any flat wall in your home. Black finish with top & bottom panels in silver creating a striking, modern feature. Impressive virtual flame effect with white stones plus an integrated 1.2kW heater.
Showroom Exclusive
£199.00

---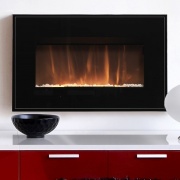 Superb low price despite boasting innovative features such as thermostatic control and a authentic, virtual flame effect. The new Burley Langham 504-R can be easily fitted on to almost any flat wall in your home including living rooms, dining rooms and conservatories with no chimney or flue needed!
Showroom Exclusive
£199.00

---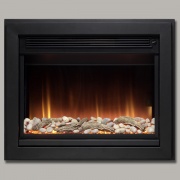 The Burley Whitwell is an inset, 'hole-in-the-wall' electric fire that requires a recess to accommodate the appliances 240mm engine depth. It creates a sleek, stylish feature with a combination pebble & driftwood fuel effect and realistic flame effect. Remote control with 1kW and 2kW heating settings.
Showroom Exclusive
---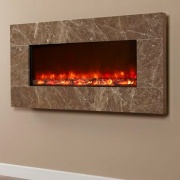 Providing an opulent feature with its delightful marble fascia, the Celsi Electriflame Prestige Brown will definitely become a major focal point in any room. The classic, random brown tones of the 1100mm wide fascia frame the panoramic, mesmerising LED flames like a piece of art in your home!
Showroom Exclusive
---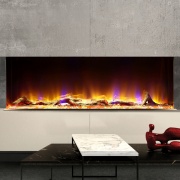 Providing stunning flame visuals on 3 sides, the Celsi Electriflame VR 1100 is a highly fashionable contemporary electric fire incorporating state-of-the-art technology to match it's cutting edge styling. Includes a thermostatic remote control which operates all flame functions and heater settings.
Showroom Exclusive
£1,849.00

---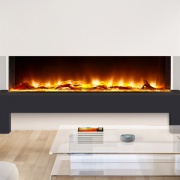 The largest model in the range, Celsi's Electriflame VR 1400 electric fire allows you to create a stunning feature in larger rooms. The design options are endless - It can be fitted as a 1, 2 or 3-sided fire into a custom enclosure where you can build a recess for TV, floating hearth, storage shelves, etc.
Showroom Exclusive
£1,999.00