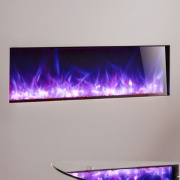 The medium size in Rayburn's range of contemporary styled, landscape inset wall fires which feature colour changeable LED flame technology. The Stratus 100 Extra Slim is an inset electric fire boasting state-of-the-art technology providing a mesmerising visual delight and heat whenever needed.
£1,219.00
---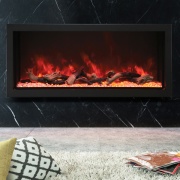 With a taller flame height and full depth, the Stratus 100 Extra Tall inset electric fire provides a stunning feature ideal for a main feature in any room. Wall fires like this model are a great addition into a custom 'media wall' incorporating your TV, speakers, alcoves etc.
£1,689.00
---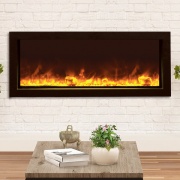 With an inset depth of 172mm (6¾"), the 'Slim' version of the Rayburn Stratus 100 electric fire can be fitted in a variety of styles to create a ultra-modern feature in any room. Colour changeable LED flame and remote control operation plus instant heat up to 1.9kW whenever needed.
£1,419.00
---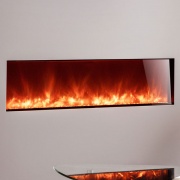 There are few things as relaxing and evocative as watching a real fire flicker away. The mix of cosy warmth and beautiful flames guarantees to make even the chilliest of days snug and comfortable. The Rayburn Stratus 125 Extra Slim has been designed to emulate the restful appeal of the real thing.
£1,429.00
---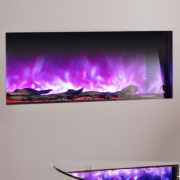 Supplied with a Crystal fuel bed plus authentic 11-piece Log set, the Rayburn Stratus 125 Extra Tall displays a wonderful array of colour changeable LED flames. With increased height and width, it will create a stunning feature either fitted frameless or with the outer frame supplied.
£2,159.00
---
Offering a sleek, stylish look with a deeper fire bed than the Extra Slim range, the Stratus 125 'Slim' fire offers a greater depth to the flame picture. Easy to install with no flue and just a 13amp supply required. Complete with a remote control for adjusting the flame pattern and heat output.
£1,709.00
---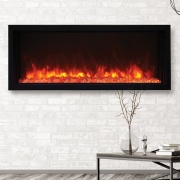 Easy to install with just a 13 amp supply, no flue or chimney is required. The Rayburn Stratus™ 75 Extra Slim will provide a striking visual centerpiece in any room. Supplied with a steel trim providing an attractive frame around the fire or alternatively, the fire can be fitted frameless in the wall.
£1,049.00
---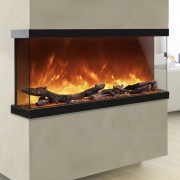 The Stratus 100 Tru View electric fire is designed to be incorporated with a custom enclosure giving you endless design options. The main image shows this highly advanced, LED electric fire fitted as a modern, 3-sided feature but position at the end of the wall for a striking, 2-sided corner feature.
£1,765.00
---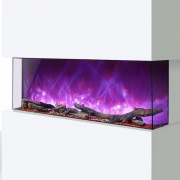 Create a designer centerpiece in any room with the Stratus Tru View 125 electric fire from iconic brand AGA Rayburn. This cutting-edge appliance can be fitted against a flat wall where you build around the appliance to your specific requirements for a unique, stunning focal point.
£2,255.00
---
Taking flame technology to the next level, the spectacular New Forest 1200 from British Fires provides a truly amazing, real fire alternative that can be installed in almost any room in your home. Crafted from high quality materials, you can choose whether you fit the fire as a 1, 2 or 3-sided feature.
£1,799.00
---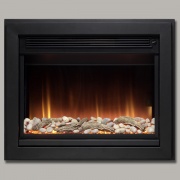 The Burley Whitwell is an inset, 'hole-in-the-wall' electric fire that requires a recess to accommodate the appliances 240mm engine depth. It creates a sleek, stylish feature with a combination pebble & driftwood fuel effect and realistic flame effect. Remote control with 1kW and 2kW heating settings.
£679.00£850.00
---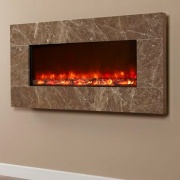 Providing an opulent feature with its delightful marble fascia, the Celsi Electriflame Prestige Brown will definitely become a major focal point in any room. The classic, random brown tones of the 1100mm wide fascia frame the panoramic, mesmerising LED flames like a piece of art in your home!
£824.00£969.00
---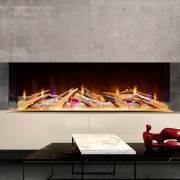 Providing stunning flame visuals on 3 sides, the Celsi Electriflame VR 1100 is a highly fashionable contemporary electric fire incorporating state-of-the-art technology to match it's cutting edge styling. Includes a thermostatic remote control which operates all flame functions and heater settings.
£1,849.00
---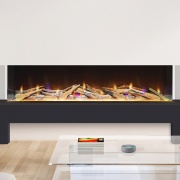 The largest model in the range, Celsi's Electriflame VR 1400 electric fire allows you to create a stunning feature in larger rooms. The design options are endless - It can be fitted as a 1, 2 or 3-sided fire into a custom enclosure where you can build a recess for TV, floating hearth, storage shelves, etc.
£1,999.00