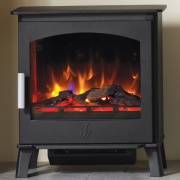 Designed and engineered from the ground up to meet the needs of modern room heating, ACR have used their extensive expertise with wood burning stove manufacturing to create a range of truly ingenious electric stoves. The Astwood electric stove features a highly advanced LED flame picture.
Showroom Exclusive
---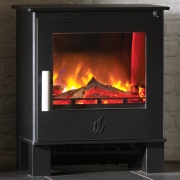 The popular Malvern stove by ACR is offered here in an electric version allowing you to recreate the charm and character of a real woodburner with the convenience of electric. Simply plug in to enjoy the realistic flame effect and when needed, the Malvern electric stove also features a 2kW heater.
Showroom Exclusive
---
This spectacular model is one of a small number of contemporary styled electric stoves. The NEO 3C electric stove is based on the same tall platform as its wood burning counterpart but features some of the most advanced technology available featuring 3D holographic electric flame projection.
Showroom Exclusive





---
The ACR Neo 3F electric stove is a contemporary styled model with the distinctive feature of two side window panels, creating a focal point and sense of occasion for any setting. Equipped with two heat settings - 1Kw and 2Kw to provide instant heat with thermostatic control and a seven day timer.
Showroom Exclusive





---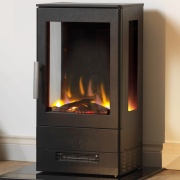 Winner of the 'Electric Appliance of the Year' award at the Hearth & Home Exhibition 2019. The fabulous ACR E-Trinity3 electric stove provides a wonderful view of the incredibly realistic 3D holographic flame projection on three sides. Available with a dedicated dummy flue pipe for added realism.
Showroom Exclusive
£860.00

---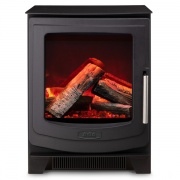 AGA, a name synonymous with premium home cooking and heating, have now introduced a highly advanced electric engine for their stylish Ellesmere stove. Enjoy the looks of a real stove with the convenience, controllability and ease of installation of electric. A lovely addition to any room!
Showroom Exclusive
£1,195.00

---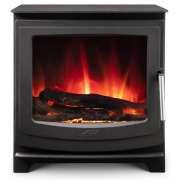 With a choice of three LED flame colours, you can adjust the AGA Ellesmere EC5W electric stove to your preferred setting without the need to have the heater on. This handsome appliance boasts larger proportions than the standard model and so creates the ultimate impact for your home.
Showroom Exclusive
£1,384.00

---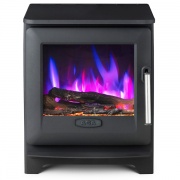 Encased in a stylish body, similar to its wood burning counterpart, the AGA Ludlow EC5 Electric Stove provides an excellent solution for those looking to create a characterful 'stove' centerpiece but prefer the convenience of electric. Just plug in for instant ambience and heat whenever needed!
Showroom Exclusive
£1,195.00

---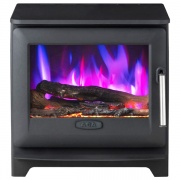 An attractive electric stove crafted using a combination of steel and cast iron and featuring a highly advanced LED flame with colour changing flame technology. The AGA Ludlow EC5W provides a wider format compared to the standard model - ideal for larger openings or to create the maximum impact.
Showroom Exclusive
£1,384.00

---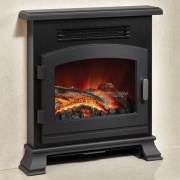 A stylish model from Be Modern, the Banbury electric inset stove allows any home to achieve a 'woodburner' look without the need of a chimney. Designed to be fitted into a fireplace with a standard 16" opening, the Be Modern Banbury incorporates the latest LED technology.
Showroom Exclusive
---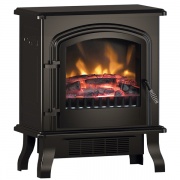 The Colman is a charming little electric stove that allows you to create a cosy atmosphere in any room. Simply plug in to enjoy a glowing log effect with flickering LED flames plus a convected fan heater is also included for when an extra boost of heat is needed. Choose from black, cream or cream finish.
Showroom Exclusive
---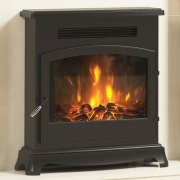 Finished in matt black with contemporary chrome handle, the Be Modern Elstow inset electric stove provides a stunning alternative to a standard inset electric fire as it has been designed to replicate the charm and style of a real woodburner. Featuring a day programmable thermostatic remote control.
Showroom Exclusive
---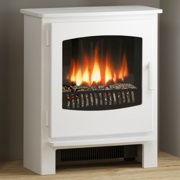 A stylish electric stove benefiting from simple, plug-in installation allowing to create a gorgeous feature in any room. The Be Modern Espire electric stove is offered here in a modern Ash White finish and features flame only setting for year round use.
Showroom Exclusive
---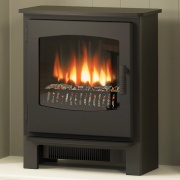 With a lovely flame pattern and coal effect fuel bed, the Be Modern Espire electric stove provides a stylish alternative to a real wood burner. Simple 'plug-in' installation allows you to fit this delightful electric stove into almost any room in your home. Operated by a Programmable Remote Control.
Showroom Exclusive