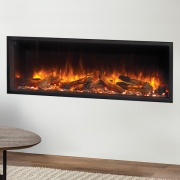 The eReflex's energy saving features manage heating power to meet the temperature you desire, and will also switch off the fires heat in the event a window is opened. These innovative features make the eReflex 105R an eco-friendly choice that meets the 2018 Ecodesign energy product standards.
£1,059.00£1,289.00
---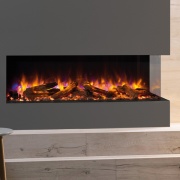 For a super view of the mesmerising flames, the Gazco eReflex Outset 110W has a deep, three dimensional display which projects the flame effects to appear amongst the fuel effects for striking realism. The fire is designed to be fitted into a custom surround for a unique, contemporary focal point.
£1,289.00£1,565.00
---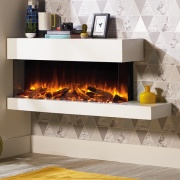 Creating a designer installation can be as easy as simply hanging the eReflex 110W on the wall with the Trento Suite. The Gazco eReflex 110W Trento Suite is offered in three configurations each featuring clean and stylish floating shelves for a statement finish that completely houses the fire.
£1,649.00£1,990.00
---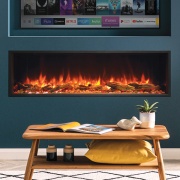 Guaranteed to create a dramatic feature within any modern living space, the eReflex 135R is a fully inset, high advanced electric fire boasting incredible realism and amazing effects. Three different flame options plus a dynamic, sparkling fuel bed lighting can be set to 13 vibrant colours!
£1,249.00£1,539.00





---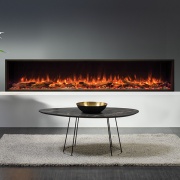 The largest model in the Gazco eReflex Inset range, the 195R is a truly captivating fire. You can choose from three different flame options including Amber, Blue and Amber with Blue accent to create stunning visuals. The commanding eReflex 195R will provide the ultimate feature for your home.
£1,789.00£2,155.00





---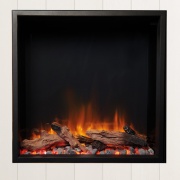 The latest model in the superb range of eReflex electric fires by Gazco, the 55R is an inset model designed to be recessed into a pre-constructed opening that has taller proportions compared to other models in the collection. Triple LED system with colour changeable flame patterns.
£799.00£965.00
---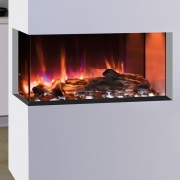 The Gazco eReflex 70W outset electric fire provides a superb view of the authentic flame visuals and glowing fuel bed from either two or three sides of the fire. Designed to be installed within a bespoke built enclosure, this highly advanced outset electric fire is packed with cutting edge technology.
£1,109.00£1,339.00
---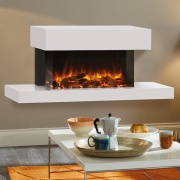 Creating the illusion of floating on a flat wall, the Trento suite combined with the Gazco eReflex 70W electric fire is an ideal addition for anyone looking for a contemporary focal point which can be easily fitted in any home. Decorative Columns and End Caps can be added to heighten appeal.
£1,419.00£1,714.00
---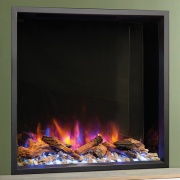 Another recent addition to the exciting range of designer electric fires from Gazco, the eReflex 75R has square proportions making it equally suited to install as a simple, 'hole-in-the-wall' feature or combining within a suitable fireplace surround. Thermostatic remote control included as standard.
£985.00£1,189.00
---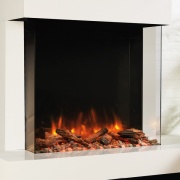 This versatile electric fire offers a excellent solution to create bespoke feature for virtually any room in your home. The eReflex 75R is supplied with glass around three sides of the appliance allowing you to build around the fire to your requirements. Alternatively, is can be sited in a corner.
£1,069.00£1,289.00
---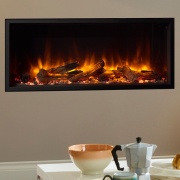 The landscape eReflex 85R inset electric fire will provide a modern, minimalist feature to your home whilst boasting incredible realism produced by a triple LED system. The eReflex 85R inset 'hole-in-the-wall' electric fire includes an advanced thermostatic handset for flame effect and heating.
£929.00£1,125.00





---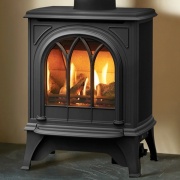 For smaller room and fireplace openings, the Gazco Huntingdon 20 balanced flue gas stove will add a warming atmosphere into homes that do not feature a chimney or flue. Providing real flame ambience which is instantly controlled either using the manual controls or optional remote systems.
£1,399.00£1,655.00
---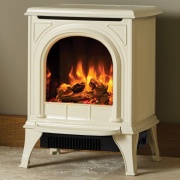 A new model from Gazco, the Huntingdon 20 electric stove is brought alive by the same Chromalight® technology than its larger counterparts giving you instant ambience for almost any room in your home. Log and Pebble fuel effects included plus remote control operation for ease of use.
£845.00£995.00
---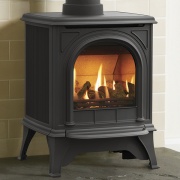 Designed specifically to fit well into British fireplace openings, the petite Gazco Huntingdon 20 gas stove is ideal for those looking to brighten up their living space. Instant control of the dancing flames either by using the standard manual control or with one of Gazco's remote control units.
£1,299.00£1,539.00