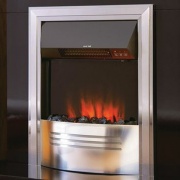 Boasting a lively, realistic ribbon flame effect and offered in a choice of three striking colours, the Celsi Accent Infusion is a inset electric fire designed to fit into any modern fireplace with a standard opening. Operated by a hand held remote control with manual override with up to 2kW heat output.
£289.00£329.00
---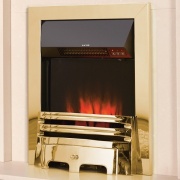 Available in a choice of polished brass or chrome, the Accent Traditional from Celsi Fires is guaranteed to compliment any style of fireplace. Suitable for standard 16" x 22" fireplace openings, the Accent Traditional boasts an authentic flame effect which can be used with or without the 2kW heater.
£329.00£375.00
---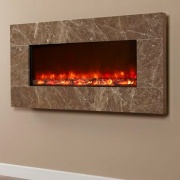 Providing an opulent feature with its delightful marble fascia, the Celsi Electriflame Prestige Brown will definitely become a major focal point in any room. The classic, random brown tones of the 1100mm wide fascia frame the panoramic, mesmerising LED flames like a piece of art in your home!
£869.00£1,019.00
---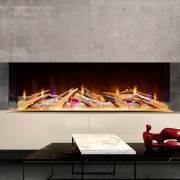 Providing stunning flame visuals on 3 sides, the Celsi Electriflame VR 1100 is a highly fashionable contemporary electric fire incorporating state-of-the-art technology to match it's cutting edge styling. Includes a thermostatic remote control which operates all flame functions and heater settings.
£1,569.00£1,849.00
---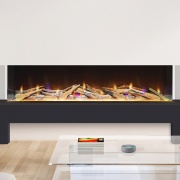 The largest model in the range, Celsi's Electriflame VR 1400 electric fire allows you to create a stunning feature in larger rooms. The design options are endless - It can be fitted as a 1, 2 or 3-sided fire into a custom enclosure where you can build a recess for TV, floating hearth, storage shelves, etc.
£1,699.00£1,999.00
---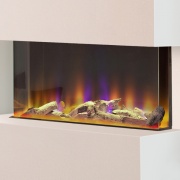 A stunning, 3 sided glass wall inset fire delivering indistinguishable real flame sophistication. The Celsi Electriflame VR 750 is the latest patented design that raises the appearance and functionality of electric fires to a new level. Designed to be built into a custom enclosure for a unique focal point.
£1,359.00£1,599.00
---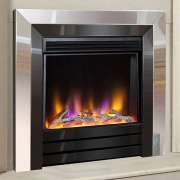 Looking to make the most impact within your fireplace? The Celsi Acero with Electriflame VR technology features a double trim design making the overall width considerably larger than a standard inset electric fire. Contemporary fascia in 2 finishes with multi-functional remote control operation.
£659.00£749.00
---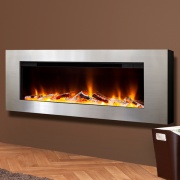 Give almost any room in your home the 'WOW' factor with the sensational new Celsi Basilica wall-mounted electric fire. Incorporating brand new 'Electriflame VR' LED technology you will be dazzled by the flames whilst the landscape fascia in champagne or satin silver creates a huge impact!
£1,249.00£1,415.00
---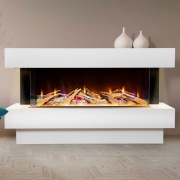 Sit back and appreciate this beautiful, free-standing electric fireplace which has been designed for modern day living. If you're looking for a stylish centerpiece for a lounge, new extension or conservatory, the Electriflame VR Carino 1100 suite boasts simple installation against a flat wall.
£2,269.00£2,675.00
---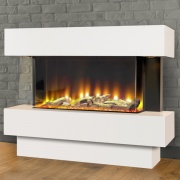 A modern, floor-standing fireplace suite that provides a stylish solution to accommodate Celsi Fire's latest 3-sided E-VR 750 electric fire. Finished in smooth, the Carino has a chunky mantel shelf with integrated downlights which complement the wonderful LED flames on this highly advanced fire.
£2,079.00£2,445.00
---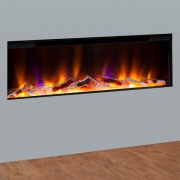 The ultimate in minimalist styling, the Celsi Commodus is a wall-mounted electric fire that is designed to be recessed into a wall to create a simple, yet highly effective focal point. Fit the Commodus in virtually any room and let the cutting-edge LED flame technology become the main feature!
£899.00£999.00
---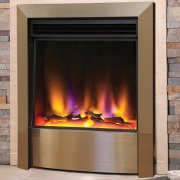 Supplied with the popular 'Contemporary' fascia and boasting a larger than standard flame viewing area, this state-of-the-art inset electric fire will take pride of place within any fireplace. With Celsi's innovative 'Electriflame VR' technology producing stunning flame visuals thermostatic heat.
£659.00£749.00
---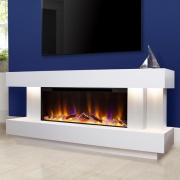 For larger rooms or those looking to create the maximum impact, the spectacular Celsi Gemma 1000 with Electriflame technology is a superb choice! A visual delight with an incredible panoramic flame within a low proportioned suite ideal for those wishing to hang their TV above.
£1,599.00£1,825.00
---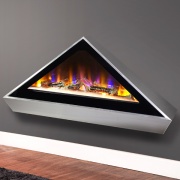 A totally unique addition to the Celsi electric fire range! The unique, eye-catching design combines straight lines with sharp angles that form its unique shape. Framed by sleek black glass inset against a brushed silver fascia, the Celsi Electriflame VR Louvre will stand out wherever it's situated!
£849.00£935.00