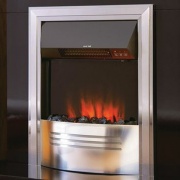 Boasting a lively, realistic ribbon flame effect and offered in a choice of three striking colours, the Celsi Accent Infusion is a inset electric fire designed to fit into any modern fireplace with a standard opening. Operated by a hand held remote control with manual override with up to 2kW heat output.
Showroom Exclusive
---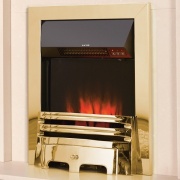 Available in a choice of polished brass or chrome, the Accent Traditional from Celsi Fires is guaranteed to compliment any style of fireplace. Suitable for standard 16" x 22" fireplace openings, the Accent Traditional boasts an authentic flame effect which can be used with or without the 2kW heater.
Showroom Exclusive
---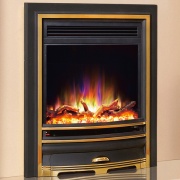 The Arcadia comprises of a premium quality, cast fascia in black with a choice of brass or silver detail. It is the perfect companion to Celsi Fires state-of-the-art LED electric fire which produces a mesmerising, smouldering flame effect plus up to 1.5W of heat when needed. Remote control as standard.
Showroom Exclusive
---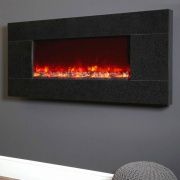 The luxurious Basalt Granite fascia on this version of the popular Celsi Electriflame wall-mounted electric fire provides a stunning contrast to the relaxing, smoky flame effect. Boasting low running costs, the LED flame effect can be run independently of the fan heater for all year round use.
Showroom Exclusive
---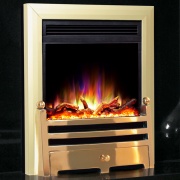 Incorporating the classical, Bauhaus fret on this state-of-the-art electric fire, it will compliment a variety of fireplace styles whilst benefiting from extremely low running costs on flame only setting. The Celsi Electriflame Bauhaus is easily fitted into any standard, 16" fireplace opening.
Showroom Exclusive
---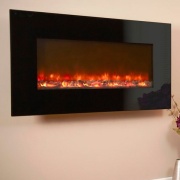 Offered with your choice of landscape black glass fascia frames in two sizes, the Celsi Electriflame Black Glass electric fire features a relaxing, smoky flame effect using energy saving LED technology. Easy to install and with a concealed fan heater ideal for giving the room an instant boost of warmth.
Showroom Exclusive
---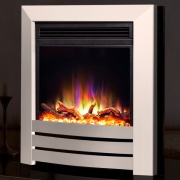 Featuring the popular 'Camber' fascia normally associated with the Kinder gas fire model, the Celsi Electriflame XD offers a simple solution to bring any modern inspired fireplace to life. Sleek design combined with a recently updated, extra deep electric flame effect created using low energy lighting.
Showroom Exclusive
---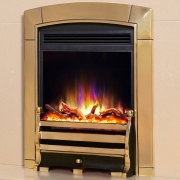 Designed for installation into a standard fireplace opening, the Celsi Electriflame Caress is a stylish, inset electric fire boasting LED flame technology and offered in a choice of finishes. They gentle, curved top creates a smart feature and operation is taken care of by remote control.
Showroom Exclusive
---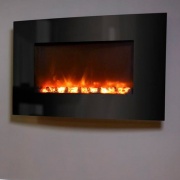 With a chic, curved black glass fascia frame, the Celsi Electriflame Curved Black Glass model will provide a simple solution to instantly add a trendy focal point within your home. High efficiency LED flame effect producing a smoky, mesmerising effect that can be used with or without heat.
Showroom Exclusive
---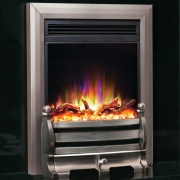 Equally suited to classical or contemporary fireplaces, the Celsi Electriflame Daisy electric fire is available in three finishes and benefits from the highly advanced, Celsi unique smouldering LED flame effect. This can be used independently of the heater and an ideal choice of a standard, 16" opening.
Showroom Exclusive
---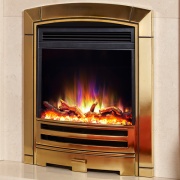 Featuring a high quality, cast trim with attractive curved top in a choice of polished brass, polished silver or black nickel. The Electriflame XD Decadence is a stylish inset electric fire with a low energy, LED effect plus new log fuel bed that will compliment a wide variety of fireplace designs.
Showroom Exclusive
---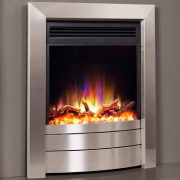 When combined with the simple, yet extremely stylish 'Essence' fascia frame, the new Celsi Electriflame XD is the ideal accompaniment for any modern designed fireplace. Available in four finishes to suit any interior, this highly advanced fire boasts LED lighting with low running costs and remote control.
Showroom Exclusive
---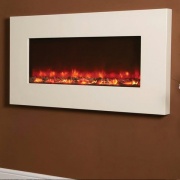 With its wide fascia in neutral Ivory finish, this model of the Celsi Electriflame is well suited to a large range of interior design schemes. Incorporating the very latest in electric flame effect technology, you can enjoy the flame effect all year round whilst benefiting from low running costs.
Showroom Exclusive
---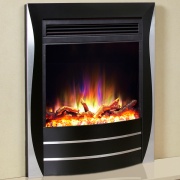 The new Lamela from Celsi Fires is a modern electric fire with contemporary curves. Offered in a choice of two stunning finishes and packed with the very latest LED technology providing lower running costs combined with a sensational, relaxing flame effect. Fully remote control with a built in heater.
Showroom Exclusive