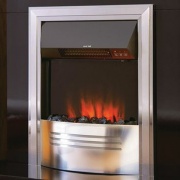 Boasting a lively, realistic ribbon flame effect and offered in a choice of three striking colours, the Celsi Accent Infusion is a inset electric fire designed to fit into any modern fireplace with a standard opening. Operated by a hand held remote control with manual override with up to 2kW heat output.
Showroom Exclusive
---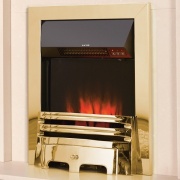 Available in a choice of polished brass or chrome, the Accent Traditional from Celsi Fires is guaranteed to compliment any style of fireplace. Suitable for standard 16" x 22" fireplace openings, the Accent Traditional boasts an authentic flame effect which can be used with or without the 2kW heater.
Showroom Exclusive
---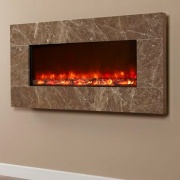 Providing an opulent feature with its delightful marble fascia, the Celsi Electriflame Prestige Brown will definitely become a major focal point in any room. The classic, random brown tones of the 1100mm wide fascia frame the panoramic, mesmerising LED flames like a piece of art in your home!
Showroom Exclusive
---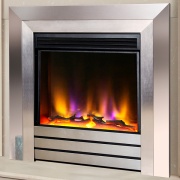 For those looking to make the most impact within their fireplace, the Celsi Acero with Electriflame VR technology features a double trim design making the overall width considerably larger than a standard inset electric fire. Contemporary silver finish with multi-functional remote control operation.
Showroom Exclusive
£699.00

---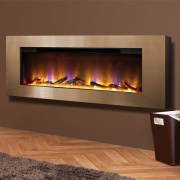 Give almost any room in your home the 'WOW' factor with the sensational new Celsi Basilica wall-mounted electric fire. Incorporating brand new 'Electriflame VR' LED technology you will be dazzled by the flames whilst the landscape fascia in champagne or satin silver creates a huge impact!
Showroom Exclusive
£1,299.00

---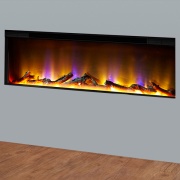 The ultimate in minimalist styling, the Celsi Commodus is a wall-mounted electric fire that is designed to be recessed into a wall to create a simple, yet highly effective focal point. Fit the Commodus in virtually any room and let the cutting-edge LED flame technology become the main feature!
Showroom Exclusive
£929.00

---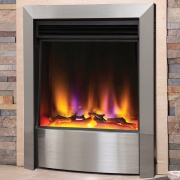 Supplied with the popular 'Contemporary' fascia and boasting a larger than standard flame viewing area, this state-of-the-art inset electric fire will take pride of place within any fireplace. With Celsi's new 'Electriflame VR' technology producing stunning flame visuals thermostatic heat.
Showroom Exclusive
£699.00

---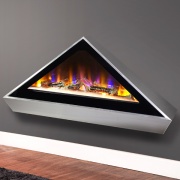 A totally unique addition to the Celsi electric fire range! The unique, eye-catching design combines straight lines with sharp angles that form its unique shape. Framed by sleek black glass inset against a brushed silver fascia, the Celsi Electriflame VR Louvre will stand out wherever it's situated!
Showroom Exclusive
£899.00

---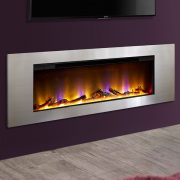 Incorporating Celsi's new 'Electriflame VR' flame technology, this version of their Metz combines cutting edge styling with the very latest LED technology. Designed to be inset into a wall, you have a choice of a satin silver or champagne fascia which takes the overall width to an impressive 1400mm.
Showroom Exclusive
£1,299.00

---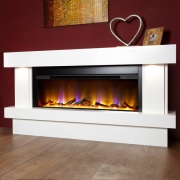 Following on from the huge success of the Ultiflame Orbital Illumia suite, Celsi have now brought out a new model which incorporates their latest 'Electriflame VR' electric fire boasting an eye catching display of beautifully colourful and lively flames. Suite available in three stylish colours.
Showroom Exclusive
£1,777.00

---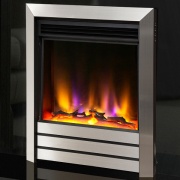 Boasting a larger viewing area than most other standard sized inset electric fires, the fabulous new Celsi Electriflame VR Parrilla is ideal for those who want to create the maximum impact in their fireplaces. Contemporary fascia frame available in a choice of satin silver or champagne finishes.
Showroom Exclusive
£699.00

---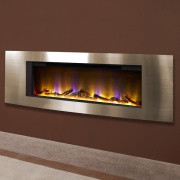 A delightful, 'hole-in-the-wall' style electric fireplace boasting the new 'Electriflame VR' engine by Celsi Fires. A stylish, curved fascia in a choice of satin silver or champagne finish provides a striking contrast to the large aspect inset electric fire. A showstopping centerpiece for modern interiors!
Showroom Exclusive
£1,349.00

---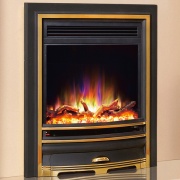 The Arcadia comprises of a premium quality, cast fascia in black with a choice of brass or silver detail. It is the perfect companion to Celsi Fires state-of-the-art LED electric fire which produces a mesmerising, smouldering flame effect plus up to 1.5W of heat when needed. Remote control as standard.
Showroom Exclusive
---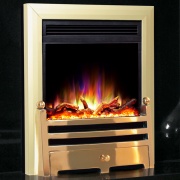 Incorporating the classical, Bauhaus fret on this state-of-the-art electric fire, it will compliment a variety of fireplace styles whilst benefiting from extremely low running costs on flame only setting. The Celsi Electriflame Bauhaus is easily fitted into any standard, 16" fireplace opening.
Showroom Exclusive