The first dedicated multi-fuel stove from Firebelly giving you the ability to burn either logs or solid fuels. The FB Eco has an output up to 5kW so additional ventilation is not normally needed. It also meets DEFRA requirements allowing you to burn wood or smokeless fuels anywhere in UK.
£1,199.00£1,434.00
---
The Firebelly FB wood burning stove boasts modern styling suitable for a variety of installation options. With a output of 5kW, it is ideal for standard room sizes without the need for extra ventilation and is offered in a vast choice of colours.
£1,139.00£1,349.00
---
Enjoy twice the view with the stunning Firebelly FB1 Double Sided stove. This modern, designer woodburner is offered with a wide range of options allowing you to create a unique feature in your home which is capable of providing up to 6kW of glorious heat! Wood burning or multi-fuel options.
£1,639.00£1,930.00
---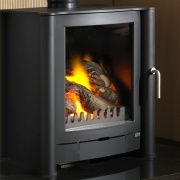 With a realistic log fuel bed giving an authentic alternative to a real stove, the Firebelly FB1 Gas Stove is offered with the same vast selection of colour options allowing you to create a unique centrepiece in your home. Boasting an impressive heat output of up to 6kW and excellent efficiency.
£1,739.00£1,930.00
---
Providing a spectacular view of the flames through its huge glass viewing window, the modern design of the Firebelly FB1 Wood Burning Stove can be tailor made to suit any interior style. It also has performance to match its good looks with a heat output of up to 6kW and efficiency of 78%.
£1,299.00£1,532.00
---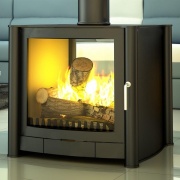 The gas version of Firebelly's FB2 Double Sided stove will create a truly stunning feature in large spaces and give a 360º view of the flickering log-effect fire bed. With the convenience of gas, you have instant control of this designer gas stove and a choice of 18 dazzling colours.
£3,979.00£4,419.00
---
An ideal option for larger rooms with a connecting chimney or for a central feature within open plan living areas, the Firebelly FB2 Double Sided Stove is a contemporary design offered in a vast array of stylish finishes. Hand built in the UK, this powerful model has a maximum output of 12kW!
£2,199.00£2,589.00
---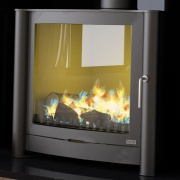 A wonderful, modern design gas stove which features a huge glass viewing window of which Firebelly are synonymous for. The FB2 Gas Stove provides the charm of a real wood burning stove combined with the convenience of gas. Available in a vast array of stylish colours.
£3,399.00£3,794.00
---
The modern Firebelly FB2 woodburner is offered here with a 27000Btu boiler capable of providing heat to both the room and water. Boasting a massive glass viewing window, it will also give the room a wonderful display of the mesmerising flames.
£2,899.00£3,225.00
---
The FB2 from Firebelly cleverly combines traditional engineering with cutting edge design to create a stunning, contemporary stove that boasts a massive 12kW whilst giving you a perfect view of the flames from its colossal viewing window. The Firebelly FB2 is available in a choice of 18 colours!
£1,589.00£1,874.00
---
The ultimate in heating performance! The colossal Firebelly FB3 Double Sided stove is an excellent solution to large, open-plan living spaces where extra heat is needed. Providing a central feature with superb views of the flames from both sides or for two separate rooms to share the warmth.
£3,079.00£3,622.00
---
The largest model in the Firebelly range of contemporary wood burning stoves, the FB3 is capable of providing up to 18kW of sublime heat making it perfect for larger rooms. Choose from matt black, charcoal or pewter finish as standard or there's a huge range of vibrant, designer finishes.
£2,079.00£2,445.00
---
Striking in appearance, the Firebelly Firepod gives you the ultimate view of the flames from its enormous glass viewing window with unique 'Air Shield' system which helps clean the glass. Impressive heating performance with a output of up to 10kW and a comprehensive range of designer finishes.
£1,679.00£1,980.00