What is striking about the Dik Geurts Aste wood stove is its classic look, realised by the beautifully designed legs and robust cast iron door. The centre of the flue pipe is located only 10 cm from the rear side. The result is that this wood burner can be easily placed inside an existing fireplace.
Showroom Exclusive
£1,315.00

---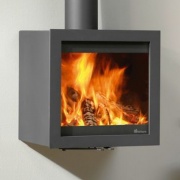 Offering five stunning variants to create a spectacular, contemporary feature in your home. The Bora wood burning stove can be fitted in a variety of styles including wall-hung, suspended from the ceiling or on a pedestal base. Up to 8kW heat output and superb high energy efficiency of 84%.
Showroom Exclusive
CALL

---
Another stunning, contemporary wood burning stove from premium Dutch manufacturer Dik Geurts. The Folke is a tall stove boasting windows in three sides of the appliance providing a wonderful view of the flames. Beneath the fire chamber is a handy place to store and season logs.
Showroom Exclusive
£2,100.00

---
The Instyle and Prostyle Tunnel is a see-through, inset woodburning cassette fire that can be built into a pre-fabricated chimney breast or room dividing wall. With hinged doors on either side, it is both stunning and practical. It has a powerful heat output of up to 12kW and an efficiency rating of 83%.
Showroom Exclusive
£2,545.00

---
The Ivar 5 is offered with three options; the low leg version is ideal for recessing the stove into a fireplace chamber whilst the high leg and logstore models will create a stylish centrepiece when installed freestanding against a wall. Designed for modern day living with a nominal heat output of 4.9kW.
Showroom Exclusive
£1,255.00

---
The larger model in the Ivar range of stunning wood burning stoves from Dik Geurts. The Ivar 8 is a superb addition to homes where extra warmth is needed. With a heat output of up to 10kW, it can easily heat a large room, but its low emissions qualify it for DEFRA approval in smokeless zones.
Showroom Exclusive
£1,365.00






---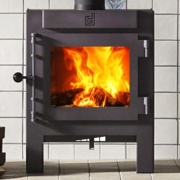 The Jannik Large wood burning stove from Dik Geurts is perfect for installation on an existing hearth. The practical door handle allows for easy access to the stove interior. The air slide helps you to regulate the air supply and, as a result, the stoves 7kW heat output.
Showroom Exclusive
£1,950.00

---
From the well-known brand of wood stove manufacturers based in the Netherlands, the Jannik Medium Low is instantly recognisable with it's square proportions, large window and clever door mechanism which takes inspiration from industrial design. 4.9kW output and excellent efficiency.
Showroom Exclusive
£1,650.00

---
The stylish Kalle contemporary wood burner will create a commanding presence for your home. Clean, straight lines of the stove allow the fire to take centre stage viewed from three separate windows. Below the tall fire chamber is a convenient place to store logs which adds to the overall appeal.
Showroom Exclusive
£2,225.00

---
Crafted from heavy gauge steel with a robust cast iron door with gentle curved corners. The DG Keld wood burning stove is perfect for installation
under an existing chimney. The single air-slider allows the fire to be regulated effectively with the fire boasting a nominal heat output of 4.9kW.
Showroom Exclusive
£1,215.00

---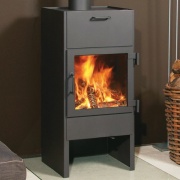 For those who require extra heat, the 1100 is the most powerful model in Lars range of freestanding wood burning stoves which include a handy built in oven area to warm or cook food. With a nominal output of 9.2kW, this versatile model is ideal for larger sized rooms or open-plan spaces.
Showroom Exclusive
£1,830.00

---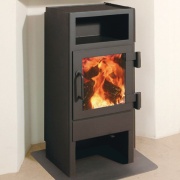 A modern design incorporating a useful space above the fire chamber for warming food. The Lars 800 from Dik Geurts features robust door hinges built to withstand many years of reliable use whilst the highly efficient combustion will ensure adequate warmth for small to medium sized rooms.
Showroom Exclusive
£1,220.00

---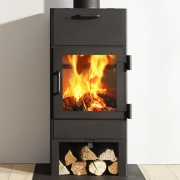 Standing tall and proud, the Lars 900 wood burning stove incorporates a handy log store below the fire chamber plus a oven space at the top of the appliance which provides a great way to cook or heat food whilst the room is being heated. Output up to 7kW and an outstanding efficiency rating of 83%!
Showroom Exclusive
£1,460.00

---
Odin, the supreme god of Norse mythology, is now the name of a beautiful circular wood stove from Dik Geurts. Its distinctive circular design not only makes it a real eye catcher, but its shape also generates fabulous flame patterns. Offered in five stunning variants to suit all modern interiors.
Showroom Exclusive
£3,180.00