The floor-standing Brindley suite allows you to fit the PR-1200e electric fire against a flat wall with no need for major alterations to your wall. Offered in a choice of 2 attractive paint finishes, this contemporary fireplace allows you to enjoy a perfect eye-level view of the fabulous flames!
£1,639.00
---
If you want to add a panoramic feature fire into your home with the minimal amount of installation, check out the Brindley Wall Hanging Fireplace which houses PR-1200e electric fire. A modern, fashionable suite offered in a choice of two attractive paint finishes.
£1,579.00
---
With a modern, bench plinth, the floor standing version of ACR's Edgbaston fireplace suite benefits from simple installation so you can simply fix against a flat wall. At the heart of the design is the widescreen PR-900e electric fire with extensive flame settings to suit your mood!
£1,399.00
---
The Edgbaston is a modern and stylish frame that surrounds the PR-900e electric fire beautifully. It allows for the fire to be fitted flush against a flat wall making it a versatile fireplace that can be used to enhance any space.
£1,099.00
---
The Harborne is a British made, free-standing fireplace suite designed especially to accommodate ACR's PR-600e electric fire insert. Available in a choice of 2 painted finishes, this timeless fireplace provides a simple solution to add a focal point within almost any room.
£1,139.00
---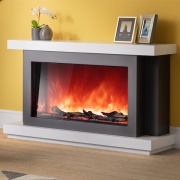 This free-standing suite showcases the Rayburn Stratus 100 Extra Tall fire range beautifully and help create a stunning centerpiece for your home. With an increased height to the fire aperture, you can enjoy the realistic effect of taller flames. LED lighting technology ensures a vibrant realism to the flames.
£2,399.00£2,979.00
---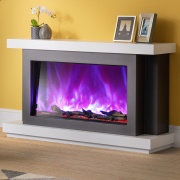 Incorporating the larger, 125-44 Stratus electric fire, this free-standing fireplace suite provides a simple way to add a stylish and contemporary focal point to almost any room. The Rayburn Stratus 125 Extra Tall Electric Fireplace Suite is finished in a striking combination of black and white.
£2,999.00£3,729.00
---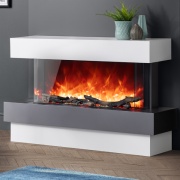 Supplied with a stylish, contemporary dedicated free-standing suite that allows you to fit the Stratus 100 Tru View fire against a flat wall whilst enjoying a 180° view of the dazzling flames. A simple way to add a stunning centerpiece into any room. Armchair operation using the remote control.
£2,499.00£3,099.00
---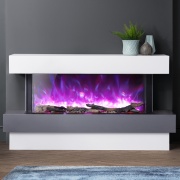 A low and wide free-standing electric fireplace suite designed to accommodate the Stratus 125 Tru View electric fire. Modern in design, this stylish electric fireplace can be easily fitted into any room where it will instantly become the main focal point!
£3,149.00£3,899.00
---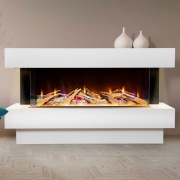 Sit back and appreciate this beautiful, free-standing electric fireplace which has been designed for modern day living. If you're looking for a stylish centerpiece for a lounge, new extension or conservatory, the Electriflame VR Carino 1100 suite boasts simple installation against a flat wall.
£2,269.00£2,675.00
---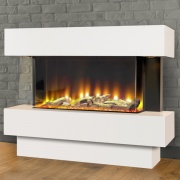 A modern, floor-standing fireplace suite that provides a stylish solution to accommodate Celsi Fire's latest 3-sided E-VR 750 electric fire. Finished in smooth, the Carino has a chunky mantel shelf with integrated downlights which complement the wonderful LED flames on this highly advanced fire.
£2,079.00£2,445.00
---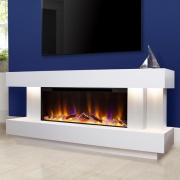 For larger rooms or those looking to create the maximum impact, the spectacular Celsi Gemma 1000 with Electriflame technology is a superb choice! A visual delight with an incredible panoramic flame within a low proportioned suite ideal for those wishing to hang their TV above.
£1,599.00£1,825.00
---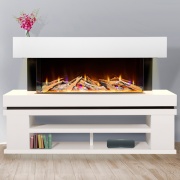 The 1100 version of Celsi's Media suite measures 1595mm (63") wide and will create a spectacular feature within any modern styled interior. The striking white finish of the suite is the ideal place to show off this innovative 3-sided electric fire. Area below the fire is ideal for media box, DVD player etc.
£2,669.00£3,145.00
---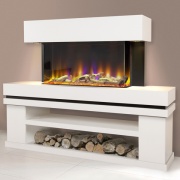 The VR Media 750 is a free-standing electric suite with a built-in twin shelf storage solution. It features integrated soft LED down-lights on the underside of mantel shelf which create a lovely effect by shining light down on to the hearth shelf. Simple 'place down & plug in' fuss-free installation!
£2,419.00£2,845.00