We have put together this fabulous, complete fireplace package offered with incredible savings for a limited time! The beautiful Tasmin marble fireplace suite and your choice of Abbey gas fire or electric fire suitable for any home - Don't miss out on this amazing deal only whilst stocks last!
Showroom Exclusive
---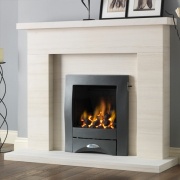 Clean, modern lines and a perfect companion to most standard sized gas or electric fires. The Pureglow Drayton is made from lavish Sepol Limestone with neutral tones and subtle, individual veining. It can be purchased on its own or available with the Zara fire as shown with even more savings!
Showroom Exclusive
£684.00

---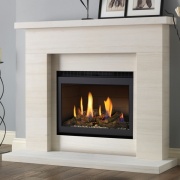 Being one of the most popular models in their range of premium limestone fireplaces, Pureglow have now produced a complete suite comprising of the Drayton mantel, hearth and slip set combined with the very latest, wide format high efficiency gas fire providing stunning looks and performance.
Showroom Exclusive
---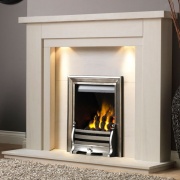 Crafted from opulent natural limestone with subtle neutral tones that will compliment any colour scheme, the beautiful Pureglow Hanley is an extremely attractive design that features downlights under the mantel chest which create a lovely, cosy effect even when the fire is not in use.
Showroom Exclusive
£788.00

---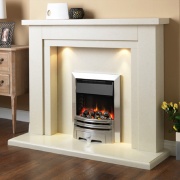 The Hanley fireplace in Perla marble is a handsome design that is ideally suited to modern living. Featuring eye-catching lights under the mantel chest which create a stunning effect by illuminating the fire area. Add your choice of gas or electric fire or opt for the Pureglow Grace fire with extra savings.
Showroom Exclusive
£939.00

---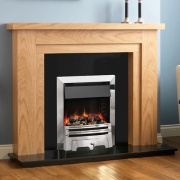 Bring your room to live with the wonderful Pureglow Hanley fireplace. Blocky, stepped design and incorporating low energy downlights, this really is a fireplace that will make a dramatic impact! Gorgeous, natural oak finish with your choice of ebony granite or Perla marble interior and hearth.
Showroom Exclusive
£668.00

---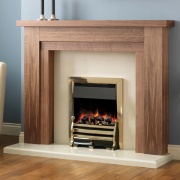 Finished in fashionable American Walnut, this version of the Pureglow Hanley is the ideal for surround for either the Perla marble or dramatic ebony Granite back panel and hearth. Save even more when combining this model with the optional Bauhaus gas or electric fire.
Showroom Exclusive
£773.00

---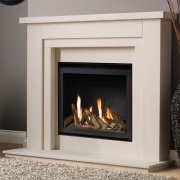 Absolutely stunning! Transform any home with the gorgeous Hanley fireplace suite combined with a state-of-the-art, extra large gas fire which really stands out against the subtle tones of the natural Portuguese Limestone. Excellent performance and efficiency plus remote control.
Showroom Exclusive
---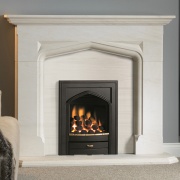 Classically inspired and crafted using Sepol Portuguese Limestone, the imposing Pureglow Harvington fireplace will make a grand feature and the ideal companion to a wide variety of fires. You also have the option of purchasing as a 'package deal' with the Churchill fire shown in images.
Showroom Exclusive
£1,377.00

---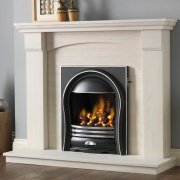 Shown here combined with the beautiful Annabelle fire which is offered as a optional extra with extra discounts, the Pureglow Kingsford fireplace will provide any home with a stylish centrepiece. Crafted using natural Sepol Limestone with a 48" mantel width and delicate, arched chest feature.
Showroom Exclusive
£779.00

---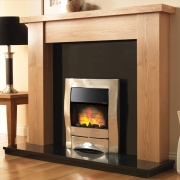 The Stanford is an extremely popular fireplace in the Pureglow range. Classical natural oak finish combined with modern design and incorporating ambient downlights under the mantel chest producing a truly stunning effect. Option to add the premium Zara fire at a extra discounted price.
Showroom Exclusive
£669.00

---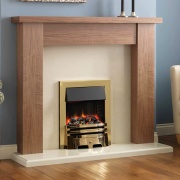 A fashionable, timber mantel in American Walnut offered with your choice of Perla marble or ebony granite back panel and hearth. To accentuate the stylish looks of the Pureglow Stanford fireplace, there are concealed ambient down lights under the mantel chest. Offered with or without a fire.
Showroom Exclusive
£773.00

---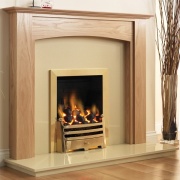 Finished in natural oak with a choice of Perla marble or ebony granite interior and hearth set, the Pureglow Stretton features a subtle arch and stepped detail down the legs. It is well suited to both traditional or contemporary interiors is the perfect companion for a variety of fire options.
Showroom Exclusive
£489.00

---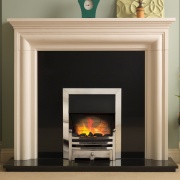 Taking inspiration from time-honored fireplace designs, the Pureglow Wenlock is crafted using Agean Limestone and combined here with sleek, ebony granite resulting in a truly stunning fireplace that works equally well in modern settings. Offered with the Bauhaus fire at a reduced price.
Showroom Exclusive
£1,406.00