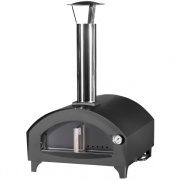 The Bravo pizza oven benefits from easy maneuverability with its low legs and removable stainless steel chimney make it ideal for taking it wherever you may be required to bake beautiful pizza. A Chamotte oven base ensures the ultimate in authentic crispiness!
£590.00
---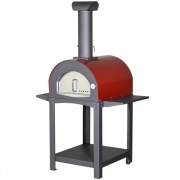 Make the most of alfresco dining and entertaining in your garden with the fabulous Vita wood-fired oven. Enjoy incredible tasting pizza in minutes plus this versatile oven can be used for roasting, slow cooking and a host of additional, delicious delicacies!
£755.00
---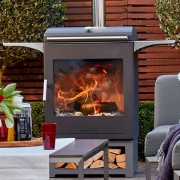 Cook, eat and relax outside, whenever you want with the fabulous Heat & Grill outdoor heater and barbecue. Employing Chesneys' award winning stove technology, this innovative wood burning heater and controllable barbecues delivers a beautiful radiant heat and a great cooking experience.
£1,929.00
---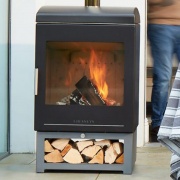 A new heat-only option with all the environmental and performance benefits of an indoor stove. Using advanced technology as found their wood burning stove collection, the Chesneys Clean Burn emits a substantial amount of glowing heat, producing next to no smoke and runs on very little fuel.
£1,579.00
---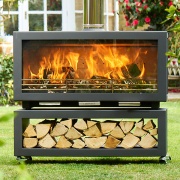 The Clean Burn XL from Chesneys is a powerful outdoor wood burning stove that provides clean, eco-friendly heat allowing you to spend more time enjoying outdoors. The standard unit is designed to be installed in a fixed raised position or there's an optional, stylish Log Store base unit.
£1,999.00
---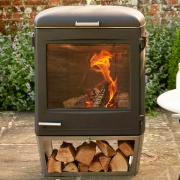 This stylish, robust barbecue and outdoor wood burning stove is the perfect addition to your home. The Garden Gourmet is capable of cooking food to perfection when set to the precise temperature then allowing you to enjoy longer periods outside with warmth and character provided by burning logs.
£2,729.00
---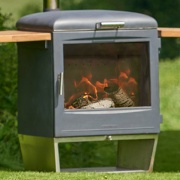 For those who often entertain larger parties, the HEAT Garden Party is the largest model in the designer range of wood fired barbecues and outdoor stoves from Chesney's. Featuring an easy-to-use single air control lever, optional serving shelves and a digital thermometer for precise cooking.
£3,299.00
---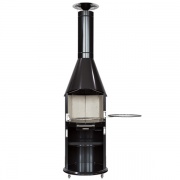 The Fire & Grill is a stylish, wood and charcoal outdoor barbecue constructed from double-sided enameled steel with stainless steel elements. The firebox is lined with materials fireproof up to 1250°C, resistant to high temperatures. Cook up a feast with the Fire & Grill offered at a special discounted price!
£719.00
---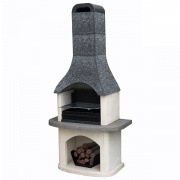 The Sorrento is a heavy duty, masonry barbecue which is a great addition for anyone wanting to cook outdoors using either wood or charcoal. Enjoy delicious meals outside cooked beautifully using charcoal and then switch to logs to keep warm outside after dinner.
£799.00£1,143.00
---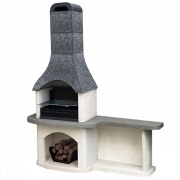 Combining functionality and design, the Sorrento Masonry Barbecue with Side Table option is a welcome addition for any garden. Being able to burn different types of fuel, after you have finished cooking with charcoal, you can then change to logs or firewood to sit round the fireplace to keep warm!
£899.00£1,301.00
---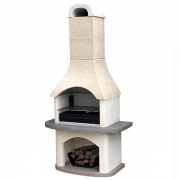 Enjoy you garden more with the Verona Masonry Barbecue. A stylish feature standing over 2 metres tall, this robust wood and charcoal appliance can not only cook sizzling delicious food, it can also be used to keep you warm later into the evening when you can use it as a log fired heater.
£810.00£1,143.00
---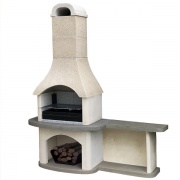 Make more of your outdoor space with the fabulous Verona Masonry Barbecue with Side Table. A robust, maintenance free BBQ which is designed to burn charcoal or firewood and capable of cooking tasty food as well as doubling up us a heater to sit around once your meal is finished.
£925.00£1,301.00
---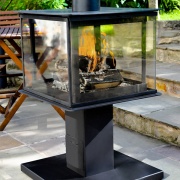 Make those summer nights last longer with the new Garden Cube outdoor wood burning stove from Legend Fires. This stylish garden heater boasts a perfect view of the glowing logs and flickering flames from all four sides providing a lovely ambient atmosphere for the perfect outdoor environment!
£1,499.00
---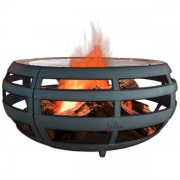 A stylish outdoor fire pit which also provides the option of cooking food on an open flame. Manufactured using cast iron for the outer frame with a stainless steel grill to allow for easy grilling of all types of food, the Mi-Fire Pit will be a welcome addition to any garden space.
£129.00