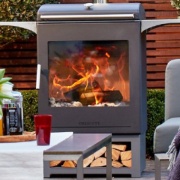 Cook, eat and relax outside, whenever you want with the fabulous Heat & Grill outdoor heater and barbecue. Employing Chesneys' award winning stove technology, this innovative wood burning heater and controllable barbecues delivers a beautiful radiant heat and a great cooking experience.
Showroom Exclusive
£1,749.00

---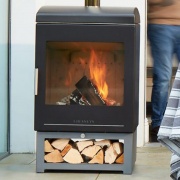 A new heat-only option with all the environmental and performance benefits of an indoor stove. Using advanced technology as found their wood burning stove collection, the Chesneys Clean Burn emits a substantial amount of glowing heat, producing next to no smoke and runs on very little fuel.
Showroom Exclusive
£1,399.00

---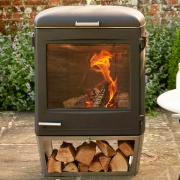 This stylish, robust barbecue and outdoor wood burning stove is the perfect addition to your home. The Garden Gourmet is capable of cooking food to perfection when set to the precise temperature then allowing you to enjoy longer periods outside with warmth and character provided by burning logs.
Showroom Exclusive
£2,449.00

---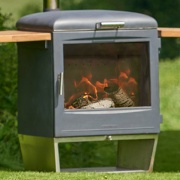 For those who often entertain larger parties, the HEAT Garden Party is the largest model in the designer range of wood fired barbecues and outdoor stoves from Chesney's. Featuring an easy-to-use single air control lever, optional serving shelves and a digital thermometer for precise cooking.
Showroom Exclusive
£2,999.00

---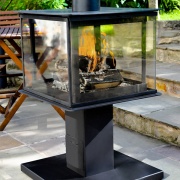 Make those summer nights last longer with the new Garden Cube outdoor wood burning stove from Legend Fires. This stylish garden heater boasts a perfect view of the glowing logs and flickering flames from all four sides providing a lovely ambient atmosphere for the perfect outdoor environment!
Showroom Exclusive
£1,299.00