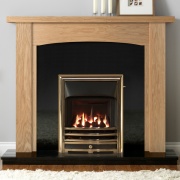 Supplied in a attractive light oak veneered finish with the option of choosing a striking Ebony Granite or Perla micro marble interior and hearth. The Gallery Abbey is a versatile fireplace that will compliment a vast array of interior décor styles. Combine with most standard sized gas or electric fires.
£295.00£369.00
---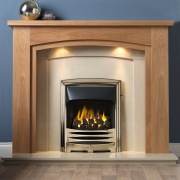 The Allerton is a beautiful timber mantel featuring a gentle sweeping arch on the chest and finished in natural oak veneer. It is offered here with a choice of Perla or Black Granite back panel with a inner slip set which mirrors the curve on the surround plus a matching hearth.
£595.00£749.00
---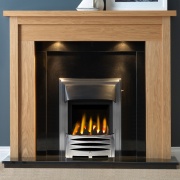 With ambient spotlights recessed into the mantel chest, the Gallery Askham will take centre stage as the main focal point even when the gas or electric fire you choose to combine with this fireplace is not in use. Attractive light oak veneer finish with your choice of Granite or Perla back panel and hearth.
£595.00£749.00
---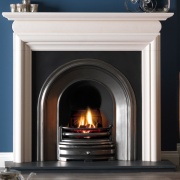 One of the best known and popular models in the Gallery range, the Asquith is a gorgeous natural limestone fire surround that features exquisite rounded leg and chest detail complimented by a shaped mantel shelf. Offered here with the Crown insert which is also a extremely popular option.
£929.00£1,199.00
---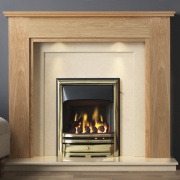 This timeless wooden fireplace surround is offered here with a choice of Perla Marble or Black Granite back panel and slip set plus matching hearth. The Gallery Atwick suite has a 1380mm (54") wide mantel shelf and is compatible with all standard sized gas fires and electric fires.
£595.00£749.00
---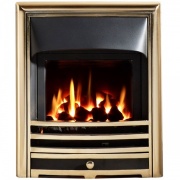 With three versions to choose from with an option suitable for all flue types, the Gallery Aurora provides a superb solution to modern heating needs without compromising on style. High quality cast fascia in antique brass, silver or black and conveniently operated by a slide control lever.
£549.00£660.00
---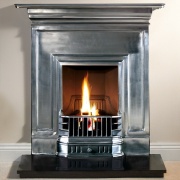 The beautiful Gallery Barcelona combination cast iron fireplace combines both insert and mantel in a single unit. It is, therefore, easier to install and saves the additional expense of a separate mantel, whilst compact dimensions make it particularly suitable for smaller rooms or chimneys.
£479.00£599.00
---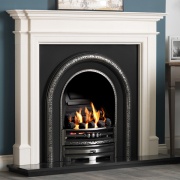 Instantly recognisable with a striking, tiered feature across the mantel chest extending down the leg, the imposing Gallery Bartello is a fireplace surround that will definitely make a impact in any home. Choose the mantel on its own for installation in an inglenook style or combine with most standard inserts.
£875.00£1,095.00
---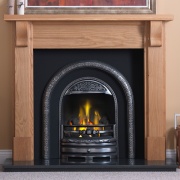 The solid wood Bedford fireplace surround is available in two sizes and in a choice of pine or oak. Offered here with the optional Gallery Bolton cast iron insert and a wide range of hearths, it will create a striking centrepiece in your home. Compatible with a choice of dedicated gas, electric or solid fuel fire.
£465.00
---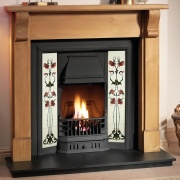 A beautiful, reproduction fireplace that combines the rustic charm of solid wood with the robust qualities of cast iron. Offered in a choice of pine or oak and in two sizes, the Gallery Bedford fire surround is available here with the Prince tiled insert creating a classical centrepiece for your home.
£465.00
---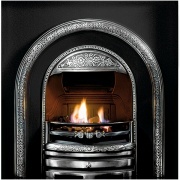 A versatile, decorative cast panel which can be combined with a variety of fires to create a beautiful interior for your fireplace. The Gallery Bolton is finished in matt black with the raised sections on the arch, front bars, ashpan and canopy highlighted in silver.
£399.00£495.00





---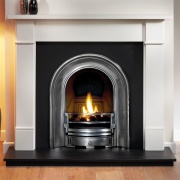 The Brompton 51" mantel from Gallery Fireplaces will create a prominent feature in a wide variety of interior styles and gives you the option of combining with a huge range of interior, fire and hearth options. Based on the attractive 'Flat Victorian' style, it is crafted in natural Agean Limestone.
£589.00£740.00
---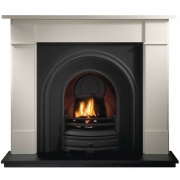 The larger version of the Gallery Brompton limestone fireplace surround will create a prominent feature within your home. With a 1420mm (56") mantel width, it is well placed on larger wall spaces and as offered here with the delightful Crown cast iron insert plus choice of gas, electric or solid fuel fire.
£599.00£749.00
---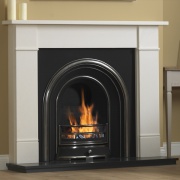 A breathtaking design that will make a bold statement in any home! The Gallery Brompton 56" limestone mantel takes its inspiration from the Victorian era yet manages to also fit in perfectly within the latest interior design trends, especially when combined with the optional Jubilee insert.
£599.00£749.00