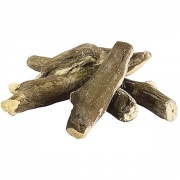 As an alternative to the standard coal fuel effect supplied as standard with Gallery basket gas fires, you may wish to select from one of five realistic fuel effects. These ceramic fuel packs are designed to recreate firewood, pebbles, driftwood, charcoal plus a high definition log set for the ultimate in realism.
Showroom Exclusive
£50.00

---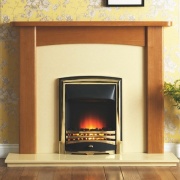 Supplied in a attractive light oak veneered finish with the option of choosing a Marfil or Perla micro marble or striking ebony granite interior and hearth, the Gallery Abbey is a versatile fireplace that will compliment a vast array of interior décor styles. Combine with most standard sized gas or electric fires.
Showroom Exclusive
---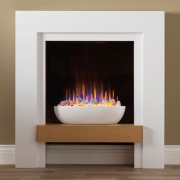 A stylish, complete electric fireplace finished in cool white with an attractive oak shelf and feature 'fire bowl'. The Gallery Alto provides an extremely simple solution for instantly adding a contemporary focal point to almost any room. Free-standing fireplace that can be fitted against a flat wall.
Showroom Exclusive
---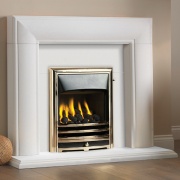 The Ascoli is a beautiful, modern fireplace design crafted using premium Agean Limestone. A soft curve on the face of each leg extends on to the top mantel with attractive edge detail. A perfect companion to your choice of gas fire or electric fire and shown here with the optional Gallery Aurora.
Showroom Exclusive
---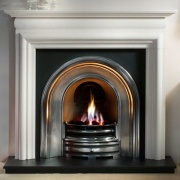 One of the best known and popular models in the Gallery range, the Asquith is a gorgeous natural limestone fire surround that features exquisite rounded leg and chest detail complimented by a shaped mantel shelf. Offered here with the Crown insert which is also a extremely popular option.
Showroom Exclusive
---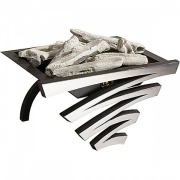 Another cast iron basket that includes a dedicated gas fire burner as standard. Instantly recognisable with its modern 'zig-zag' frontage, the Gallery Astra basket is sure to stand out when fitted inside any contemporary fireplace. Suitable for installation into a Class 1 flue.
Showroom Exclusive
---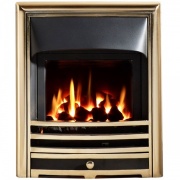 With three versions to choose from with an option suitable for all flue types, the Gallery Aurora provides a superb solution to modern heating needs without compromising on style. High quality cast fascia in antique brass, silver or black and conveniently operated by a slide control lever.
Showroom Exclusive
---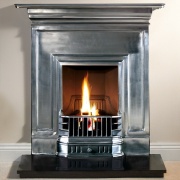 The beautiful Gallery Barcelona combination cast iron fireplace combines both insert and mantel in a single unit. It is, therefore, easier to install and saves the additional expense of a separate mantel, whilst compact dimensions make it particularly suitable for smaller rooms or chimneys.
Showroom Exclusive
---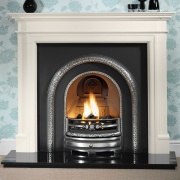 Instantly recognisable with a striking, tiered feature across the mantel chest extending down the leg, the imposing Gallery Bartello is a fireplace surround that will definitely make a impact in any home. Choose the mantel on its own for installation in an inglenook style or combine with most standard inserts.
Showroom Exclusive
---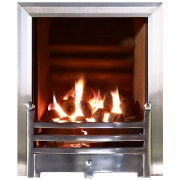 Featuring the acclaimed Bauhaus fret, this is a gas fire that compliments either traditional or contemporary fireplace designs. The Gallery Bauhaus gas fire can be selected as a open-fronted decorative Hotbox, a Class 1 or Class 2 convector or a glass-fronted, high efficiency model.
Showroom Exclusive
---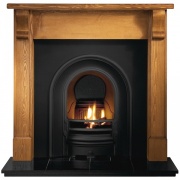 The solid wood Bedford fireplace surround is available in two sizes and in a choice of pine or oak. Offered here with the optional Gallery Coronet cast iron insert and a wide range of hearths, it will create a striking centrepiece in your home. Compatible with a choice of dedicated gas, electric or a real fire.
Showroom Exclusive
---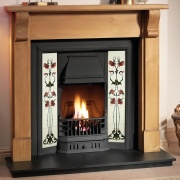 A beautiful, reproduction fireplace that combines the rustic charm of solid wood with the robust qualities of cast iron. Offered in a choice of pine or oak and in two sizes, the Gallery Bedford fire surround is available here with the Prince tiled insert creating a classical centrepiece for your home.
Showroom Exclusive
---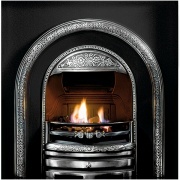 A versatile, decorative cast panel which can be combined with a variety of fires to create a beautiful interior for your fireplace. The Gallery Bolton is finished in matt black with the raised sections on the arch, front bars, ashpan and canopy highlighted in silver.
Showroom Exclusive
---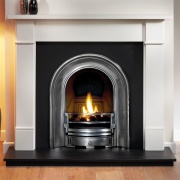 The Brompton 51" mantel from Gallery Fireplaces will create a prominent feature in a wide variety of interior styles and gives you the option of combining with a huge range of interior, fire and hearth options. Based on the attractive 'Flat Victorian' style, it is crafted in natural Agean Limestone.
Showroom Exclusive