A classical combination of black grate with brass legs, the Burley Cottesmore 223 is a traditional basket fire with electric flicker effect plus up to 2kW of heat when needed. An ideal choice to bring any unused fireplace opening to life!
£319.00£360.00
---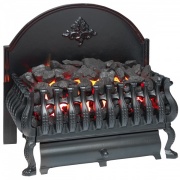 The Burley Cottesmore provides a simple way to bring any fireplace opening to life. Just plug in to a electric socket to enjoy the flickering glow effect and 1kW or 2kW heat output. The Cottesmore Cottesmore 224 has black legs and back plate ideal for classical interior settings.
£319.00£360.00
---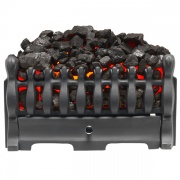 A simple solution to bring a standard 16" fireplace opening to life, the Burley Halstead 292 is a tapered electric fire basket offered inthree. The Halstead 292 is supplied with timeless Windsor fret in a choice of Black, Brass or Chrome and will bring any fireplace opening to life!
£259.00
---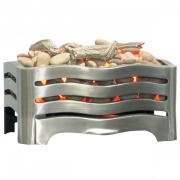 The Burley Waverley 228 is a contemporary basket finished in brushed steel that incorporates a electric fire with a stylish pebble & driftwood fuel effect. A 2kW fan heater helps to take the chill off the room whilst the flicker-effect flames can also be enjoyed without the heat.
£349.00£399.00
---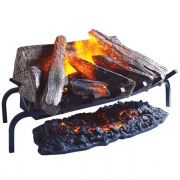 The Silverton basket fire is ideal for bringing unused fireplaces back to life. The realistic log fuel bed is enhanced by LED under bed lighting for a warming glow whilst the amazing Opti-Myst flame and smoke effect creates an illusion so realistic that it is difficult to distinguish from the real thing!
£479.00£575.00
---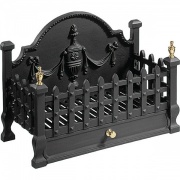 A traditional, ornate cast iron basket available in two finishes and a choice of fire combinations. The Gallery Castle features beautiful, intricate detailing on the back plate with a medieval gate style front section. Matt black with brass embellishments or highlighted finish.
£329.00£399.00
---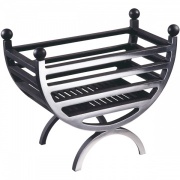 Always a popular design, the Gallery Cottage fire basket is offered in two sizes and will become a major feature in any home! Gorgeous curved cast iron with horizontal front bars with the added benefit of being reversible with one side finished in black and the other highlighted silver.
£389.00£465.00
---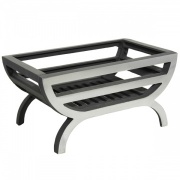 Supplied with a solid fuel grate as standard allowing you to burn wood or coal, the Gallery Cradle fire basket is available in small or large sizes. The cast iron Cradle is matt black on one side and polished silver on the other giving you the opportunity to choose from two different options.
£259.00
---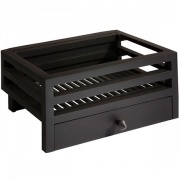 The Elan basket is a timeless design that will grace a wide variety of homes and interiors. Choose from matt black painted cast iron or, for a more contemporary feel, a fully polished version. The cast iron Gallery Elan has a selection of fire options plus there is a optional cast back plate available.
£229.00£279.00
---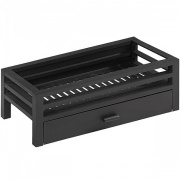 The Krypton basket by Gallery Fireplaces is a larger model ideally suited to classic inglenook fireplaces. Alternatively, it can provide your room with a dramatic modern centrepiece when used on its own in a raised up chimney opening. Available black or polished cast iron and with a selection of fires.
£349.00£419.00
---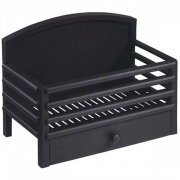 Choose from a range of fire options to suit your lifestyle with this beautiful, cast iron basket. The Gallery Matrix is a perfect addition to a chamber fireplace or equally appealing when fitted on its own into an chimney opening. Classic matt black or fully polished satin silver finish.
£389.00£459.00
---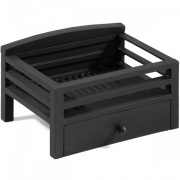 Similar clean lines to the Elan basket but with smaller proportions, the Gallery Neon is available in the same two finishes and you choice of gas fire or solid fuel kit. The high quality, cast iron Neon basket is ideally suited to smaller fireplace openings and will create a stunning feature.
£249.00£299.00
---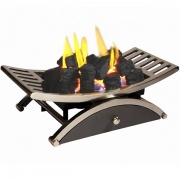 A striking, contemporary fire basket which gives you the option of using it on its own as a decorative feature, combining it with a dedicated coal effect gas fire or burning logs and coal with the solid fuel kit option. The popular Gallery Nexus is finished in a choice of black or chrome.
£349.00£410.00
---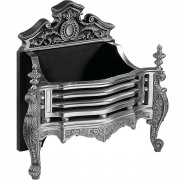 Incorporating detailed classical ornamentation that is characteristic of the period, the stunning Queen Anne basket from Gallery Fireplaces can be used with a dedicated coal effect gas fire, or alternatively with a real fire. Manufactured using cast iron that has a lustrous, hand crafted quality.
£479.00£575.00