A truly beautiful model, the AGA Dorrington wood burning stove adds inspiration to any space it fills. With a high efficiency at 80.4% and a 6kW nominal output it is ideal for medium and large living areas. Tall, imposing with the advantage of additional side windows for a full view of the flames.
£2,979.00£3,679.00
---
AGA have introduced the fabulous Ellesmere EC4 to their exclusive range of wood burning and multi-fuel stoves. This innovative appliance carries the 2022 Eco Compliant Logo and represents the development of their range and their commitment to the stove market.
£1,369.00£1,689.00
---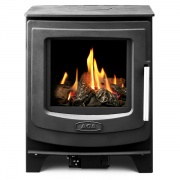 From the fabulous Ellesmere range from AGA Stoves, the EC5 Gas Stove has been designed to produce a remarkable flame dancing over an authentic log effect fuel bed which is almost indistinguishable from a real stove. As a Balanced Flue appliance, it can be fitted into homes without a chimney.
£1,729.00£2,145.00
---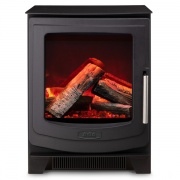 AGA, a name synonymous with premium home cooking and heating, have now introduced a highly advanced electric engine for their stylish Ellesmere stove. Enjoy the looks of a real stove with the convenience, controllability and ease of installation of electric. A lovely addition to any room!
£1,569.00£1,939.00
---
One of the latest editions to the AGA Stoves family is the dynamic Ellesmere EC5. Blending contemporary and traditional design, the Ellesmere EC5 boasts clean lines and solid performance. Producing an outstanding flame picture and plenty of efficient heat ideal for standard sized rooms.
£1,514.00£1,869.00
---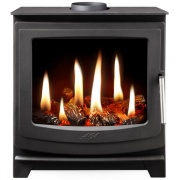 With larger dimensions than the standard EC5 gas stove, the AGA Ellesmere EC5W 'Wide' provides the ultimate view of the flames within. This stylish model is a balanced flue appliance which can be fitted against an external wall in homes where no chimney or flue is present.
£1,799.00£2,244.00
---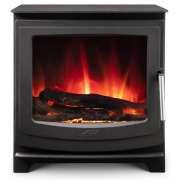 With a choice of three LED flame colours, you can adjust the AGA Ellesmere EC5W electric stove to your preferred setting without the need to have the heater on. This handsome appliance boasts larger proportions than the standard model and so creates the ultimate impact for your home.
£1,899.00£2,369.00
---
With a wider footprint than the standard EC5 model, the AGA Ellesmere EC5W allows you to enjoy the maximum impact from the mesmerising flames through the widescreen viewing window. This innovative stove still retains a 5kW output making it perfect for standard sized rooms.
£1,739.00£2,150.00
---
The clean, contemporary lines of the Hadley wood burning stove will appeal to those looking for an honest, unfussy design. With its impressive height and beautiful flame effect, the Hadley will bring warmth and comfort to the coldest room. With an 8kW nominal heat output and 75.7% efficiency.
£1,389.00£1,716.00
---
The grand proportions of the AGA Hanwood mean it will make a bold statement in any room. The extensive fire chamber with widescreen glass window allow the flames to take centre stage. As a smoke exempt appliance, the Hanwood is suitable for burning wood even in a smokeless area.
£1,549.00£1,912.00
---
The AGA Lawley will create a stunning, stylish feature in contemporary living spaces. This modern wood burning stove allows the stove to be rotated giving you a full 360° view of the fire. Highly efficient and with a large viewing window providing a wonderful flame view.
£2,059.00£2,549.00
---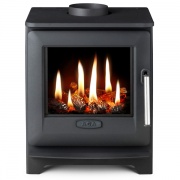 A superb balanced flue gas stove from iconic brand AGA. The Ludlow EC5 provides the looks and charm of a real stove but with the added convenience of gas. Instantly bring life into the room at the touch of a button with real flames dancing over an authentic log effect fuel bed.
£1,729.00£2,145.00
---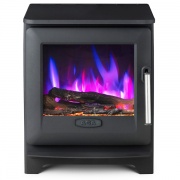 Encased in a stylish body, similar to its wood burning counterpart, the AGA Ludlow EC5 Electric Stove provides an excellent solution for those looking to create a characterful 'stove' centerpiece but prefer the convenience of electric. Just plug in for instant ambience and heat whenever needed!
£1,569.00£1,939.00
---
The AGA Ludlow EC5 has been updated to ensure the very best aesthetics, enhanced performance and, importantly, EcoDesign compliant and DEFRA approved. This guarantees peace of mind that you have a stove that meets the very latest standards for efficiency and a cleaner burn performance.
£1,514.00£1,869.00