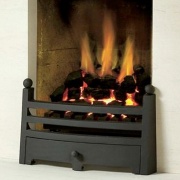 Designed to fit into a standard, 16" fireplace opening that may have been used for a real fire, the Verine Acclaim tapered gas tray will bring the fireplace to life with its highly realistic glowing coals and flickering flames. Choice of optional frets available.
Showroom Exclusive
---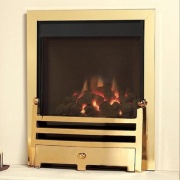 One of the most efficient balanced flue gas fires on the market with an amazing energy efficiency rating of 93.5% combined with a powerful heat output of up to 3.9kW! The Verine Alpena balanced flue gas fire is offered with a vast selection of trims and frets plus three different control options.
Showroom Exclusive
---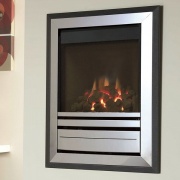 Whether you opt for the contemporary, wall-mounted style of the Frontier 4-sided fascia or the modern lines of the Essence hearth-mounted fascia, the Verine Alpena balanced flue will provide amazing heating performance combined with unrivalled efficiency for 'no chimney' properties.
Showroom Exclusive
---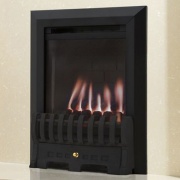 A fairly recent addition to the Verine range, the Elypse balanced flue gas fire has been specifically developed for homes without a chimney or flue. Due to the Verine Elypse's slimline depth, it is ideally suited to installations on a flat, external wall. Choose from black, brass or silver finish.
Showroom Exclusive
---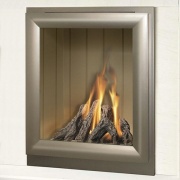 With larger overall dimensions than most inset gas fires, the Verine Meridian HE hearth-mounted gas fire boasts modern, European styling normally only seen on high-end models. This glass-fronted, high efficiency gas fire is operated by a fully sequential remote control as standard.
Showroom Exclusive
---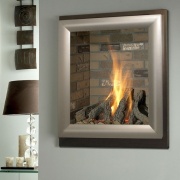 A popular high efficiency gas fire designed to be fitted raised up, inset in the wall. The glass-fronted, Verine Meridian HE wall-mounted gas fire is offered with a choice of fascia colours and interior linings with authentic log effect fuel bed.
Showroom Exclusive
---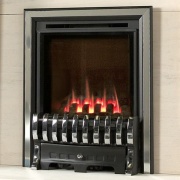 The Verine Midas HE is a glass-fronted, slimline high efficiency gas fire is suitable for virtually any flue type including shallow, pre-cast flues. Boasting an energy efficiency of 81.3%, the Midas HE is the perfect model for anyone looking to reduce running costs and energy bills.
Showroom Exclusive
---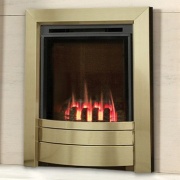 Supplied with a contemporary, one-piece fascia frame with options available for hearth mounting into a fireplace, the Verine Midas HE high efficiency gas fire is a slimline model well suited to shallow flue depths. Choice of Essence or Frontier 3-sided fascias.
Showroom Exclusive
---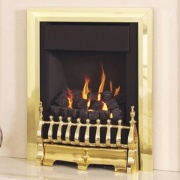 Whilst suitable for all flue types, the Verine Midas Plus gas fire has been specifically designed for shallow, pre-cast flues. With a slimline inset depth of only 125mm, this open-fronted gas fire benefits from state-of-the-art technology producing improved efficiency and a superb heat output.
Showroom Exclusive
---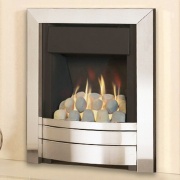 Providing more of a contemporary look to the Verine Midas Plus gas fire, the one-piece fascia frames are offered in two different styles and a variety of finishes. There are also options available to install the fire raised up on the wall as well as combined within a fireplace.
Showroom Exclusive
---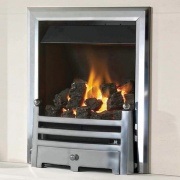 The Verine Orbis is one of the hottest, open-fronted convector gas fires with a full depth fuel bed and realistic coal fuel effect. You can totally change the look of the fire by selecting your choice from the vast range of Verine's exclusive trims and frets plus there's three control options to choose from.
Showroom Exclusive
---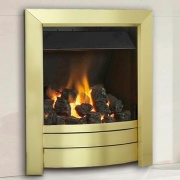 Giving a more contemporary feel to the Verine Orbis open-fronted convector gas fire, the stylish fascia frames offered can be selected in a range of finishes to compliment any modern inspired fireplace. This full-depth gas fire boasts impressive heating performance and a realistic flame pattern.
Showroom Exclusive
---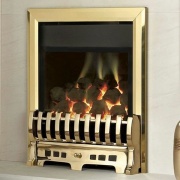 A premium, full-depth high efficiency gas fire that offers a powerful heat output combined with a market leading efficiency rating of 86.3%! The Verine Orbis HE gas fire is designed for standard fireplace openings and can be tailored to compliment any interior style.
Showroom Exclusive
---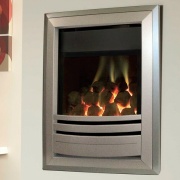 Giving you the opportunity to fit Verine's highly efficient Orbis HE gas fire as a hole-in-the-wall style fireplace or combine it with a fireplace to create a sleek, modern feature. The fascia version of the Verine Orbis HE is offered with the Essence, Frontier, Arcadia or Embrace frames.
Showroom Exclusive