The ACR Tenbury multi-fuel inset stove is the perfect solution for enjoying real stove ambience in a standard 16" fireplace opening. Featuring attractive, contemporary styling and straightforward installation with its free floating flue collar and convection outerbox. Suitable for use in smokeless areas.
£945.00
---
The ACR Tenbury T550 features the same contemporary styling as the T400 but with a wider firebox. It has a 5Kw output and a 10 year warranty. A removable convection outer box makes for straightforward installation with the option of a 3 or 4 sided frame to suit your setting.
£1,295.00
---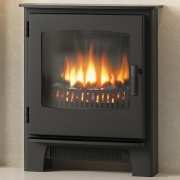 The Desire Inset is destined for popularity with its matt black finish steel construction to add character to your room. The big curved window allows you to witness the welcoming glow any time of year with the flame only option and when required, you have instant convected heat available.
£739.00£825.00
---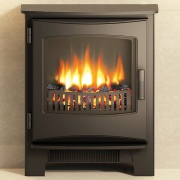 The door on the Broseley Ignite inset electric stove is in cast iron, giving the authentic look of a genuine multi-fuel stove – the glowing and shimmering coal bed adding to the effect. It can be installed into an existing fireplace or for a flat wall installation use with a 75mm rebate surround.
£799.00£889.00
---
The Inset model of Cast Tec's popular Cougar stove is a great way to turn an existing fireplace opening into a highly efficient and clean way to enjoy wood burning. Quality cast iron construction, the Cougar Inset features a large glass viewing window providing a lovely view of the flames.
£849.00
---
A stylish, contemporary alternative to a free-standing stove, the Di Lusso Eco R4 Inset is offered with a choice of 3 or 4 sided frame options to allow you to combine within a fireplace at hearth level or install raised up in a chimney breast as a 'hole-in-the-wall' feature. Choose from Black or Pewter finish.
£1,439.00£1,699.00
---
The Di Lusso R5 Inset Stove provides a stylish focal point and plenty of heat whilst utilising space in your home. With a nominal heat output of 6.3kW, it is ideal for heating larger rooms and with Di Lusso's innovative firebox technology it is extremely controllable and easy to operate.
£1,669.00£1,969.00
---
The larger proportions of the Eco R6 Inset Stove by Di Lusso provide a spectacular view of the dancing flames. Featuring Di Lusso's cutting-edge 'Flame Technology' system that ensures a more complete combustion of the fuel used to further lower emissions even at lower burn temperatures.
£1,669.00£1,969.00
---
A slimmer version of the original R6 Inset Stove, this Di Lusso model boasts advanced firebox technology and a truly exquisite finish, all whilst utilising space efficiently. Already compliant with stringent Ecodesign 2022 standards and can be used to burn wood in smokeless areas.
£1,669.00£1,969.00
---
Available in 540 or 680 models to suit all room sizes, the fabulous Stovax Elise Edge is a modern cassette fire with a minimalist, frameless design allowing you to install raised up in the wall or combine within a fireplace surround. Boasting EcoDesign compliance with incredible performance.
£1,879.00£2,379.00
---
As opposed to the completely frameless Edge model, the Edge+ version of Stovax's Elise inset cassette fire includes a small, steel outer trim providing a neat finish whilst retaining the minimalist look. The Edge+ frame is available on both models of this highly advanced wood and multi-fuel fire.
£1,999.00£2,534.00
---
Whether your preference is to create a modern 'hole-in-the-wall' feature or you're looking for a inset wood burner to combine within a fireplace at hearth level, the metallic black Profil frame option on the Stovax Elise is offered in a choice of 3 or 4 sided version and frames the fire beautifully.
£2,025.00£2,564.00
---
Fitted raised up in the wall, inset cassette wood burning fires provide a stylish, modern feature and offer a perfect eye-level view of the dancing flames. The Stovax Studio 1 can be supplied with numerous frame options and has a heat output of 5kW making it ideal for standard sized rooms.
£1,915.00£2,425.00
---
The Freestanding Studio 2 offers you up to 8kW of heating capacity as well as superb views of the flames. Featuring exactly the same firebox attributes as other Studios, the Freestanding version may be mounted on a hearth or installed onto your choice of six optional Riva Benches.
£2,639.00£3,349.00