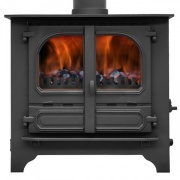 The Dunsley Highlander 10 multi-fuel stove features the same innovative burning control system as the Highlander 8 but is 100mm wider. Each door has its own primary air controls, these control the amount of fuel being burnt and can also be closed down for overnight burning of fossil fuels.
Showroom Exclusive
---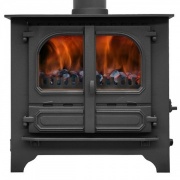 Capable of providing heat to radiators and domestic hot water, the Dunsley Highlander 10 Boiler Stove is designed and built in the UK to the highest standards giving superb burning and clean combustion. A built-in thermostat automatically monitors the central heating temperatures.
Showroom Exclusive
---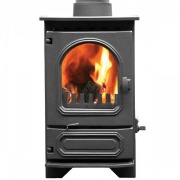 Constructed from heavy gauge steel and cast iron, the Dunsley Highlander 3 Enviro-Burn incorporates both rear and top flue outlet. You have the choice of black, brass or polished steel handles plus an optional canopy can be supplied on request. Compact multi-fuel stove suitable for smaller spaces.
Showroom Exclusive
---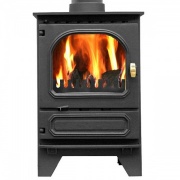 Your ideal setting can be easily achieved by moving the sliding controls on the Dunsley Highlander 5 Enviro-Burn giving you total control of the combustion. This DEFRA approved stove can burn either wood logs or approved solid fuels and has a nominal 5kW output.
Showroom Exclusive
---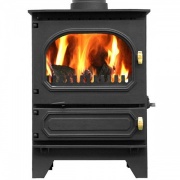 The Dunsley Highlander 7 features a superb shaker grate mechanism which allows you to set the grate for efficient wood burning or ancit smokeless fuel. Black handles are fitted as standard with solid brass or polished steel available on request. Designed and manufactured in the UK.
Showroom Exclusive
---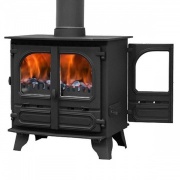 Giving you the opportunity to enjoy the warmth and ambience of a real fire from either side of this model, the Dunsley Highlander 8 Double Fronted stove is a popular option for large, open-plan rooms or within a dividing chimney in between two rooms. Multi-fuel capability with optional canopy.
Showroom Exclusive
---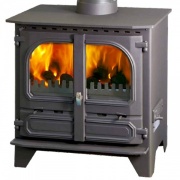 With a heat output of 7.8kW, the Dunsley Highlander 8 will heat a medium to large room and will create a focal feature in both classical or contemporary settings. Featuring a innovative grate mechanism that can be adjusted depending whether you are burning wood or solid fuel.
Showroom Exclusive
---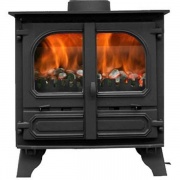 Manufactured to the same high standard that Dunsley have maintained for the past 50 years, the Highlander 8 Boiler Stove is fitted with a fully integral boiler for central heating, capable of running up to eight average sized radiators plus domestic hot water. Suitable for burning wood or solid fuel.
Showroom Exclusive
---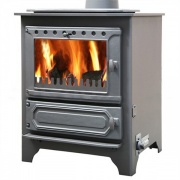 As well as providing warmth to the room, the Dunsley Yorkshire Boiler Stove can also be a complete home heating solution. A thermostat automatically monitors central heating temperature and controls the incoming air to regulate how the fire burns to meet the central heating requirements.
Showroom Exclusive
---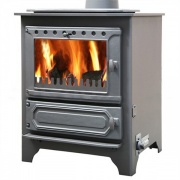 The fabulous Dunsley Yorkshire is the only multi-fuel stove ever to have met all the UK clean-burning tests. It can actually burn cleaner than so called 'smokeless' fuels! Burning the smoke as well as the fuel means more heat for less fuel, less ash, less refuelling and less hassle. Just one simple control.
Showroom Exclusive