The latest addition from Dunsley Stoves is packed with the very latest innovations resulting in a contemporary styled wood burner that has passed the EcoDesign 2022 legislation. The Dunsley Avance 500 is British made and superb choice for those looking for the ultimate in home heating.
£1,189.00
---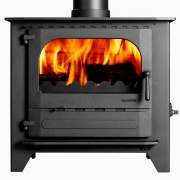 The Highlander 10 Solo stove has been developed using the best burning technology to give you a stove with cleaner burn and high efficiencies of over 77%. Suitable for larger rooms or open plan living areas, the larger fire chamber is capable of taking logs up to 540mm in length.
£1,429.00
---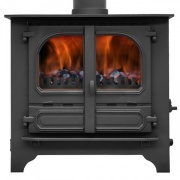 The Dunsley Highlander 10 multi-fuel stove features the same innovative burning control system as the Highlander 8 but is 100mm wider. Each door has its own primary air controls, these control the amount of fuel being burnt and can also be closed down for overnight burning of fossil fuels.
£1,489.00
---
Constructed from heavy gauge steel and cast iron, the Highlander 3 SG Enviro-Burn incorporates both rear and top flue outlet. You have the choice of black, satin chrome, satin gold or wood handle and the stove is EcoDesign 2022 compliant. Compact multi-fuel stove suitable for smaller spaces.
£1,039.00
---
A hugely popular version of the Highlander 5 Enviro-Burn, the Solo model features a choice of two single door styles providing a lovely, uninterrupted view of the fire area. The standard Solo door has curved edges around the top of the window whilst the 'SG' door has modern, square edges.
£1,049.00
---
With increased flame visuals through the wide aspect viewing window, the Slimline version of Dunsley's Highlander 5 Enviro-Burn multi-fuel stove is perfect for those looking to create maximum impact. With a shallower depth, the stove retains a 5kW output making it perfect for standard sized rooms.
£1,049.00
---
Your ideal setting can be easily achieved by moving the sliding controls on the Dunsley Highlander 5 Enviro-Burn giving you total control of the combustion. This DEFRA approved stove can burn either wood logs or approved solid fuels and has a nominal 5kW output.
£989.00
---
Designed and manufactured to the highest standards in Holmfirth, West Yorkshire, using top quality materials and components. The Dunsley Highlander 7 Enviro-Burn Solo is a multi-fuel stove boasting the latest innovations providing a highly efficient combustion with instant control.
£1,179.00
---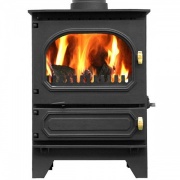 The Dunsley Highlander 7 features a superb shaker grate mechanism which allows you to set the grate for efficient wood burning or ancit smokeless fuel. Black handles are fitted as standard with solid brass or polished steel available on request. Designed and manufactured in the UK.
£1,119.00
---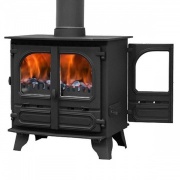 Giving you the opportunity to enjoy the warmth and ambience of a real fire from either side of this model, the Dunsley Highlander 8 Double Fronted stove is a popular option for large, open-plan rooms or within a dividing chimney in between two rooms. Multi-fuel capability with optional canopy.
£1,919.00
---
From renown British stove manufacturer Dunsley Heat, the Highlander Enviro-Burn 8 is one of their larger output stoves which boasts both DEFRA approval for use in smoke controlled areas and EcoDesign compliance. EcoDesign is a new, 'Clean burning' directive set to come into force in 2022.
£1,339.00
---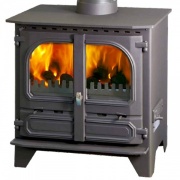 With a heat output of 7.8kW, the Dunsley Highlander 8 will heat a medium to large room and will create a focal feature in both classical or contemporary settings. Featuring a innovative grate mechanism that can be adjusted depending whether you are burning wood or solid fuel.
£1,369.00