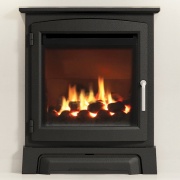 This exciting addition to the Elgin & Hall range allows you to transform one of their popular high efficiency gas fires to achieve the classic 'stove' look. The cast stove trim gives the appearance of an inset stove but with the instant controllability of gas. No chimney balanced flue version also available!
Showroom Exclusive
£799.00

---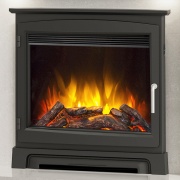 Experience the look and feel of a real stove combined with the instant ambience of electric with the Cast Stove Front in Matt Black finish. This stylish fascia fixes directly onto the 22" Widescreen electric fire so you can enjoy controllable flames with a traditional stove appearance.
Showroom Exclusive
£649.00

---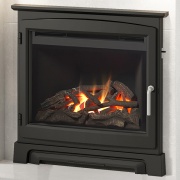 This innovative appliance combines the classic looks of a wide bodied stove combined within a high efficiency inset gas fire. The Widescreen 22" gas fire from Elgin & Hall has a heat output of up to 4.2kW and is easily operated using the slide control lever at the top, side of the appliance.
Showroom Exclusive
£1,149.00

---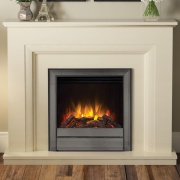 A classic design, instantly modernised by the addition of the charismatic Chollerton electric fire in Nickel. This fire is the pièce de résistance in the Elgin & Hall Amorina Deluxe. With the same variety of finishes as her sister the Amorina, this fireplace can't fail to impress.
Showroom Exclusive
£959.00

---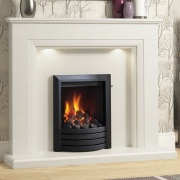 This captivating creation owes its individuality to the classic credentials of the curved detailing. A tall, wide and handsome surround, the Elgin & Hall Amorina is equally charming in a traditional or contemporary setting; simply choose a fire to add the finishing touch.
Showroom Exclusive
£958.00

---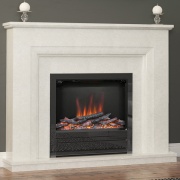 Another version of the attractive Amorina fireplace, this time supplied with the Novus electric fireplace which gives the overall design a more contemporary look. Simple, flat-wall fix and offered in a choice of opulent micro-marble finishes.
Showroom Exclusive
£1,239.00

---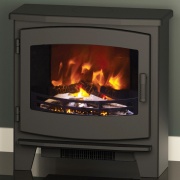 The larger size of Elgin & Hall timeless Beacon electric stove provides a lovely, welcoming ambience which replicates the charm of a real fire. Simple to install and operate, the Beacon Large stove is an ideal addition to any room in your home - just simply plug in for instant ambience and heat!
Showroom Exclusive
£595.00

---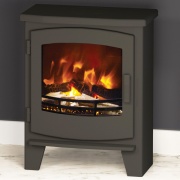 A freestanding lightweight stove made from timber, but with the distinct appearance of steel. Timeless in design, the Elgin & Hall Beacon offers an ultra realistic flame effect and glowing log bed. Conveniently control the 2kW heat output with the 7 day programmable thermostatic remote control.
Showroom Exclusive
£565.00

---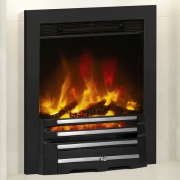 Tailor the Elgin & Hall Beam 16" electric fire with Belmont fret to your preferred colour option. Offered with a choice of 3 trim and fret combinations, this cutting-edge LED electric fire is designed to be fitted into a standard fireplace opening and features the latest EcoDesign technology.
Showroom Exclusive
£649.00

---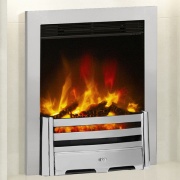 The delightful Brantley fret combined with the innovative Elgin & Hall Beam 16" inset electric fire creates a gorgeous, timeless appliance that offers incredible realism and heat whenever needed. Operated by remote control, this attractive fire can be run with or without the heater.
Showroom Exclusive
£649.00

---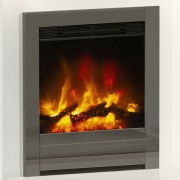 The Beam 16″ inset electric fire has a rebate of only 75mm and is designed to fit into any fireplace with a standard back panel cut out. If the surround has a 3" rebate, the Elgin & Hall Beam with Edge fascia is suitable for flat wall installation with no chimney, flue or recess needed!
Showroom Exclusive
£559.00

---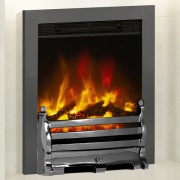 Combined with the timeless Hampden fret, the 16" Beam inset electric fire will appeal to both classical and contemporary fireplaces. Packed with the latest features and producing a spectacular flame effect, this new fire from Elgin & Hall has a slimline inset depth of only 75mm.
Showroom Exclusive
£649.00

---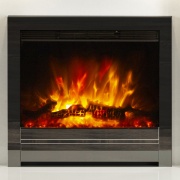 Enjoy the maximum impact of Elgin & Hall's stunning LED flame effect on the Beam 22" electric fire with Edge fascia. This wide aspect, contemporary fire will make a dramatic impression when fitted into a modern fireplace. Slimline depth of only 75mm make it simple to install.
Showroom Exclusive
£649.00

---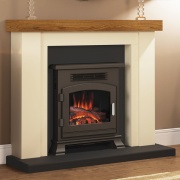 Following on from the popularity of wood burning stoves, the Bracken offers a excellent solution for those who want the ability to enjoy flames without any heat or do not have the required chimney. This free-standing fireplace suite can simply by placed against any flat wall and plugged in!
Showroom Exclusive
£859.00