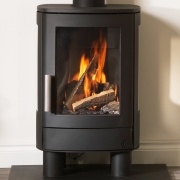 The NEO 3FG is a stylish, modern gas stove that is equally suited to recessing into a taller fireplace chamber or sat free-standing in the room. With it's elevated proportions, you benefit from an amazing view of the ultra-realistic flames and authentic ceramic log fuel effect through the 3 glass windows.
£2,760.00
---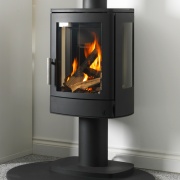 One of a small number of contemporary gas stoves boasting a remarkable flame almost indistinguishable to a real wood fire. The spectacular ACR NEO 3P Gas Stove is a ultra modern pedestal stove with a large glass window at the front plus side windows for a wonderful view of the log effect fire.
£2,875.00
---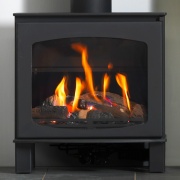 The stunning Wychwood stove from ACR is now available as a gas appliance. It features the same, large glass viewing window as its wood burning counterpart but with the convenience of instant on/off and flame adjustment which gas offers. The Wychwood Gas Stove is a balanced flue appliance.
£1,999.00
---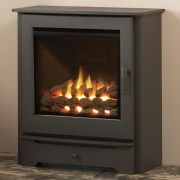 The Endure is a delightful balanced flue gas stove from Broseley boasting modern, clean lines allowing rooms with no chimney or flue present to add an appealing feature that recreates the charm of a real stove. Highly efficient, the Endure has a coal effect fuel bed with heat up to 3.3kW.
£1,349.00£1,505.00
---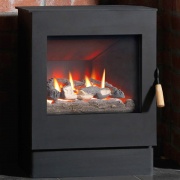 Create the charm and ambience of a real woodburner in homes without a chimney or flue with the new Burley Pickworth Balanced Flue Stove. Designed to be fitted against an external wall, the Pickworth is supplied with a rear exit flue which expels the fumes horizontally through the wall.
£979.00£1,090.00
---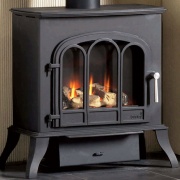 Manufactured in the UK using Burley's extensive knowledge within the gas fire industry, the Thurlby 2406 Balanced Flue gas fire combined style and the latest technology to produce a beautiful gas stove that can be installed into properties that do not feature a chimney or flue.
£1,019.00£1,130.00
---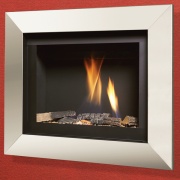 If you live in a property without a chimney or flue, the Celena balanced flue gas fire offers straight forward installation with no stud wall required to accommodate the appliance depth. With a slimline fire box, the Celena can be recessed into the cavity wall and vented horizontally outside.
£2,039.00£2,490.00
---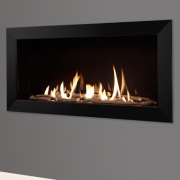 The stunning Eden Elite contemporary gas fire offered here as a slimline balanced flue model. The Eden Elite Slimline is designed to be fitted on a standard external cavity wall with no need to build a stud wall in the room!
£2,379.00£2,910.00
---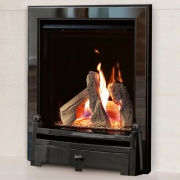 The amazing Passion HE gas fire is now offered here as a Balanced Flue model designed for installation into homes with no chimney or flue. Supplied with a Black Enamel interior and Anti-Reflective Glass as standard, the Passion HE Balanced Flue will enhance any fireplace setting.
£1,299.00£1,525.00
---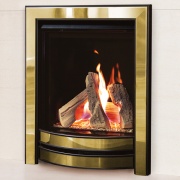 Combining one of an exclusive selection of one-piece fascia frames with the Passion HE Balanced Flue gas fire enhances its contemporary looks. A cutting-edge fire that's designed for homes with no chimney or flue.
£1,299.00£1,525.00
---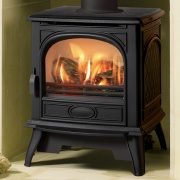 Offering the character of a real woodburner but with the convenience of gas, the Dovre 280 balanced flue gas stove is designed for homes with no chimney or flue and incorporates a dedicated balanced flue kit which vents the fumes directly though an outside wall.
£1,419.00£1,779.00
---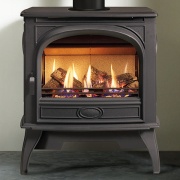 The balanced flue version of Dovre's popular 425 gas stove features state-of-the-art technology allowing homes without a chimney or flue to enjoy a real, living flame effect which will offer a beautiful, ambient feature as well as impressive heating performance of up to 5.4kW.
£1,729.00£2,169.00
---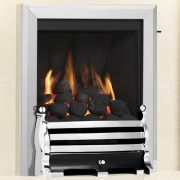 Giving you the option for choosing a variety of fire types including slimline open-fronted, high efficiency glass-fronted and a balanced flue model for properties with no chimney or flue. The versatile FLARE Classic is offered with a variety of trims and frets to match your perfect style.
£369.00£469.00
---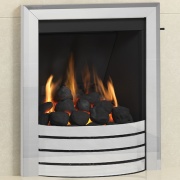 Designed for modern fireplaces, the one-piece fascia frames available on the FLARE Collection Design gas fire provide a clean, contemporary look. Select from a range of gas fire engines including Slimline for Class 2, High Efficiency or a Balanced Flue model for no chimney properties.
£339.00£439.00