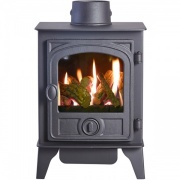 A neat, stylish gas stove based on the popular Hawk 4 platform from Hunter Stoves. Classic matt black steel body with a choice of contemporary or traditional cast iron door plus authentic log fuel effect provides the real woodburner look but with the convenience and controllability of gas.
£1,199.00£1,489.00
---
The elegant design of the Hunter Herald 4 Eco stove ensure it will complement both classical and contemporary settings. Impressive efficiency and with state-of-the-art clean burning technology for optimum performance and efficiency. EcoDesign approved with choice of single or double doors.
£919.00£1,149.00
---
Updated to now exceed the strict EcoDesign regulations with lower emissions and ultra clean burning, the Herald 5 Eco stove is the perfect choice for modern day living. Ideally sized for standard rooms, this 5kW log burner is a timeless design which will enhance any setting.
£1,039.00£1,299.00
---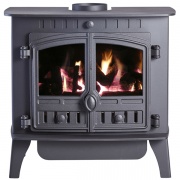 Offered with a variety of options allowing you to create a individual look that suits your interior style perfectly, the Hunter Herald 6 Gas Stove combines that classic style of its wood burning counterpart with the convenience and efficiency of a gas fire. A choice of fuel bed, door options and canopy.
£1,499.00£1,869.00
---
The Allure 4 is from the latest range of Herald wood burning stoves by Hunter. A perfect choice for modern day living, this highly advanced appliance is packed with innovative features. EcoDesign compliant with excellent high efficiency and ultra clean burning.
£859.00£1,069.00
---
A modern take on Hunter Stove's traditional range, the Herald Allure 5 offers the perfect solution for your home. Combining a sleek, smooth design and powerful technology for an efficient burn, you can watch the flickering flames through the large viewing window with ease.
£899.00£1,129.00
---
The largest model in Hunter Stoves exciting range of Allure wood burning stoves, the Herald Allure 07 is ideally suited for larger rooms or open-plan living areas. Simple to operate, you can enjoy a superb view of the dancing flames from its impressive panoramic glass viewing window.
£1,129.00£1,419.00
---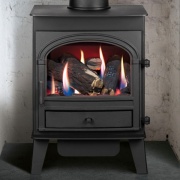 Providing the look and character of a real wood stove with the benefit of instant control that a gas fire offers, the Consort 5G is a neat, compact gas stove with exceptionally realistic log effect fuel bed providing up to 3.25kW of heat. Operated by a thermostatic remote control for ease of use.
£1,399.00£1,568.00
---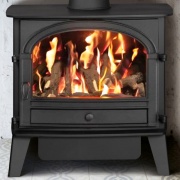 With a choice of single or double doors, the timeless Consort 7G Gas Stove will provide a splendid feature for traditional or contemporary living spaces. Incorporating the very latest, innovative technology for excellent heating performance and energy efficiency without compromising on style.
£1,759.00£1,961.00