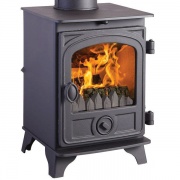 The Hunter Hawk 3 can be squeezed into the smallest of enclosures but this popular little stove doesn't compromise on performance. This modest, steel bodied stove incorporates innovative Cleanburn technology and has a heat output range of 2.5kW to 4.5kW.
Showroom Exclusive
---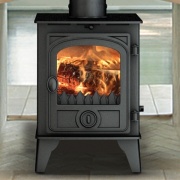 Carrying all the features you would expect from a premium manufacturer including a hot Airwash system and Hunter's innovative Cleanburn technology the Hunter Hawk 4 Double Sided Stove will not disappoint. Perfect from central chimneys or as a focal point in between two rooms.
Showroom Exclusive
---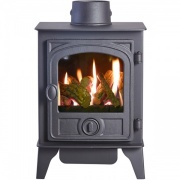 A neat, stylish gas stove based on the popular Hawk 4 platform from Hunter Stoves. Classic matt black steel body with a choice of contemporary or traditional cast iron door plus authentic log fuel effect provides the real woodburner look but with the convenience and controllability of gas.
Showroom Exclusive
---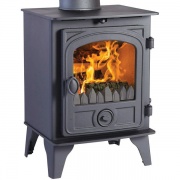 The petite Hunter Hawk 4 stove can be fitted into the smallest of enclosures and will provide any home with economical heating and plenty of ambience! Choose from contemporary or traditional door options plus flat top or low canopy options.
Showroom Exclusive
---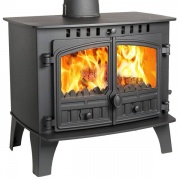 Operating at the very best efficiency levels, the Hunter Herald 14 Central Heating Boiler Stove can power 10 standard sized, single radiators. Giving you more heat from every log, this substantial model not only adds a charming feature into you home but it will also help to reduce energy bills.
Showroom Exclusive
---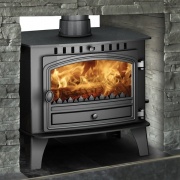 The magnificent Hunter Herald 14 Double Sided Stove has immense power and has been especially designed as a central feature within large rooms or can be used to provide two adjoining rooms with enormous amounts of heat and ambience. Choose from various design options.
Showroom Exclusive
---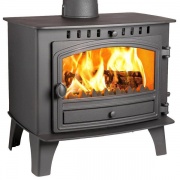 The Hunter Herald 14 burns fuel with minimum waste and maximum output. This powerhouse stove features a large fuel bed that can accept logs up to a maximum length of 500mm and will provide ample heat for the largest of rooms with a truly immense maximum heat output of 15kW!
Showroom Exclusive
---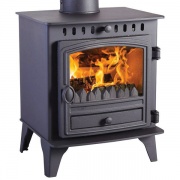 The elegant design of the Hunter Herald 4 stove can be tailored to suit your individual requirements with options including single or double door and flat top or canopy models. Impressive efficiency and with state-of-the-art Cleanburn technology for optimum performance and efficiency.
Showroom Exclusive
---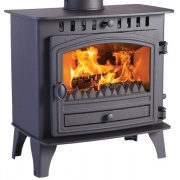 Designed for shallower installations, the Hunter Herald 5 Slimline Stove. It is offered with a selection of options allowing you to customise and blend perfectly within your home. The Herald 5 Slimline incorporates Cleanburn technology and a hot Airwash to keep the glass clean and clear.
Showroom Exclusive
---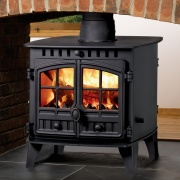 Giving the opportunity of two rooms in your home to enjoy the warmth and ambience of a real fire, the Hunter Herald 6 Double Sided Stove is a stylish option that is offered in two depth models. You can also customise the stove further by choosing from a flat top or canopy versions.
Showroom Exclusive
---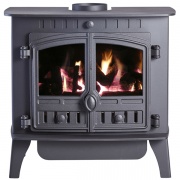 Offered with a variety of options allowing you to create a individual look that suits your interior style perfectly, the Hunter Herald 6 Gas Stove combines that classic style of its wood burning counterpart with the convenience and efficiency of a gas fire. A choice of fuel bed, door options and canopy.
Showroom Exclusive
---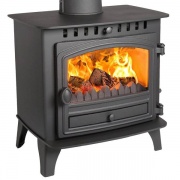 The best selling Hunter Herald 6 stove has the flexibility of numerous options including a clip-in boiler allowing you to create an individual stove specifically designed with performance and looks and an ideal choice for virtually any home. Impressive output of up to 7.5kW, which is very high for its size.
Showroom Exclusive
---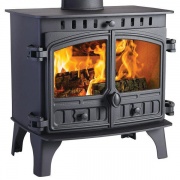 Not only does the Hunter Herald 8 Central Heating Boiler Stove radiates heat and ambience into your home, it also incorporates a dedicated wraparound boiler that offers your home a full heating solution providing hot water plus powering up to 7 standard sized radiators.
Showroom Exclusive
---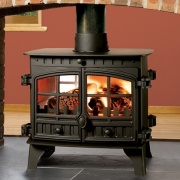 A double-sided stove radiates heat 360° to fill two adjoining rooms or larger rooms with a central chimney. The Hunter Herald 8 Double Sided Stove is ideal for open-plan living and very large rooms. Choose from single or double depth models plus there's numerous design extras available.

Showroom Exclusive