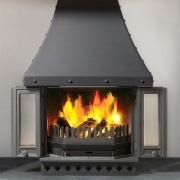 A traditionally designed, multi-fuel fireplace stove that can be fitted with a variety of accessories to create your own individual setting. 8kW heat output with excellent efficiency, the Dovre 1800 is well suited for fitted into small inglenooks.
Showroom Exclusive
---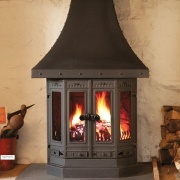 The Dovre 2000 is a multi-fuel fireplace stove that allows for installation into an inglenook when combined with the optional base plinth, side panel unit and canopy, or you can install the appliance on it's own into a built-in customer fireplace enclosure.
Showroom Exclusive
---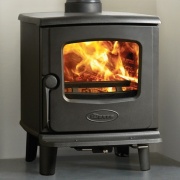 Available as either a dedicated woodburner or a multi-fuel appliance, the 225 is a relatively new addition to the Dovre range and offers simple styling but packed with the very latest features such as Airwash and Cleanburn technology.
Showroom Exclusive
---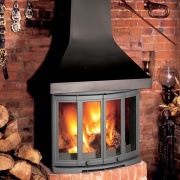 With a choice of bi-fold or panorama door on the Dovre 2400 multi-fuel fireplace stove, whether you plan to fit it with the optional side panels and canopy or build it into a custom fireplace enclosure, it will suit both classical or contemporary settings.
Showroom Exclusive
---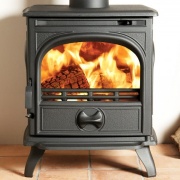 The Dovre 250 CBW is a wood burning stove made from premium, cast iron with a maximum heat output of 4.9kW. It also has the capability to burn smokeless fuels which is ideal if you require the stove to burn for longer periods.
Showroom Exclusive
---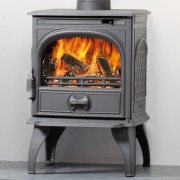 Suitable for a huge range of installation applications ranging from country cottages to modern town house, the Dovre 250 boasts quality, cast iron construction combined with the very latest technological advancements. Suitable for use in smoke controlled areas.
Showroom Exclusive
---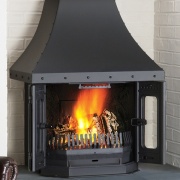 Offering a classical look whether you choose to combine with the base, canopy and side panel unit as a free-standing feature or use the engine only fitted into a custom fireplace opening, the Dovre 2700 multi-fuel fireplace stove gives a open fire fire without any of the associated inefficiencies.
Showroom Exclusive
---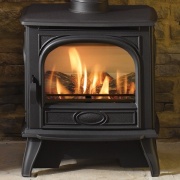 Offering the character of a real woodburner but with the convenience of gas, the Dovre 280 balanced flue gas stove is designed for homes with no chimney or flue and incorporates a dedicated balanced flue kit which vents the fumes directly though an outside wall.
Showroom Exclusive
---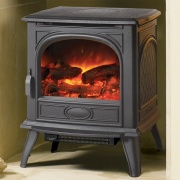 The Dovre 280 electric stove is a popular choice for people who don't have a chimney but want a realistic focal point that offers instant heat and ambience. Attractive and sturdy cast iron casing offered in classic matt black.
Showroom Exclusive
---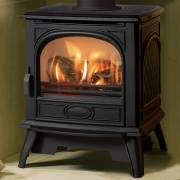 Offering a realistic alternative to a real wood burning stove, the Dovre 280 Gas Stove provides instant warmth and ambience at the touch of a button or even from the comfort of your armchair with one of Dovre's optional remote control systems.
Showroom Exclusive
---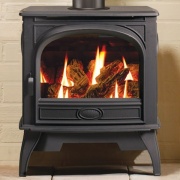 The balanced flue version of Dovre's popular 425 gas stove features state-of-the-art technology allowing homes without a chimney or flue to enjoy a real, living flame effect which will offer a beautiful, ambient feature as well as impressive heating performance of up to 5.3kW.
Showroom Exclusive
---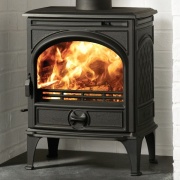 A dedicated wood burning model that will provide impressive heat output plus excellent efficiency. All cast iron construction with exquisite detailing on the from and sides result in the Dovre 425CBW being the perfect choice for classical inspired interiors.
Showroom Exclusive
---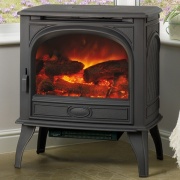 For ultimate authenticity, the Dovre 425 Electric Stove features the same, cast iron casing which is used on the Dovre 425 wood burning stove. Combine this with the unique Veriflame
™ flame effect and you can see why this model is so popular!
Showroom Exclusive
---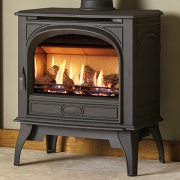 The Dovre 425 Gas Stove offers traditional styling combined with the latest technology that provides a highly realistic glow and gentle dancing flames around a authentic log fuel bed. Available for both natural gas and LPG homes.
Showroom Exclusive