Suitable for a huge range of installation applications ranging from country cottages to modern town house, the Dovre 250 boasts quality, cast iron construction combined with the very latest technological advancements. Suitable for use in smoke controlled areas.
£1,219.00£1,525.00
---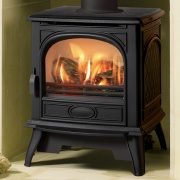 Offering the character of a real woodburner but with the convenience of gas, the Dovre 280 balanced flue gas stove is designed for homes with no chimney or flue and incorporates a dedicated balanced flue kit which vents the fumes directly though an outside wall.
£1,419.00£1,779.00
---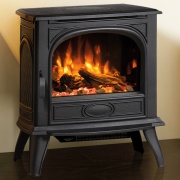 The Dovre 280 electric stove is a popular choice for people who don't have a chimney but want a realistic focal point that offers instant heat and ambience. Attractive and sturdy cast iron casing offered in classic matt black.
£889.00£1,109.00
---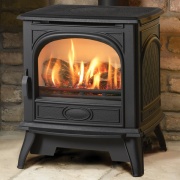 Offering a realistic alternative to a real wood burning stove, the Dovre 280 Gas Stove provides instant warmth and ambience at the touch of a button or even from the comfort of your armchair with one of Dovre's optional remote control systems.
£1,339.00£1,679.00
---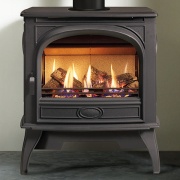 The balanced flue version of Dovre's popular 425 gas stove features state-of-the-art technology allowing homes without a chimney or flue to enjoy a real, living flame effect which will offer a beautiful, ambient feature as well as impressive heating performance of up to 5.4kW.
£1,729.00£2,169.00
---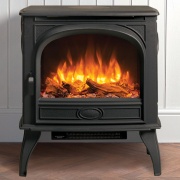 For ultimate authenticity, the Dovre 425 Electric Stove features the same, cast iron casing which is used on the Dovre 425 wood burning stove. Combine this with the unique Veriflame
™ flame effect and you can see why this model is so popular!
£1,079.00£1,345.00
---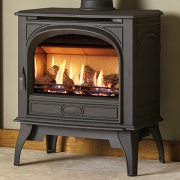 The Dovre 425 Gas Stove offers traditional styling combined with the latest technology that provides a highly realistic glow and gentle dancing flames around a authentic log fuel bed. Available for both natural gas and LPG homes.
£1,689.00£2,115.00
---
A traditional styled stove constructed in cast iron and finished in Matt Black or Ivory Enamel. The Dovre 425 Multi-Fuel Stove boasts the style and performance that will give even larger rooms amazing warmth and ambience. As a multi-fuel model, you can burn a variety of solid fuels or logs.
£1,619.00£2,029.00
---
A well proportioned, classically inspired wood burner that produces an impressive heat output of 9kW. The Dovre 640WD wood burning stove features both front and side loading doors for added convenience and a innovative Cleanburn system for added fuel efficiency.
£2,129.00£2,665.00
---
An impressive wood burning stove featuring innovative, technical features which result in an superb heat output of 11kW and up to 75% efficiency. The Dovre 760WD can accept extra large logs up to 52cm meaning less sawing if you're using your own wood!
£2,459.00£3,079.00
---
An ultra-stylish, contemporary stove that is offered as a dedicated wood burning model which can burn extremely efficiently. The Dovre Astroline 3 boasts an incredible heat output of up to 10kW and will look sensational fitted in a modern style interior where it will provide an abundance of heat!
£2,839.00£3,559.00
---
With similar looks to the Dovre Astroline 3 but featuring flat side panel windows. Unusually for a European contemporary stove, the Astroline 4 is manufactured using premium cast iron for added durability and maximum heat transfer.
£2,839.00£3,559.00
---
Ultra modern, minimalist in design combined with innovative technology. The Dovre Bold 300 is a cylindrical style wood burning stove that is perfect as a stand alone feature in any contemporary setting. Premium cast iron construction and capable of generating a nominal heat output of 7kW.
£2,539.00£3,175.00
---
Incorporating a handy log storage cupboard at the base of the stove, the Dovre Bold 400 will appeal to those looking for a wood burner which combines cutting-edge European styling and state-of-the-art technology. Offered in a choice of matt black or grey gloss enamel finishes.
£2,539.00£3,175.00