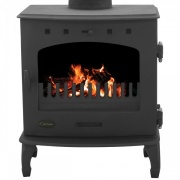 A neat, compact stove that has DEFRA approval allowing you to burn either wood logs or smokeless fuels even if you live in a smoke controlled area. The Carron 4.7kW stove is offered here in the classic, matt black cast iron finish are features a chic, arched window giving you a superb view of the flames.
Showroom Exclusive
£495.00

---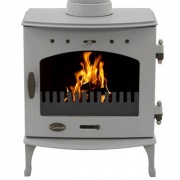 Choose from a stunning selection of ten beautiful enamel finishes that will really make the Carron 4.7kW wood burning and multi-fuel stove stand out in any room setting. This elegant model has a heat output performance suitable to small and medium room sizes with no air-vent needed.
Showroom Exclusive
£695.00

---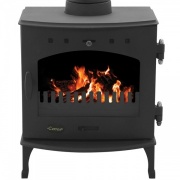 A popular, multi-fuel stove well suited to medium and large rooms, the Carron 7.3kW stove is capable of making the room warm and toasty even on the coldest of winter evenings. Cast iron construction and featuring a wide aspect viewing window, this beautiful stove will compliment any interior.
Showroom Exclusive
£749.00

---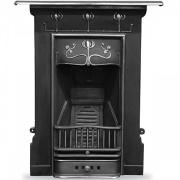 The petite cast iron frame of the Carron Abbot combination fireplace is lifted by the addition of elegant Art Nouveau embellishments. A triple tulip design runs across the mantel chest and is complimented by a decorative feature on the curved canopy. Available in highlighted or fully polished finish.
Showroom Exclusive
£345.00

---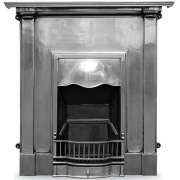 The Abingdon combination fireplace is a Victorian design with a stylishly simplistic finish. The robust cast iron frame will stand proud in any classical interior and is softened by the addition of a curved fire chamber canopy. Suitable for a gas or real fire and offered in beautiful full polished finish.
Showroom Exclusive
£655.00

---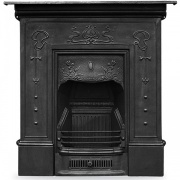 Masterfully crafted from durable cast iron and featuring a Art Nouveau floral patterning, the larger Carron Bella combination fireplace is a stunning design ideal for many rooms. The classic styling of the Bella is the perfect accompaniment for a choice of fires including real coal or log fires.
Showroom Exclusive
£480.00

---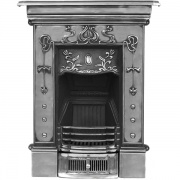 Best suited to smaller rooms, the Carron Bella Small cast iron combination fireplace features similar Art Nouveau patterning that runs along the frieze and legs as its larger counterpart and is supplied fully polished to reveal an attractive satin silver finish with darker shadows around the artwork.
Showroom Exclusive
£385.00

---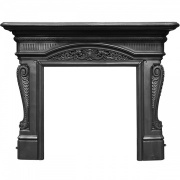 Truly stunning! The Carron Buckingham is a grandiose cast iron fireplace surround the will create a huge impact in any room. Wonderfully decorated with cascading scroll leaf detail on the side of each leg which is enhanced by a central floral feature running across the chest. Classic matt black finish.
Showroom Exclusive
£1,495.00

---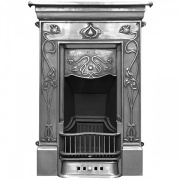 Incorporating exquisite Art Nouveau detailing which consists of a beautiful stemmed flower extending the length of the frame which then runs either side of a tall, narrow opening and a meticulously detailed canopy with a textured finish. The compact Carron Crocus ideal for smaller rooms.
Showroom Exclusive
£385.00

---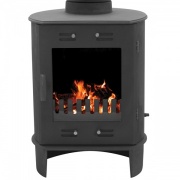 With its unusual, rounded casing, the Carron Dante is constructed the traditional way using robust cast iron with a contemporary design twist. Equally suited to combine within a fireplace or on its own to create a stylish, modern feature in your home. 5kW heat output and DEFRA approved.
Showroom Exclusive
£695.00

---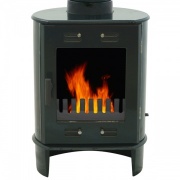 The contemporary design of the stunning Carron Dante multi-fuel stove is further accentuated by your choice of ten exciting designer enamel finishes. The high gloss cast iron coated casing boasts a unique, rounded design that can be combined within a fireplace or fitted as a freestanding feature.
Showroom Exclusive
£975.00

---
The latest addition to Carron's popular range of stoves is the ECO Revolution 5kW model. This highly advanced wood burning stove is EcoDesign 2022 compliant and boasts Cleanburn technology with excellent high efficiency. An ideal stove for modern day living in standard sized rooms.
Showroom Exclusive
£895.00

---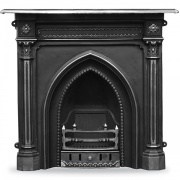 The main feature of this stunning fireplace is the commanding archway which is decorated with an impressive repeated design. The Carron Gothic also incorporates several other traits from the era including highlighted columns on bold feet which are finished in a beautiful highlighted finish.
Showroom Exclusive
£640.00

---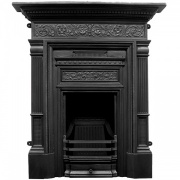 A spectacular cast iron combination fireplace that is heavily detailed throughout and the epitome of Victorian style. Finished in matt black, the Carron Hamden will create a everlasting feature within your home and has the option of combining with a choice of fires to suit your lifestyle.
Showroom Exclusive
£845.00