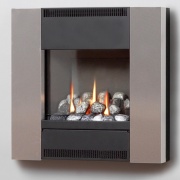 A contemporary, wall-mounted gas fire which features the very latest technology producing real flames and 100% efficiency without the need to fit into a flue. The Burley Image 4237 flueless gas fire features a brushed steel contrast fascia and boasts the very latest flueless technology.
Showroom Exclusive
---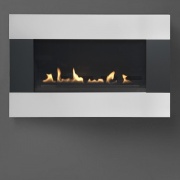 The Burley Latitude gives everyone the opportunity to enjoy a real flame fire that doesn't lose any of the heat produced up a chimney or flue. Supplied with a Contrast trim in black & stainless steel, the Latitude will add instant warmth and ambience in modern homes.
Showroom Exclusive
---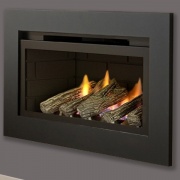 Superb performance and efficiency in a neat, modern design. The glass-fronted Crystal Boston gas fire gives you the opportunity to tailor the fuel bed, interior and trim to your personal taste to create a stylish 'hole-in-the-wall' gas fire feature ideal for fashionable modern living.
Showroom Exclusive





---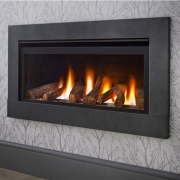 A wider option of Crystal Fires superb Boston glass-fronted, high efficiency gas fire. Offered with a wide selection of trim colours to suit any colour scheme, the 'hole-in-the-wall' Boston Wide is capable of providing up to 4.6kW of heat and is offered with manual or remote control.
Showroom Exclusive
CALL

---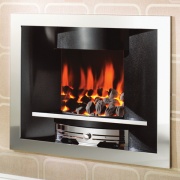 The Emerald is one of a small number of open-fronted 'hole-in-the-wall' style fireplace that has performance to match it's fashionable looks. Combing the Crystal Gem inset gas fire with a stylish outer fascia in a choice of 'Emerald' or 'Scoop' designs. Coal or Pebble effect with heat output of up to 3.88kW!
Showroom Exclusive
---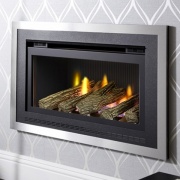 The glass-fronted Florida is a cutting-edge gas fire from Crystal Fires that incorporates a twin fan convector system within the fire that actively draws cold air from the room, circulates it around the back of the fire and expels this extra heat back into the room! Offered in a vast range of striking colours.
Showroom Exclusive
---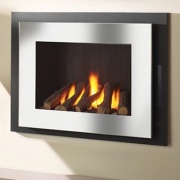 A visually stunning, contemporary gas fire that boasts high efficiency combined with impressive heating performance. The Crystal Fires Manhattan is designed as a 'hole-in-the-wall' model and is offered with a choice of fuel effects plus endless fascia options. Remote control operation for ease of use.
Showroom Exclusive
---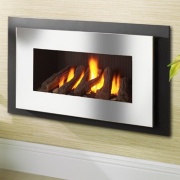 With more landscape proportions than its sister fire the Manhattan, the Crystal Fires Miami is a glass-fronted, hole-in-the-wall gas fireplace featuring a choice of logs, driftwood or pebble fuel effect and a vast array of fascia colours. Operated by remote control and with a high heat output of 4.3kW.
Showroom Exclusive
---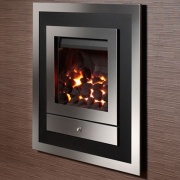 A versatile, hole-in-the-wall gas fireplace with a choice of five striking fascias. The 'Option' range by Crystal Fires gives you the opportunity to combine a contemporary 4 sided fascia with either the open-fronted Gem high output gas fire or the high efficiency Montana glass-fronted model.
Showroom Exclusive
---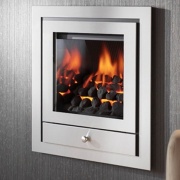 The Crystal Royale is available with two fire options. The open-fronted Gem gas fire with a powerful 4.03kW heat output of the glass-fronted Montana gas fire with the same impressive heating performance and superb high efficiency. Choice of ten stunning fascia colours and two control options.
Showroom Exclusive
---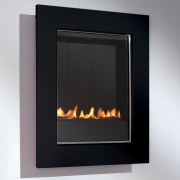 The popular Eko 5010 is a hang-on-the-wall flueless gas fire that gives virtually any home the ambience and beauty of a real flame feature fire. With no chimney or flue available, it's ideal for installing on a flat wall in living rooms, conservatories, kitchens and boasts 100% efficiency!
Showroom Exclusive
---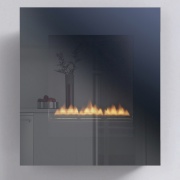 Sleek and stylish with a new black glass fascia that adds to the contemporary feel of this wall-mounted flueless gas fire. The Eko Fires 5010G is an ideal solution for homes without a chimney or flue as it can be simply hung on a flat wall and connected to a gas supply to create a modern feature.
Showroom Exclusive
---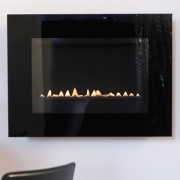 The luxurious, reflective qualities of its glass fascia provide a perfect frame for the dancing strip of flames on the Eko 5060 flueless gas fire. Ideal for a variety of rooms including living rooms, dining rooms, kitchens and conservatories, it offers unrivalled efficiency with no chimney or flue needed!
Showroom Exclusive
---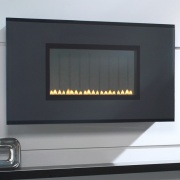 Based on the best selling landscape L30 engine, the contemporary styled Eko 5070 flueless gas fire can be installed on virtually any wall and gives you the freedom to create a stunning style statement without the limitations of a flue or chimney. Available in a choice of Natural Gas or LPG.
Showroom Exclusive