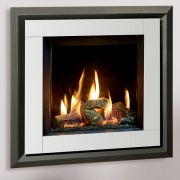 The Riva2 400 Evoke XS features a sleek glass front and contoured black steel rear. Available in either white or black glass versions, you can opt for either contrasting or uniform styles to catch the eye and enhance your fire. Includes a programmable remote control system as standard.
£1,769.00£2,218.00
---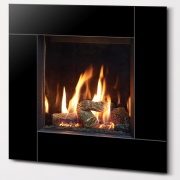 The black glass Icon XS fascia supplied with the Riva2 400 provides a spectacular contrast against the flames and glowing log effect fuel bed. With a maximum heat output of 4.2kW and operated by a programmable remote control, it has the performance to back up its good looks!
£1,769.00£2,218.00
---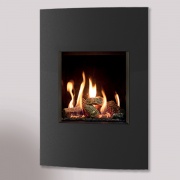 The graphite curved fascia frame on the Riva2 400 Verve XS provides a striking, modern feature to this high efficiency gas fire. Packed with the very latest technology, this 'hole-in-the-wall' gas fireplace is supplied with an authentic log effect fuel bed and offered with a choice of interior options.
£1,669.00£2,088.00
---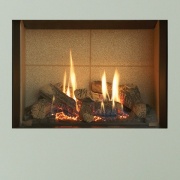 A highly efficient gas fire that is designed for homes without a chimney or flue. Choose from three, striking interior options on the Gazco Riva2 500 Edge Balanced Flue gas fire. Available for either natural gas or LPG homes, this fire is a perfect solution for modern or classical inspired interiors.
£2,049.00£2,565.00
---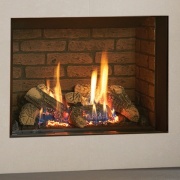 The frame-less design of the Gazco Riva2 500 'Edge' gas fire allows you to create a simple, yet stunning feature either combined within a suitable fireplace or as a stand-alone centrepiece mounted raised up on the wall. Choice of interior panels with a highly realistic log fuel bed.
£1,829.00£2,289.00
---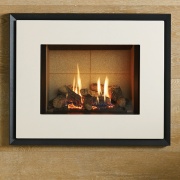 This balanced flue version of Gazco's stylish Riva2 500 with contemporary Evoke Steel fascia is a great way to add a highly efficient and powerful heating source that will bring any room to life. Designed to be installed against an external wall in properties without a chimney or flue.
£2,399.00£3,010.00
---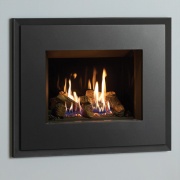 The Riva2 500 Evoke Steel gas fire focuses purely on sharp, strong definition achieved with a graphite back boldly framing the complementing graphite front. The Riva2 500 gas fire comes with a Programmable thermostatic remote control to give you complete control over your fire.
£2,189.00£2,734.00
---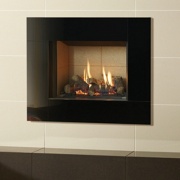 Packed with the very latest features and technology, the Gazco Riva2 500 Icon balanced flue gas fire will create a striking feature in homes without a chimney or flue. Make a bold statement with this stylish balanced flue with sleek, black glass Icon fascia.
£2,629.00£3,290.00
---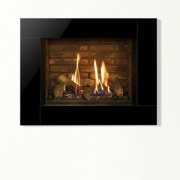 The sleek, black reflective surfaces of the Gazco Riva2 500 Icon glass fascia create a bold surround to the glowing ember fire bed with realistic log-effect fuel effect. This high efficiency, glass-fronted gas fire incorporates the very latest technology combined with cutting edge styling.
£2,409.00£3,014.00
---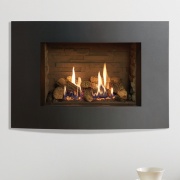 An ideal, compact 'hole-in-the-wall' gas fire for homes without a chimney or flue that does not compromise on heating performance or efficiency. The Gazco Riva2 500 Verve XS Balanced Flue features gentle curves and is offered in a range of designer colours to meet current interior design trends.
£2,449.00£3,064.00
---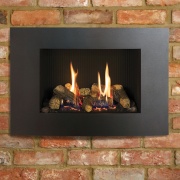 Having being thoughtfully designed for smaller living spaces, the Gazco Riva2 500 Verve XS features a beautiful, horizontal curved fascia frame available in graphite or ivory finish. Despite its compact dimensions, it produces an impressive heat output of up to 4.8kW.
£2,229.00£2,788.00
---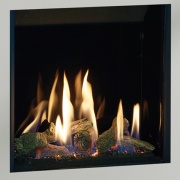 The Gazco Riva2 500HL Slimline Balanced Flue offers you the superb flames of the Riva2 gas fire range with a versatile slim profile which allows it to be installed into a cavity wall. Featuring a range of design options, this stunning fire offers unique styling that can be added to almost any home.
£2,329.00£2,919.00
---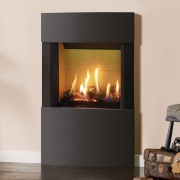 An eye-catching alternative to the Edge or frame styling choices, the Esprit adds a surround that houses the Riva2 500HL Slimline's remaining 75mm front facing depth once installed into a cavity wall, minimising building work. An ideal solution to creating a warming focal point in any home!
£3,059.00£3,828.00
---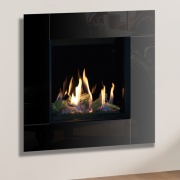 Constructed from shimmering Black Glass positioned geometrically around the gas fire, the Icon XS frame draws the eye with luxurious surfaces and clean minimalist detailing. The Riva2 500HL is a slimline balanced flue fire supplied with a rear exit balanced flue kit for installation on an external wall.
£2,889.00£3,614.00