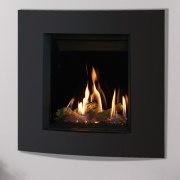 Complementing the Gazco Riva2 500HL's modern looks and clean styling, the Verve XS adds an elegantly curved frame for increased visual presence. The Riva2 500HL Slimline gas fire comes with a Programmable thermostatic remote control to give you complete control over your fire.
£2,699.00£3,388.00
---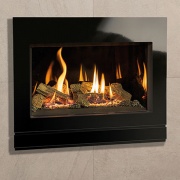 Offered in a choice of Graphite Steel or Black Glass, the stylish Designio2 fascia frames the Riva2 600 Balanced Flue beautifully. Designed to offer stunning flames visuals in a landscape format, this cutting-edge gas fire can be fitted into homes without a chimney.
£2,269.00£2,844.00
---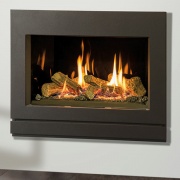 This sophisticated glass or steel frame option adds clean and contemporary looks to the Gazco Riva2 600 gas fire. Choose either the black glass or Graphite steel Designio2 frames to amplify your fire's presence and emphasise its modern aesthetics. Comprehensive remote control included.
£2,069.00£2,594.00
---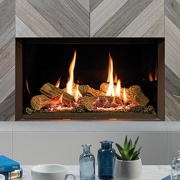 The stunning Riva2 600 Edge is offered here as a Balanced Flue model designed for installation into properties without a chimney or flue. This contemporary frameless feature gas fire provides spectacular flame visuals and incredible heating performance. Maximum heat output of up to 5.3kW.
£1,969.00£2,469.00
---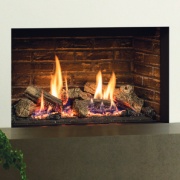 The Riva2 600 Edge offers magnificent flame visuals, impeccable styling and a truly versatile form-factor. Creating a beautifully natural display, this high efficiency gas fire features a detailed log-effect bed with multiple flame ports. Specially designed non-reflective glass ensures complete visual clarity.
£1,769.00£2,219.00
---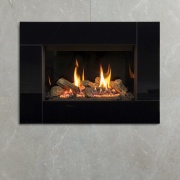 With it's striking 'Icon XS' black glass fascia frame, the incredible flames on the Riva2 600 Balanced Flue really stand out! This highly advanced gas fire is designed for homes without a chimney where it is capable of providing excellent heating performance coupled with incredible high efficiency.
£2,479.00£3,104.00
---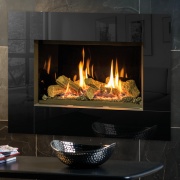 With the highly reflective, black glass Icon XS fascia frame, the authentic log effect fuel bed and dancing flames on the Riva2 600 high efficiency gas fire will really stand out. A delightful centerpiece for a variety of interior styles, this innovative, glass-fronted gas fire offers up to 5kW of glorious heat.
£2,279.00£2,854.00
---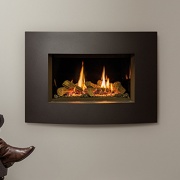 A sweeping, curved fascia in graphite steel frames the Gazco Riva2 600 Balanced Flue gas fire perfectly creating an ultra-modern 'hole-in-the-wall' feature in virtually any room in your home. The Verve XS model offered here boasts superb high efficiency and an incredible flame effect.
£2,319.00£2,894.00
---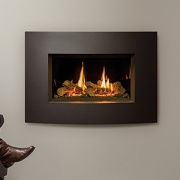 The contemporary Verve XS frame adds poise and depth to the Riva2 600 gas fire. Finished in a stylish Graphite, the Verve XS features a subtly curving exterior. Offered with a choice of 3 interior options, this versatile 'hole-in-the-wall' gas fire oozes contemporary style!
£2,119.00£2,644.00
---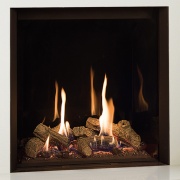 The highly adaptable conventional flue 600HL works equally well in both modern or traditional interiors. Whether styled as a contemporary 'hole-in-the-wall' fire or as a magnificent fireplace when coupled with a fireplace surround, you can customise the 600HL to suit your home.
£2,179.00£2,725.00
---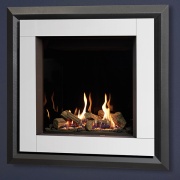 The Gazco Riva2 600HL Evoke XS gas fire comes with a Programmable thermostatic remote control to give you complete control over your fire. This highly advanced, wall-mounted inset fire can also be pre-set to maintain selected temperatures as well as scheduled to turn on at certain times.
£2,699.00£3,384.00
---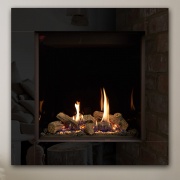 With its clean geometric lines and highly reflective black glass, the Gazco Riva2 600HL Icon XS gas fire creates a bold style statement in your home. This wall-mounted gas fire will add a touch of grandeur with its compact proportions and will suit both modern and traditionally styled interiors.
£2,699.00£3,384.00
---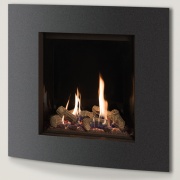 With its subtle curving form, this three dimensional frame option adds depth to the Gazco Riva2 600HL Verve XS gas fire and can be viewed from any angle in the room. This highly efficient gas fire is a great choice for standard sized rooms and is designed for conventional flue installation.
£2,539.00£3,170.00
---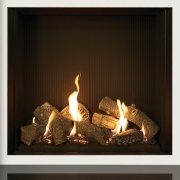 The Riva2 750HL is available here as a balanced flue model, for homes without a chimney. A choice of two balanced flue kits vent the fire through an external wall allowing any home to enjoy the amazing flame visuals and performance of this state-of-the-art gas fire. Frameless, minimalist style.
£3,129.00£3,909.00