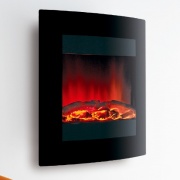 Adding a new dimension to electric fire design, the stylish Eko 1011 is a hang-on-the-wall electric fire boasting advanced LED technology to produce a warming flame pattern that can be enjoyed with or without the heater. Sleek, black glass fascia with log fuel effect operated by remote control.
£219.00£279.00
---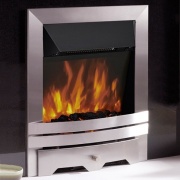 The Eko Fires 1060 features LED technology designed to significantly improve the flame picture and running performance. LED technology not only provides a deeper, richer flame picture with enhanced flame movement but is also a fraction of the cost to run when compared to a conventional bulbs.
£259.00£339.00
---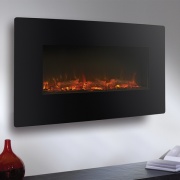 Giving you the option of hanging on a flat wall or freestanding using the plinth base supplied, the Eko 1120 is a versatile electric fire finished in sleek black glass. The attractive flame effect on the 1120 has 4 settings and is enhanced by ambient rear mood lighting.
£299.00£389.00
---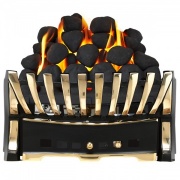 A tapered gas fire tray is an ideal replacement for anyone with a standard open fire chairbrick. When fitted into the fireplace opening you can enjoy the cosy atmosphere created by the glowing fuel bed and flickering flames. Manual or remote control plus choice of fuel effects.
£249.00£319.00
---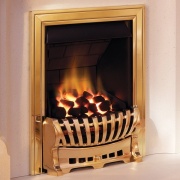 Particularly suited to shallower flue types such as Class 2 Pre-Cast flues normally found in newer homes, the Eko 3010 and 3015 models will provide your room with an appealing focal feature that is capable of producing up to 3.1kW of heat. Open-fronted, living flame fire offered in a variety of colours.
£289.00£369.00
---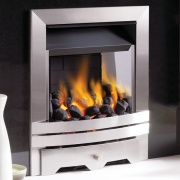 With the addition of mirror finish, steel interior side panels, the Eko 3020 flames are reflected giving a wider overall appearance. A slimline model ideal for all flue types, you can create an individual look using one of Eko Fires stylish trim & fret or contemporary one-piece fascia options.
£329.00£419.00
---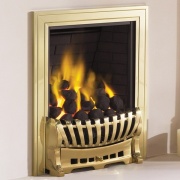 Providing the ultimate in realism, the Eko 3030 features beautiful, open flames from its full-depth fuel bed. It allows you to enjoy the ambience of a real fire with all the controllability of gas. Available with your choice of coal, pebble or log fuel effects and a vast range of trim & fret or fascia options.
£299.00£379.00
---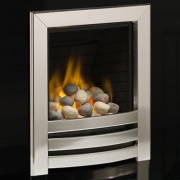 A perfect companion for modern designed fireplaces with it's sleek, geometric lines and distinctive anodised aluminium fascia. The latest version of Eko Fires stylish 3040 model is available with a coal or pebble fuel effect and offers a stunning, full-depth bed of open flames up to 3.8kW of heat!
£379.00£485.00
---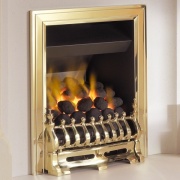 Incorporating a innovative heat exchanger which increases both the efficiency and heating performance enabling the Eko 3060 to provide up to 4.0kW of both radiant and convected heat. Whatever fireplace design you have, there is a trim and fret or contemporary fascia that will suit perfectly!
£339.00£435.00
---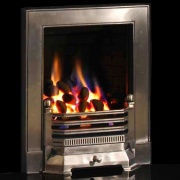 Combining a truly stunning, cast iron Edwardian style fascia with Ekofires best selling full-depth gas fire platform to create a beautiful centrepiece for your home that will transcend the fashions of time. The Eko 3080 offers a real alternative to a open fire with its mesmerising living flame effect.
£459.00£589.00
---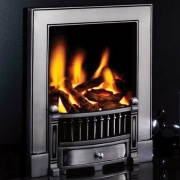 The Eko 3090 is a classic Victorian design reproducing the authentic iron foundry skills with clarity and precision. Inspired by period fireplaces that exude elegance and luxury living. This full depth radiant gas fire has an enchanting flame picture with heat output up to 3.8kW.
£459.00£589.00
---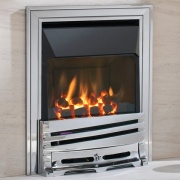 Boasting incredible high efficiency of 90% and with superb heating performance of up to 4.05kW! A glorious glowing coal bed set behind a glass panel providing your home with warmth and ambience. Choose from a large range of trim and fret options to suit all interior design schemes.
£489.00£625.00
---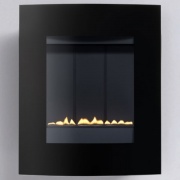 Sleek and stylish with a new black glass fascia that adds to the contemporary feel of this wall-mounted flueless gas fire. The Eko Fires 5010G is an ideal solution for homes without a chimney or flue as it can be simply hung on a flat wall and connected to a gas supply to create a modern feature.
£469.00£589.00
---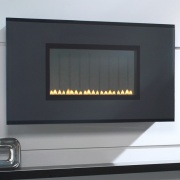 Based on the best selling landscape L30 engine, the contemporary styled Eko 5070 flueless gas fire can be installed on virtually any wall and gives you the freedom to create a stunning style statement without the limitations of a flue or chimney. A perfect addition for any home!
£549.00£689.00