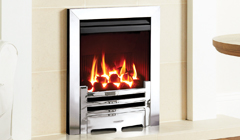 Our extensive range of gas fires have been carefully selected to offer you models that will suit all tastes and budgets. Select from open-fronted, living flame gas fires that recreate the ambience of a real coal fire or glass-fronted models that boast improved efficiency and lower running costs. Browse our range at your leisure tailoring your search by refining the results by heat output, colour, fuel effect, etc.
View range »
---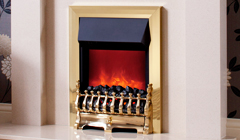 Modern electric fires feature realistic flame effects with many now created using state-of-the-art, LED technology. A popular feature with electric fires is that you can enjoy the ambience of the flames without the need to use the heater enabling you to use them throughout the year. When the room needs a boost of heat, most electric fires incorporate a 2kW fan heater. Brass, silver and black coloured models available.
View range »
---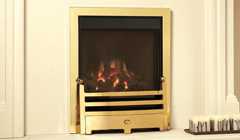 More heat for less money! High efficiency gas fires have become extremely popular due to rising gas prices. These state-of-the-art, high efficiency gas fires are available in a range of designs including models designed for insetting into a fireplace, wall-mounted high efficiency gas fires and gas stoves. The majority feature a glass front with efficiency rated at up to an amazing net figure of 94%!
View range »
---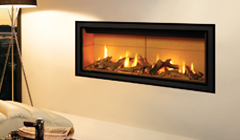 The ultimate in contemporary style, wall-mounted gas fires offer a stylish alternative to traditional hearth mounted fireplaces. They save valuable floor space as subject to them being fitted to manufacturers recommended height, no hearth is needed. Also referred to as 'hole-in-the-wall gas fires' are available in a large range of designs including high efficiency appliances. Most are operated by remote control.
View range »
---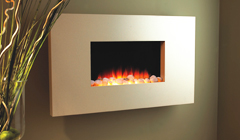 Modern, stylish feature electric fires that give you the opportunity of enjoying a realistic flame effect without the need to use the heater function. Wall mounted electric fires are offered with a variety of flame styles with the most recent additions featuring highly advanced, LED, LCD or an amazing smoke effect created using water! Choose from classical or contemporary designs of wall-mounted electric fires.
View range »
---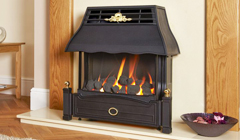 Still a popular choice for home-owners looking for a gas fire that offers simple installation combined with excellent heating performance. Outset gas fires can be fitted into all flue types are can be sat on a fireplace hearth or wall-mounted. Choose from traditional radiant bar models or living flame, coal effect appliances. More classical in design, outset gas fires are offered with various control options.
View range »
---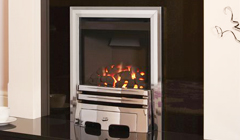 Designed for properties where no chimney or flue is present, balanced flue gas fires are always glass-fronted and vent the fumes produced horizontally through an external wall. They are predominantly highly efficient and boasts excellent heat output. Balanced flue gas fires are available as inset models designed to be combined within a fireplace, wall-mounted or balanced flue gas stoves.
View range »
---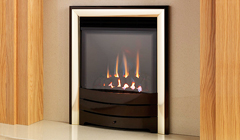 Whilst most homes are connected to a natural gas supply, there is still a large number of properties, especially in rural areas that are not and run off LPG. Most manufacturers now offer a range of gas fires that have been especially adapted to work on LPG. These include standard, 16" inset gas fires, hole-in-the-wall gas fires and gas stoves. LPG gas fires are normally offered with coal or log fuel effects.
View range »
---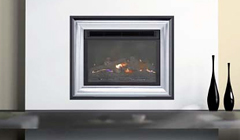 Although flueless gas fires are relatively new in this country they have a long established history in Japan the United States and Australia. Flueless gas fires incorporate a catalytic converter which cleans the fumes produced converting the oxygen and carbon monoxide to carbon dioxide. Flueless gas fires have a minimum room size requirement and need an air-vent in the room.
View range »
---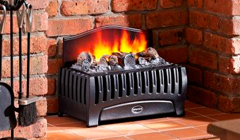 Designed to recreate the beauty and ambience of a real fire, basket fires are an excellent solution to bring a fireplace inglenook to life. Many basket fires offered on this website give you the opportunity to add your choice of gas fire or electric fire depending on your preference. Choose from classically inspired designs in black or polished cast iron or contemporary designs in stainless steel.
View range »
---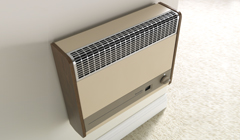 Gas Wall heaters are an economical way of heating a home without central heating or for providing additional heat in cold areas such as halls, landings, conservatories and bathrooms. Providing clean and economical heat with no drafts, and able to operate independent of a central heating system or boiler, gas wall heaters are quick and easy to install, all that's required is an outside wall.
View range »
---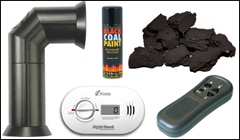 We can offer a large selection of accessories for your fire including consumable items such as replacement coals and thermocouples. There is also a lot of optional accessories available for new products such as gas stove flue pipe, carbon monoxide detectors and remote control units. Most of these accessories will be listed on the main product pages or you can purchase these separately through this link.
View range »
---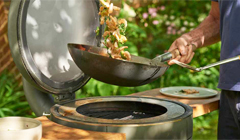 Take the part outside with our premium range of barbecues and patio heaters. Stay warm and create an atmosphere with these innovative products which will appeal to those who enjoy outdoor living. Our stylish selection includes the new HEAT Collection by Chesney's who developed the range using technology found in their wood burning stove range to produce a wood burning outdoor heater that would be efficient, clean and beautiful to look at. All BBQ's and outdoor heaters are offered with fast, free delivery direct to your door anywhere in Mainland UK.
View range »