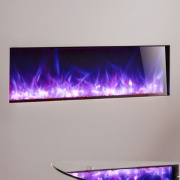 The medium size in Rayburn's range of contemporary styled, landscape inset wall fires which feature colour changeable LED flame technology. The Stratus 100 Extra Slim is an inset electric fire boasting state-of-the-art technology providing a mesmerising visual delight and heat whenever needed.
Showroom Exclusive
£1,219.00

---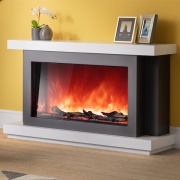 This free-standing suite showcases the Rayburn Stratus 100 Extra Tall fire range beautifully and help create a stunning centerpiece for your home. With an increased height to the fire aperture, you can enjoy the realistic effect of taller flames. LED lighting technology ensures a vibrant realism to the flames.
Showroom Exclusive
£2,159.00

---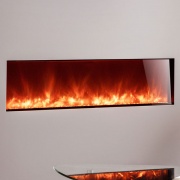 There are few things as relaxing and evocative as watching a real fire flicker away. The mix of cosy warmth and beautiful flames guarantees to make even the chilliest of days snug and comfortable. The Rayburn Stratus 125 Extra Slim has been designed to emulate the restful appeal of the real thing.
Showroom Exclusive
£1,429.00

---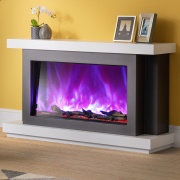 Incorporating the larger, 125-44 Stratus electric fire, this free-standing fireplace suite provides a simple way to add a stylish and contemporary focal point to almost any room. The Rayburn Stratus 125 Extra Tall Electric Fireplace Suite is finished in a striking combination of black and white.
Showroom Exclusive
£2,689.00

---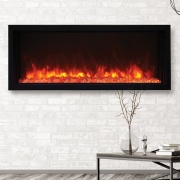 Easy to install with just a 13 amp supply, no flue or chimney is required. The Rayburn Stratus™ 75 Extra Slim will provide a striking visual centerpiece in any room. Supplied with a steel trim providing an attractive frame around the fire or alternatively, the fire can be fitted frameless in the wall.
Showroom Exclusive
£1,049.00

---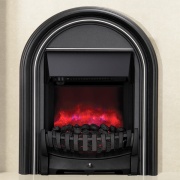 Whilst designed to be fitted into a standard, rectangle fireplace opening, the Be Modern Abbey electric fire features a beautiful, arched cast frame giving the impression of a classical cast insert. Low energy LED flame effect plus instant heat from the 2kW fan heater when needed.
Showroom Exclusive
---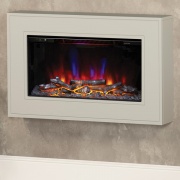 A chunky, stone effect painted frame surrounds the landscape electric fire on the Be Modern Albali to create a modern feature designed for mounting flush on the wall. No chimney or recess required making this stylish electric fire ideal for any room and a popular model for mounting below a TV.
Showroom Exclusive
---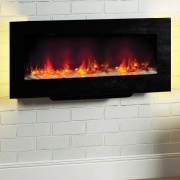 The Be Modern Amari is a stunning, LED electric fire that gives you the option to mount on to any flat wall or display it as a free-standing appliance using the plinth supplied. Panoramic low energy flame effect with ambient back lighting in a selection of colours to suit your mood.
Showroom Exclusive
---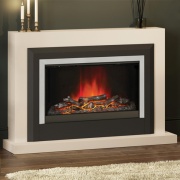 A delightful, free-standing electric fireplace painted in a striking combination of Pearlescent Cashmere & Anthracite. The Be Modern Arbour incorporates a panoramic log effect electric fire which boasts thermostatic control, up to 2kW of heat plus a flame effect only setting for the warmer months.
Showroom Exclusive
---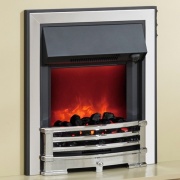 The Be Modern Aspen inset electric fire will compliment both classical and contemporary fireplaces. Supplied in chrome finish, this highly efficient electric fire features a realistic flame effect, a coal fuel bed and easy to operate controls located at the top side of the trim.
Showroom Exclusive
---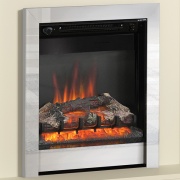 Available in two sizes, the Be Modern Athena inset electric fire provides a stylish, contemporary feature suitable to combine with virtually any fireplace surround. Realistic glowing log fuel bed with state-of-the-art LED flame technology for exceptionally long life and low energy consumption.
Showroom Exclusive
---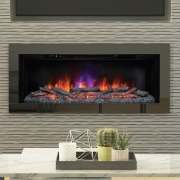 The Avella Grande is a stylish, wall-mounted electric fire by Be Modern that is designed to be inset into a wall. Sleek and contemporary, the Avella Grande is offered with a choice of Black Nickel or Matt Black 4-sided trim which frames the log effect fire beautifully. Operated by remote control.
Showroom Exclusive
---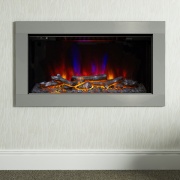 Offered with a choice of Brushed Steel or Matt Black trim, the Be Modern Avella will add a striking, modern feature to any room. An inset electric fire designed to be recessed raised up in the wall, its a popular choice for those wanting to fit a TV above or build into a custom media wall.
Showroom Exclusive
---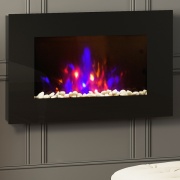 The Azonto by Be Modern is a stylish, wall-mounted electric fire designed to be simply hung on a flat wall. Supplied with 3 changeable fuel effects, the Azonto allows you to select from 7 different coloured flame effects and rear ambient lighting colours for a dramatic contrast to its black glass fascia.
Showroom Exclusive