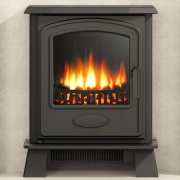 A stylish, electric 'inset' stove that designed to be fitted into fireplaces with a standard cut-out in the back panel. With a slim 69mm inset depth, the new Broseley Hereford Inset can be fitted on a flat wall fit with any 75mm rebate surround. Coal bed arrangement and distinguished flame pattern.
£749.00£979.00
---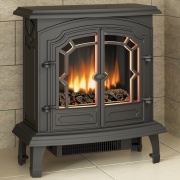 With its realistic flame effect and classical charm, the Broseley Lincoln electric stove offers instant warmth and ambience in any home. Cast iron construction, this popular appliance can be combined within a fireplace or simply used as a free-standing feature on its own.
£749.00£979.00
---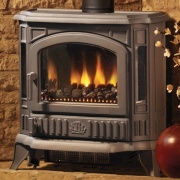 With side windows crafted into it's quality cast iron casing, you will benefit from an excellent view of the realistic flame effect no matter where you sit in the room. The Broseley Winchester electric stove will provide instant warmth and ambience in any home.
£829.00£1,075.00
---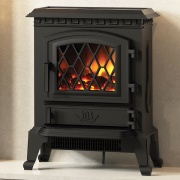 Sit the Broseley York electric stove next to it's gas or wood burning counterparts are you'll struggle to see any difference. Using the same high quality cast iron casting, it features a realistic electric engine that you can enjoy every night of the year.
£649.00£845.00
---
A classical combination of black grate with brass legs, the Burley Cottesmore 223 is a traditional basket fire with electric flicker effect plus up to 2kW of heat when needed. An ideal choice to bring any unused fireplace opening to life!
£319.00£360.00
---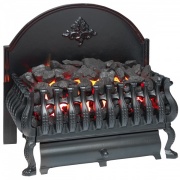 The Burley Cottesmore provides a simple way to bring any fireplace opening to life. Just plug in to a electric socket to enjoy the flickering glow effect and 1kW or 2kW heat output. The Cottesmore Cottesmore 224 has black legs and back plate ideal for classical interior settings.
£319.00£360.00
---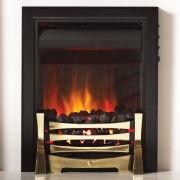 Incorporating the classic Newcross fret, the Burley Farndon range of electric fires will provide your home with a timeless centerpiece capable of offering ambience and heat. Choose from three finishes plus an optional freestanding spacer frame if you don't have adequate space to inset the fire.
£479.00
---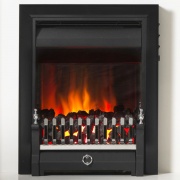 A perfect companion for most fireplace designs, the Foxton 1820 range are inset electric fires with classical fret design and featuring Burley's new highly effective 'Emberlite' flame effect which can be used with the 1.2kW fan heater on or off. Offered in a choice of colours to suit all tastes.
£479.00
---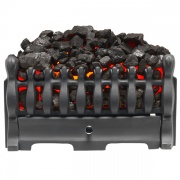 A simple solution to bring a standard 16" fireplace opening to life, the Burley Halstead 292 is a tapered electric fire basket offered inthree. The Halstead 292 is supplied with timeless Windsor fret in a choice of Black, Brass or Chrome and will bring any fireplace opening to life!
£259.00
---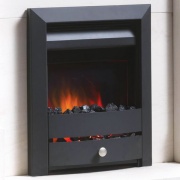 The Burley Harringworth 1874 is an inset electric fire designed to be recessed into a standard fireplace back panel opening. Featuring a sleek, modern fascia in dramatic black, this stylish fire will enhance a wide variety of fireplace styles and is packed with the very latest technology.
£579.00
---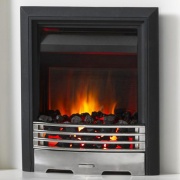 A versatile electric fire offered in a choice of colours, each offering a timeless style which will complement all fireplace types. The Burley Langton is available in two variants; the Langton 1892 and Langton 1894 utilise Burley's latest LED flame technology and provide stunning flame visuals.
£589.00
---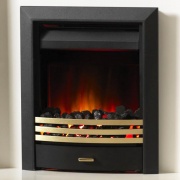 The alluring trims on the Burley Shearsby electric fire have been created to give a beautiful contrast between black and brushed steel, gunmetal and brushed steel, and black and brass. Well suited to modern fireplaces, the Shearsby features easy-to-reach top controls plus thermostat.
£579.00
---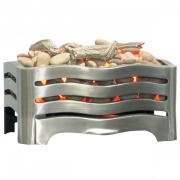 The Burley Waverley 228 is a contemporary basket finished in brushed steel that incorporates a electric fire with a stylish pebble & driftwood fuel effect. A 2kW fan heater helps to take the chill off the room whilst the flicker-effect flames can also be enjoyed without the heat.
£349.00£399.00
---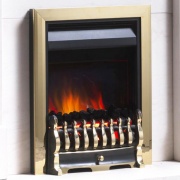 Proudly made in the United Kingdom, the Burley Welham 1830 is a classical designed that will provide a wonderful centerpiece for your fireplace. Offered in choice of Brass, Chrome or Black, this inset fire can be fitted on a flat wall when combined with a fireplace surround with a 3" rebate.
£479.00