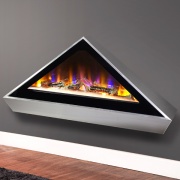 A totally unique addition to the Celsi electric fire range! The unique, eye-catching design combines straight lines with sharp angles that form its unique shape. Framed by sleek black glass inset against a brushed silver fascia, the Celsi Electriflame VR Louvre will stand out wherever it's situated!
£849.00£935.00
---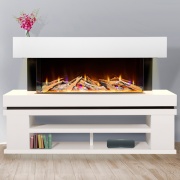 The 1100 version of Celsi's Media suite measures 1595mm (63") wide and will create a spectacular feature within any modern styled interior. The striking white finish of the suite is the ideal place to show off this innovative 3-sided electric fire. Area below the fire is ideal for media box, DVD player etc.
£2,669.00£3,145.00
---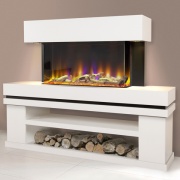 The VR Media 750 is a free-standing electric suite with a built-in twin shelf storage solution. It features integrated soft LED down-lights on the underside of mantel shelf which create a lovely effect by shining light down on to the hearth shelf. Simple 'place down & plug in' fuss-free installation!
£2,419.00£2,845.00
---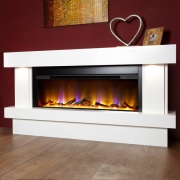 Following on from the huge success of the Ultiflame Orbital Illumia suite, Celsi have now brought out a new model which incorporates their latest 'Electriflame VR' electric fire boasting an eye catching display of beautifully colourful and lively flames. Suite available in three stylish colours.
£1,639.00£1,895.00
---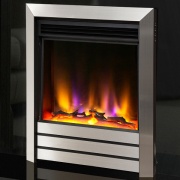 Boasting a larger viewing area than most other standard sized inset electric fires, the fabulous new Celsi Electriflame VR Parrilla is ideal for those who want to create the maximum impact in their fireplaces. Contemporary fascia frame available in a choice of satin silver or champagne finishes.
£659.00£749.00
---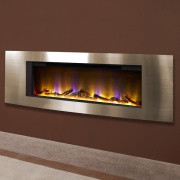 A delightful, 'hole-in-the-wall' style electric fireplace boasting the new 'Electriflame VR' engine by Celsi Fires. A stylish, curved fascia in a choice of satin silver or champagne finish provides a striking contrast to the large aspect inset electric fire. A showstopping centerpiece for modern interiors!
£1,229.00£1,399.00
---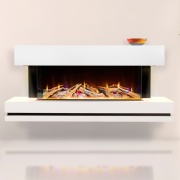 In fashionable landscape format, the gorgeous Volare suite featuring Celsi's amazing new Electricflame VR 3-sided electric fire will create a huge impact in your home. This contemporary feature fireplace can be simply hung on to a flat wall using the securing bracket supplied. Energy saving LED illumination.
£2,279.00£2,685.00
---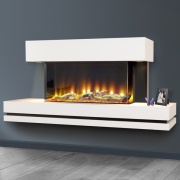 Designed to be simply hung on to a flat wall using the installation bracket supplied, the E-VR Volare electric fireplace suite includes integrated downlights on the underside of the top section which complement the stunning flame visuals provided by the highly advanced 3-sided electric fire.
£2,099.00£2,475.00
---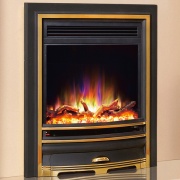 The Arcadia comprises of a premium quality, cast fascia in black with a choice of brass or silver detail. It is the perfect companion to Celsi Fires state-of-the-art LED electric fire which produces a mesmerising, smouldering flame effect plus up to 1.5W of heat when needed. Remote control as standard.
£659.00£779.00
---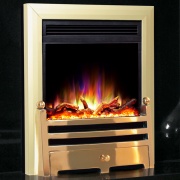 Incorporating the classical, Bauhaus fret on this state-of-the-art electric fire, it will compliment a variety of fireplace styles whilst benefiting from extremely low running costs on flame only setting. The Celsi Electriflame Bauhaus is easily fitted into any standard, 16" fireplace opening.
£459.00£535.00
---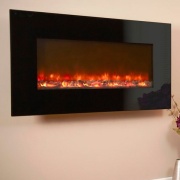 Offered with your choice of landscape black glass fascia frames in two sizes, the Celsi Electriflame Black Glass electric fire features a relaxing, smoky flame effect using energy saving LED technology. Easy to install and with a concealed fan heater ideal for giving the room an instant boost of warmth.
£529.00£615.00
---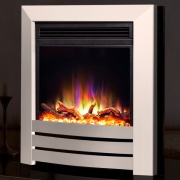 Featuring the popular 'Camber' fascia normally associated with the Kinder gas fire model, the Celsi Electriflame XD offers a simple solution to bring any modern inspired fireplace to life. Sleek design combined with a recently updated, extra deep electric flame effect created using low energy lighting.
£589.00£675.00
---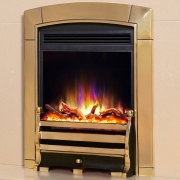 Designed for installation into a standard fireplace opening, the Celsi Electriflame Caress is a stylish, inset electric fire boasting LED flame technology and offered in a choice of finishes. They gentle, curved top creates a smart feature and operation is taken care of by remote control.
£539.00£625.00
---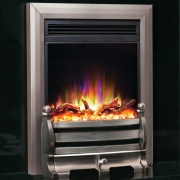 Equally suited to classical or contemporary fireplaces, the Celsi Electriflame Daisy electric fire is available in three finishes and benefits from the highly advanced, Celsi unique smouldering LED flame effect. This can be used independently of the heater and an ideal choice of a standard, 16" opening.
£459.00£535.00