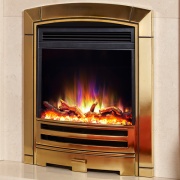 Featuring a high quality, cast trim with attractive curved top in a choice of polished brass, polished silver or black nickel. The Electriflame XD Decadence is a stylish inset electric fire with a low energy, LED effect plus new log fuel bed that will compliment a wide variety of fireplace designs.
£659.00£779.00
---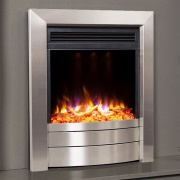 When combined with the simple, yet extremely stylish 'Essence' fascia frame, the new Celsi Electriflame XD is the ideal accompaniment for any modern designed fireplace. Available in two finishes to suit any interior, this highly advanced fire boasts LED lighting with low running costs and remote control.
£529.00£625.00
---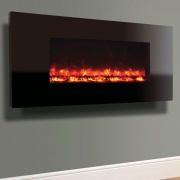 Fashionable, high-gloss black fascia combined with a state-of-the-art, LED flame effect with four brightness levels. The Celsi Electriflame Piano Black model will create a sensuous feature in virtually any room in your home and can be operated from your armchair using the remote control provided.
£669.00£789.00
---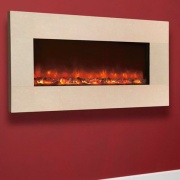 With its luxurious, landscape marble fascia in neutral, cream tones, the Celsi Electriflame Royal Botticino will compliment any colour scheme and provide your home with a sensational focal point. The panoramic flame effect is created using the latest LED technology with low running costs!
£849.00£995.00
---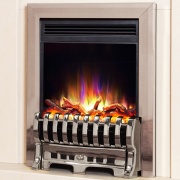 Designed for insetting into any standard fireplace opening, the Celsi Electriflame Royale is a versatile electric fire that boasts a high efficiency LED flame pattern creating a wonderful, smouldering fire effect. The updated fuel bed now features a stylish log effect for added realism.
£459.00£535.00
---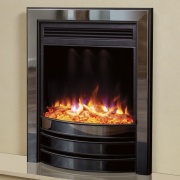 Designed for recessing into a standard fireplace back panel opening, the Celsi Electriflame XD electric fire is offered here with the extremely stylish Signature fascia in a choice of Black Nickel & Black or Satin Silver & Chrome. Improved technology ensures a stunning, high definition flame picture.
£529.00£625.00
---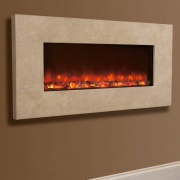 With the natural beauty of real stone, the Celsi Electriflame Travertine electric fire will work well in a variety of interior styles and boasts a sensational, smouldering fire effect that is produced using high efficiency LED lighting. Operated by remote control with manual override.
£849.00£995.00
---
Based on it's wood burning counterpart, the Celsi Arundel electric stove boasts the very latest 'Electriflame VR' real flame technology providing a stunning effect with or without the heater being used. It is also EcoDesign compliant for optimum energy saving performance and assurance.
£495.00
---
Constructed from steel and featuring a large glass viewing window with curved feature at top and bottom, the Celsi Luxima is a stylish electric stove packed with the very latest technology. Producing a sensational single or dual flame colour flame which rises from a glowing bed of crystal embers.
£595.00
---
A classic design based on the highly regarded wood burning version, the Celsi Rochester electric stove allows year round use with its highly advanced LED flame which can be enjoyed independently of the fan heater. Quality steel construction ideal for homes with or without a chimney.
£595.00
---
Money saving LED flames producing a realistic effect that can be enjoyed independently of the heater function. The new Celsi Electristove XD Glass is a stunning, contemporary designed electric stove that provides an extremely simple solution to quickly add a stylish focal point to any room.
£399.00
---
A simplistic design that allows the low running cost, smouldering flames to take centre stage! The attractive Celsi Electristove XD metal really sets the standard with innovative LED technology creating a mesmerising, 3D flame effect which can be used on its own plus a soothing fan heater when needed.
£399.00
---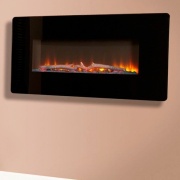 With its enchanting, smoky flame effect with authentic logs over a moulded coal fuel bed, the Celsi Flamonik Enchant offers a simple way to add a stylish and versatile feature in almost any room in your home. Additional features include colour changing fuel bed and rear ambient lighting.
£359.00£415.00
---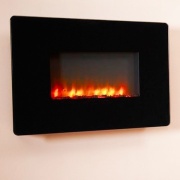 The popular combination of sleek, black glass fascia and colour changing back lighting offered at a superb price level! The Celsi Flamonik Rapture is easily fitted on to any flat wall with no inset required. Packed with features and boasting a striking, dancing flame effect and 1500W heater.
£269.00