Continuing the trend on all their stoves, the ACR Ashdale features an enormous glass viewing area which will provide a stunning, ambient feature in your home. This premium, cast iron wood burning and multi-fuel stove has a heat output of 7kW and is also available in enamel finishes.
£1,255.00
---
With a heat output of 5kW, the ACR Astwood II is perfectly suited to standard sized living spaces. This steel-bodied woodburner incorporates a large glass window to give an excellent view of the flames - perfect both both classical or modern interiors. Also suitable for burning solid fuels.
£1,099.00
---
Simple, clean lines crafted using high quality cast iron and with a retro twist making it well suited to modern interior design schemes. The ACR Birchdale is a smoke exempt, multi-fuel stove offered in classic matt black or a striking Arctic White gloss enamel finish. 5kW nominal heat output with Airwash.
£1,030.00
---
A hugely popular model in the ACR Heat Products range, the stunning Buxton II multi-fuel stove boasts clean, contemporary lines and a huge glass viewing window. With 5kW of heat it is powerful enough for most standard sized rooms and it has full DEFRA approval.
£1,115.00
---
Incorporating a convenient log store base, the ACR Earlswood 'LS' has been designed to be fitted into taller fireplace openings or as a stand alone feature. This popular, 5kW multi-fuel stove offers a excellent view of the fire through is large, ceramic glass window.
£1,080.00
---
The multi-fuel Earlswood stove is suitable for burning a range of smokeless fuel as we as wood and with the added benefit of full DEFRA approval, even homes in smoke exempt areas can enjoy this fabulous stove. 5kW heat output means the ACR Earlswood is well suited to standard room sizes.

£920.00
---
Incorporating a log store base raises the stove body resulting in the flickering flames being at eye level as well as benefiting from a convenient place to store fuel. The ACR Malvern II 'LS' offers 5kW heat output and has full, DEFRA approval for burning wood in smokeless areas.
£1,100.00
---
The ACR Malvern is a wood burning and multi-fuel stove that offers 5kW heat output and features a large viewing window for the perfect view of the alluring flames. The simple, clean lines of this steel bodied stove make it well suited to modern homes and interiors.
£935.00
---
Manufactured using robust cast iron, the ACR Oakdale features a large viewing window giving you the ultimate view of the fire bed. This is a multifuel stove capable of burning your choice of either wood and solid fuels and it is offered in a choice of colours.
£1,045.00
---
Instantly apparent with its striking, panoramic window, the ACR Rowandale will be a popular choice for anyone looking for a high quality, cast iron multi-fuel stove with generous proportions that will not normally require an air-vent fitting. 5kW heat output so ideal for standard room sizes.
£1,260.00
---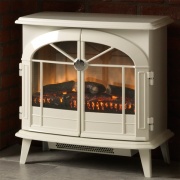 A stunning electric stove from Dimplex! The Chevalier is finished in gloss white and offers a bright alternative to the standard matt black models. Substantial in size, the Dimplex Chevalier is well suited to insetting into a inglenook space or it can be used as a free-standing feature in any home.

£419.00£580.00
---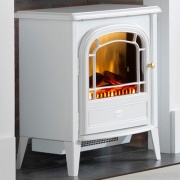 This elegant, electric stove from Dimplex is finished in a beautiful white colour making it perfect to modern room settings. Easy installation on the Dimplex Courchevel allow you to simply plug in and enjoy the Optiflame
® flame effect
and 2kW fan heater.
£269.00£345.00
---
A traditional styled stove constructed in cast iron and finished in Matt Black or Ivory Enamel. The Dovre 425 Multi-Fuel Stove boasts the style and performance that will give even larger rooms amazing warmth and ambience. As a multi-fuel model, you can burn a variety of solid fuels or logs.
£1,619.00£2,029.00
---
Ultra modern, minimalist in design combined with innovative technology. The Dovre Bold 300 is a cylindrical style wood burning stove that is perfect as a stand alone feature in any contemporary setting. Premium cast iron construction and capable of generating a nominal heat output of 7kW.
£2,539.00£3,175.00