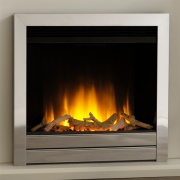 The Arlo 22 is a stunning, widescreen electric fire which is designed to be recessed into a standard fireplace back panel opening. It features Flamerite's renown Radia 3D providing a ultra realistic flame and charming glow. The Arlo 22 features a stylish fascia in a choice of Chrome, Black Nickel or Brass.
£661.00
---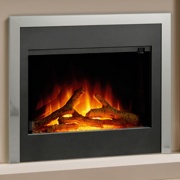 Designed to be combined within a suitable fireplace surround at hearth level, the 3 sided version of Flamerite's Atlanta electric fire combines cutting edge styling with the very latest flame technology. Available frameless or with a choice of chrome or brass 3-sided trim.
£829.00
---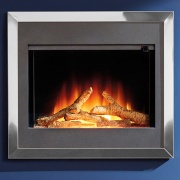 With the option of adding an optional trim in silver or brass, the Flamerite Atlanta 4 Sided electric fire has the ability to be installed inset into the wall for a modern centerpiece in any room. Choose from Flamerite's Radia or Nitra flame effect options.
£829.00
---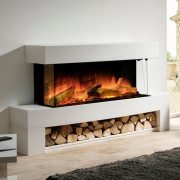 The Atlas 1000 Floor Standing Suite incorporates Flamerite's stunning Glazer 3-sided electric fire and allows for simple installation where it can be fitted against a flat wall. Boasting a wonderful, 180º flame view plus the option of colour changeable flames when opting for the cutting-edge 'Nitra' flame.
£2,214.00
---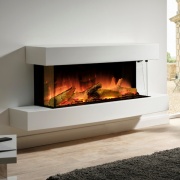 Transform any room with the wall-mounted version of Flamerite's spectacular Atlas 1000. Simply hang on a flat wall to create a gorgeous, modern focal point which provides an incredible flame view from the highly advanced 3 sided electric fire. Radia or Nitra flame effect options.
£2,146.00
---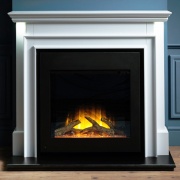 Add a characterful, classical centrepiece to your home with the new Flamerite Aubade free-standing electric fireplace suite. Simple installation on this Edwardian inspired design combined with a cutting-edge electric fire taking up most of the back panel area plus a granite effect hearth plinth.
£2,026.00
---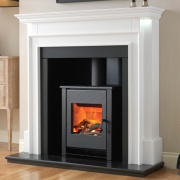 The stylish Aubade mantel from Flamerite is offered here as a complete suite with granite effect chamber and hearth plus the fashionable Little Atom electric stove. Ideal for anyone wanting the charm and character of a real woodburner but with the convenience and flame without heat of electric.
£1,754.00
---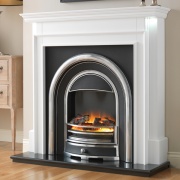 At the heart of this regal, free-standing electric fireplace suite is the magnificent Tennyson arched inset boasting an authentic flame effect and a choice of glowing coal or log fuel bed. The Flamerite Aubade surround takes inspiration from classical designs but works equally well in modern settings.
£1,754.00
---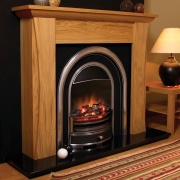 If you're looking to add a beautiful, classical inspired fireplace into you home but don't have a chimney or flue, look no further than the Flamerite Austen electric fireplace suite. This free-standing fireplace can simply be placed against any flat wall without the need to inset.
£1,728.00
---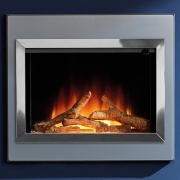 The Blazer is a modern, chic electric fire suitable for inset wall-mounting or combining within a fireplace. It is available with two attractive fascia colours and with the option to add a neat inner trim in silver or brass. No chimney needed enabling you to create a striking centerpiece in any room!
£873.00
---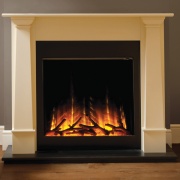 The timeless Bronte surround by Flamerite is offered here with the expansive Gotham 750 electric fire creating a stunning look. The highly authentic flames cover the majority of the back panel to create a sensational, ambient focal point for both classical and contemporary settings.
£2,014.00
---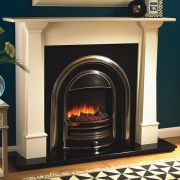 The Flamerite Bronte is a gorgeous, free-standing electric fireplace suite that combines a classic, stone-effect mantel, cast effect arched insert with realistic, LED electric flame effect and a granite effect hearth. Simple installation allow the fireplace to be fitted flush against a flat wall.
£1,728.00
---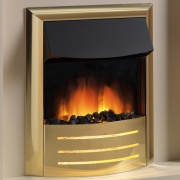 The 16" Flamerite Cisco electric fire has the benefit of being able to fitted inset into a suitable fireplace with only 50mm inset depth needed or, if purchased with the optional spacer frame, it can be fitted free-standing without the need to recess. Offered in silver, black or brass finish.
£475.00





---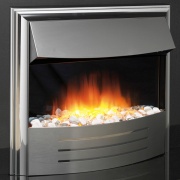 The highly innovative Flamerite Cisco 22 electric fire is based on a panoramic, 22" format yet is designed to be inset into a standard 16" fireplace opening. This allows anyone with a standard fireplace to enjoy a spectacular, widescreen feature fire without the need of a larger back panel cut out.
£618.00