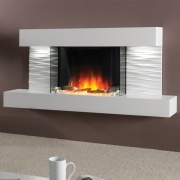 The Ador is from the contemporary range of designer electric fires from Flamerite. Offered in a selection of colours, the textured side panels to this fireplace are accentuated by the addition of two down lights hidden in the top shelf. Authentic LED flames with choice of fuel effects.
Showroom Exclusive
CALL

---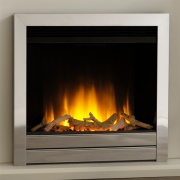 The Arlo 22 is a stunning, widescreen electric fire which is designed to be recessed into a standard fireplace back panel opening. It features Flamerite's renown Radia 3D providing a ultra realistic flame and charming glow. The Arlo 22 features a stylish fascia in a choice of Chrome, Black Nickel or Brass.
Showroom Exclusive
CALL

---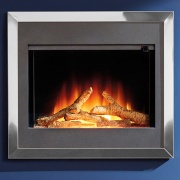 With the option of adding either a four-sided or three-sided trim in silver or brass, the Flamerite Atlanta has the ability to be installed inset into the wall or combined within a suitable fireplace surround at hearth level. This gorgeous electric fire incorporates the latest 'Radia Flame' LED flame effect.
Showroom Exclusive
CALL

---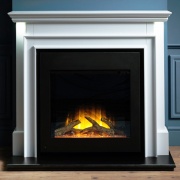 Add a characterful, classical centrepiece to your home with the new Flamerite Aubade free-standing electric fireplace suite. Simple installation on this Edwardian inspired design combined with a cutting-edge electric fire taking up most of the back panel area plus a granite effect hearth plinth.
Showroom Exclusive
CALL

---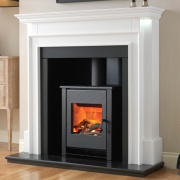 The stylish Aubade mantel from Flamerite is offered here as a complete suite with granite effect chamber and hearth plus the fashionable Little Atom electric stove. Ideal for anyone wanting the charm and character of a real woodburner but with the convenience and flame without heat of electric.
Showroom Exclusive
CALL

---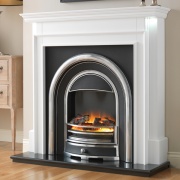 At the heart of this regal, free-standing electric fireplace suite is the magnificent Tennyson arched inset boasting an authentic flame effect and a choice of glowing coal or log fuel bed. The Flamerite Aubade surround takes inspiration from classical designs but works equally well in modern settings.
Showroom Exclusive
CALL

---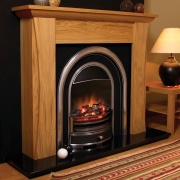 If you're looking to add a beautiful, classical inspired fireplace into you home but don't have a chimney or flue, look no further than the Flamerite Austen electric fireplace suite. This free-standing fireplace can simply be placed against any flat wall without the need to inset.
Showroom Exclusive
£1,249.00

---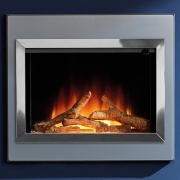 The Blazer is a modern, chic electric fire suitable for inset wall-mounting or combining within a fireplace. It is available with two attractive fascia colours and with the option to add a neat inner trim in silver or brass. No chimney needed enabling you to create a striking centerpiece in any room!
Showroom Exclusive
CALL

---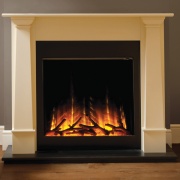 The timeless Bronte surround by Flamerite is offered here with the expansive Gotham 750 electric fire creating a stunning look. The highly authentic flames cover the majority of the back panel to create a sensational, ambient focal point for both classical and contemporary settings.
Showroom Exclusive
CALL

---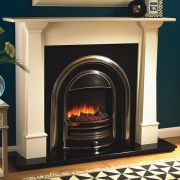 The Flamerite Bronte is a gorgeous, free-standing electric fireplace suite that combines a classic, stone-effect mantel, cast effect arched insert with realistic, LED electric flame effect and a granite effect hearth. Simple installation allow the fireplace to be fitted flush against a flat wall.
Showroom Exclusive
£1,249.00

---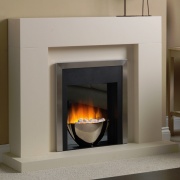 This chunky, modern electric fireplace suite has the benefit of easy installation which doesn't require any building work. Simply place the Flamerite Cadenza 2 suite against any flat wall and plug in to enjoy the unique electric fire flame effect and fan heater. Brass or silver fire bowl option.
Showroom Exclusive
£824.00

---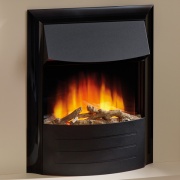 The 16" Flamerite Cisco electric fire has the benefit of being able to fitted inset into a suitable fireplace with only 50mm inset depth needed or, if purchased with the optional spacer frame, it can be fitted free-standing without the need to recess. Offered in silver, black or brass finish.
Showroom Exclusive
CALL






---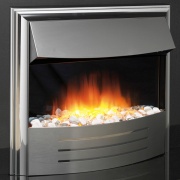 The highly innovative Flamerite Cisco 22 electric fire is based on a panoramic, 22" format yet is designed to be inset into a standard 16" fireplace opening. This allows anyone with a standard fireplace to enjoy a spectacular, widescreen feature fire without the need of a larger back panel cut out.
Showroom Exclusive
CALL

---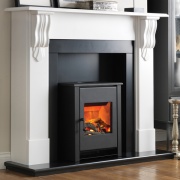 Oozing character, this complete electric suite includes the Little Atom electric stove to create a fashionable centrepiece for homes with or without a chimney. The Flamerite Corbel surround is offered in two sizes and three paint colours and is complimented by a granite effect chamber and hearth.
Showroom Exclusive
CALL