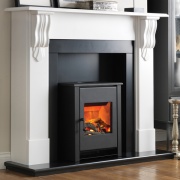 Oozing character, this complete electric suite includes the Little Atom electric stove to create a fashionable centrepiece for homes with or without a chimney. The 54" Flamerite Corbel surround is offered in three paint colours and is complimented by a granite effect chamber and hearth.
£1,774.00
---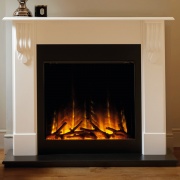 Blending classical with contemporary, the Flamerite Corbel 54" fireplace surround is offered here with the stunning Gotham 750 LED electric fire. To complete this freestanding suite is a granite effect hearth. Compatible with the new control system which allows operation via your mobile phone.
£2,014.00
---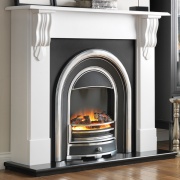 Incorporating the popular Tennyson cast effect arched insert with the Corbel surround, this beautiful free-standing electric fireplace suite will add a charming, classical feature in your home. Enjoy the flickering flames on their own and when the need arises, instant convected heat of up to 2kW.
£1,778.00
---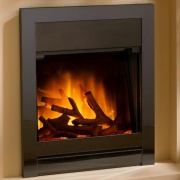 This stylish electric fire will add a modern feature to your fireplace. The Flamerite Ennio boasts the latest LED flame effect with a choice of Pebble, Coal or Cinderwood. The ultra-modern fascia can be supplied in gunmetal, silver or brass and you can choose between Radia or Nitra flame technology.
£632.00
---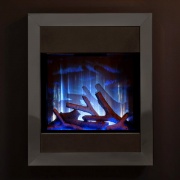 The 4-sided version of Flamerite's modern Ennio electric fire allows you to fit the fire raised up in the wall. A perfect addition to smaller wall spaces, the Ennio 4 is offered with a choice of Gunmetal, Silver or Brass trim and features an OmniGlide 2 position front glass panel.
£793.00
---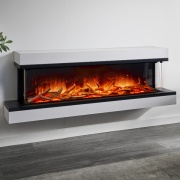 Wow! The Glazer 1500 is now available with a dedicated base and top plinth allowing you to fix against a flat wall to create a stunning feature in any room. The Exo 1500 is offered in a choice of finishes and provides a modern surround to display this highly advanced, 3-sided panoramic electric fire.
£2,622.00
---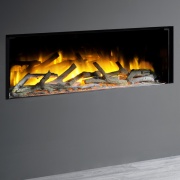 With a visible 'burn' area over 1 metre in width, the fabulous Flamerite Glazer 1000 single sided electric fire not only provides a stunning feature but has convected heat for when the temperature drops. This highly advanced fire can be operated by your phone or tablet through the dedicated app.
£1,696.00
---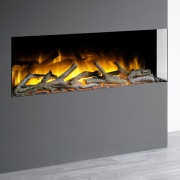 Spice up the decor of any room easily with the Flamerite Glazer 1000 2-Sided 'Corner' electric fire. With a large glass panel at the front with a visible flame area extending to 1025mm, the effect is accentuated by the addition of an interchangeable side panel providing an even greater view of the fire.
£1,696.00
---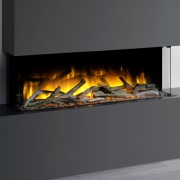 Boasting a triple aspect view of the flame effect, the fabulous Glazer 1000 3-Sided electric fire can be fitted into a custom enclosure to create a truly unique feature. Compatible with Flamerite's downloadable app allowing you to control the fire from your iOS or Android phone or tablet.
£1,696.00
---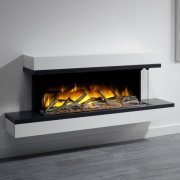 The amazing 3-sided Glazer 1000 electric fire is offered here with a complete 'flat wall' installation solution in three contemporary designs. The standard model features a wide floating hearth plinth and top plinth, there's an optional base model or a false chimney breast top section version.
£2,146.00
---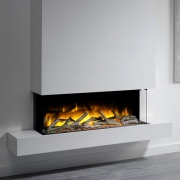 Similar to the Exo version but without the granite effect top on the hearth, the Flamerite Glazer 3-sided electric fire in the fabulous Iona suite will take centre stage in any room. A wonderful, modern addition to main living rooms, extensions, conservatories and even bedrooms!
£2,146.00
---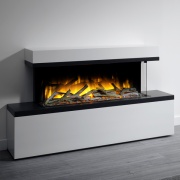 The Tropo suite by Flamerite offers you style, choice and complete versatility. This clever modular system has been designed accommodate the highly advanced Glazer 1000 3-sided electric fire by simply attaching to a flat wall. For something a little extra, an optional TV link is also available.
£2,194.00
---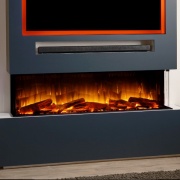 The Glazer 1300 is a great size to suit most rooms. This highly advanced electric fire is made in the UK by Flamerite and can be fitted as a 1, 2 or 3 sided appliance. With a choice of flame styles including the Nitra flame with colour changeable fuel bed and flames - the ultimate in opulence!
£2,038.00
---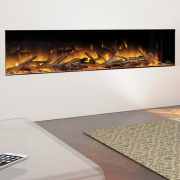 The largest model in the Glazer range of highly advanced electric fire, the Glazer 1500 1-Sided is designed to be inset into a custom opening to provide a spectacular, landscape array of dancing flames extending to 1545mm in length. Control with you phone or tablet from the comfort of you armchair.
£2,101.00