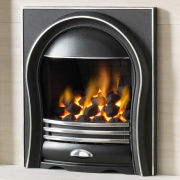 The versatile Pureglow Annabelle gas fire is available in two depth versions making it suitable for all flue types. This stylish model comprises of a open-fronted gas fire with a beautiful, horseshoe style black cast fascia with highlighted detail. Ideal for both classical or modern fireplaces.
£489.00£570.00
---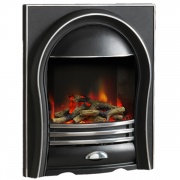 This chic, inset electric fire will provide any standard fireplace opening with a striking feature. The Pureglow Annabelle electric fire features a curved, horseshoe fascia in highlight finish and is combined with a low energy, LED 'Illusion' flame effect producing authentic, dancing flames.
£569.00£660.00
---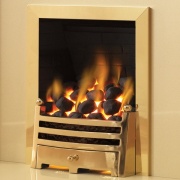 Combining the extremely popular 'Bauhaus' fret in a choice of brass or polished silver, this versatile, inset gas fire from Pureglow will be a welcome addition to both classical or contemporary fireplace designs. Offered in a choice of depth to suit all flue types with heating performance up to 3.8kW!
£465.00£538.00
---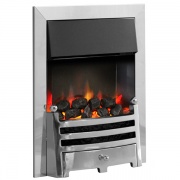 No matter what style of fireplace you have, the Pureglow Illusion Bauhaus electric fire will add a striking feature whilst boasting low running costs compared to standard flame effects. LED technology producing an authentic flame picture and when needed, a 1500W fan heater giving instant warmth.
£499.00£588.00
---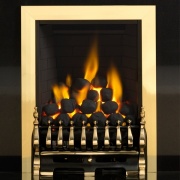 The Blenheim fire front has proved to be a popular option for gas fires for many years. Ideal for both classical or contemporary settings, it will create a stylish centrepiece to your fireplace. The Pureglow Blenheim gas fire is offered with various options including Class 1 or Class 2 depth.
£465.00£538.00
---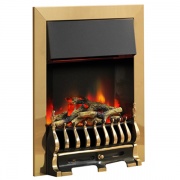 The Blenheim fire front is probably the most recognisable designs. A popular option for classical interiors when chosen in the brass finish or equally suited to contemporary installation when the chrome finish is selected. The Pureglow Blenheim Illusion electric fire features advanced LED technology.
£499.00£588.00
---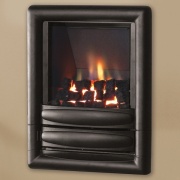 The hole-in-the-wall version of Pureglow's stunning Carmen gas fire is available in two depths and therefore suitable for all flue types including Class 2 Precast. Ideal for smaller rooms and wall spaces, this stylish model incorporates a highly desirable cast fascia in three beautiful colours.
£515.00£598.00
---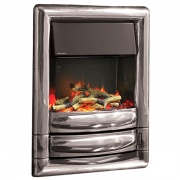 The wall-mounted version of the extremely stylish Pureglow Carmen electric fire is an ideal solution for smaller living spaces where space is at a premium. Designed for installation raised up on the wall, the Carmen 'Hole-in-the-Wall' is compact in size but still manages to create a dramatic focal point!
£629.00£742.00
---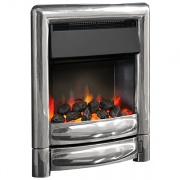 Whilst minimalist in design, the Pureglow Carmen inset electric fire will make a bold statement in any setting. Premium quality, cast construction in a selection of pure black, graphite or silver full polish finish. Offered with a choice of classic coals or authentic log fuel bed with a black steel interior.
£569.00£660.00
---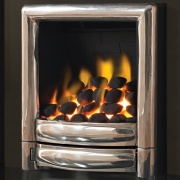 Boasting a substantial, solid cast fascia that will provide a striking feature within any fireplace, the open-fronted Pureglow Carmen Inset gas fire is a versatile model that is offered in two depths making it suitable for a variety of installations. Robust fascia offered in pure black, graphite or full polish.
£489.00£570.00
---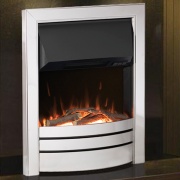 A modern, innovative electric fire designed to be combined within a standard fireplace. The Pureglow Chelsea 400 creates a stunning centerpiece with colour changeable flame and a variety of fuel effects. The Chelsea 400 is offered here with the Contemporary fascia available in 2 finishes.
£398.00£438.00
---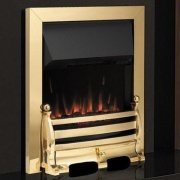 Featuring a brass trim and choice of four brass fret options, this version of Pureglow's cutting-edge Chelsea 400 electric fire will appeal to those looking for a fire to combine with more classical style fireplaces. Boasting the very latest colour changeable LED flame effects operated by remote control.
£358.00£398.00
---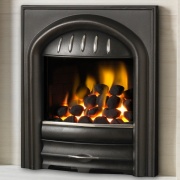 From the Pureglow Premium range of gas fires, the Chloe epitomise the balance of timeless design and intricate detail. Available in your choice of all black, highlighted or full polish finish, whatever style of fireplace you have, the Chloe gas fire will provide a striking centre-piece.
£489.00£570.00
---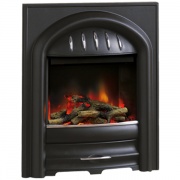 Pureglow are synonymous for their high quality, cast fascias and the Chloe electric fire features a stylish, one-piece frame that is a timeless classic. Offered in black, highlighted or full polish, this inset electric fire boasts a low energy LED flame effect which is an authentic alternative to a real flame.
£569.00£660.00