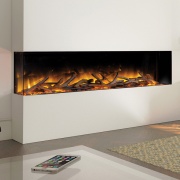 Sleek, contemporary corner electric fireplace which is ideal for building in, combined with television or furniture. For those looking to create the maximum impact, the Glazer 1500 2-Sided electric fire is the widest model in the range and boasts a beautiful flame picture and heat when required.
£2,101.00
---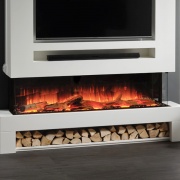 The Flamerite Glazer 1500 3-Sided is a stylish electric fire that has an impressive fire display which can be viewed from all parts of the room. The fire's unique design mean it can be hung on a flat wall allowing you to build above and beneath with a custom stud wall and plinth.
£2,101.00
---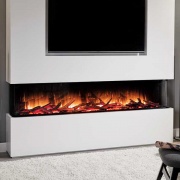 For the ultimate 'Wow' factor, the Flamerite Glazer 1800 is the largest model in this spectacular range of landscape electric fires. The Glazer 1800 can be fitted as a 1, 2 or 3 sided feature fireplace as standard and boasts OmniGlide 2 position front glass plus 'eSmart' control using your phone or tablet.
£2,742.00
---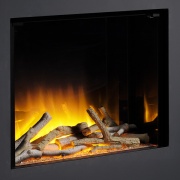 A modern, frameless inset electric fire that can be recessed into a pre-constructed opening to produce a lovely focal point for your home where the authentic flames are the main feature. Sat behind a glass panel, the flame brightness and heater can be easily adjusted to your desired setting.
£1,312.00
---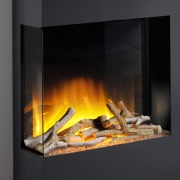 The Flamerite Glazer 600 2-Sided is a portrait sized corner electric fire boasting the very latest technology. Its impressive Cinderwood log fuel bed and flickering flame display set behind a glass panel can be viewed from 2 sides, making it a versatile fire for many locations in the home.
£1,312.00
---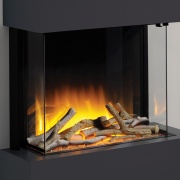 Featuring a taller firebox compared to other models in the Glazer range, the 600 3-Sided offers a wonderful 180° view of the impressive flame visuals. Create your own design using this versatile electric fire as it is designed for you to build you preferred custom stud enclosure around the appliance.
£1,312.00
---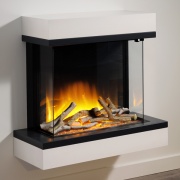 A complete solution to allow you to hang the stunning Flamerite Glazer 600 3-Sided electric fire on the wall without the need for any extra building work. The Exo suite available with the Glazer 600 is offered in two variants, one with a top shelf 140mm high, the other a full height version 1305mm.
£1,786.00
---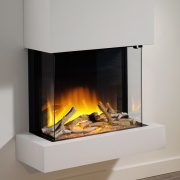 For those not wanting to carry out any extra building work to install the Glazer 600 3-sided electric fire should look at this complete solution with a choice of dedicated enclosures. The Iona suite is a pre-constucted selection of plinths and top section providing an easy way to install this amazing fire.
£1,786.00
---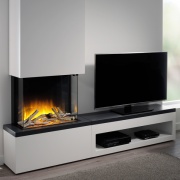 Combining the cutting-edge Glazer 600 3-sided electric fire within a fashionable furniture unit which can accommodate your television and media equipment. The Flamerite Tropo Suite boasts simple installation and provides a stylish companion for this incredible triple aspect fire.
£1,807.00
---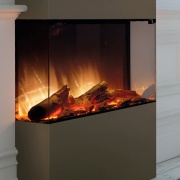 Guaranteed to bring any room to life, the Glazer 750 can be built into a custom enclosure giving you endless design possibilities. As standard, it can be fitted so you can view 1, 2 or all 3 sides of the fire and there's a choice of Flamerite's Nitra or Radia flame effect styles.
£1,612.00
---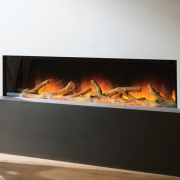 The largest model in the range of inset designer electric fires from Flamerite, the Gotham 1300 is guaranteed to make a spectacular visual focal point in any home! Minimalist in design with just the flames as the main feature, this panoramic fire boasts the very latest in Radia Flame 3D technology.
£1,897.00





---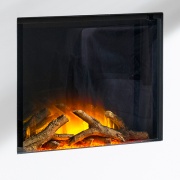 Create a simple, yet highly desirable feature in almost any room in your home with the Gotham 600 inset electric fire from Flamerite. Available as a frame-less model for a minimalist contemporary feature that let the flames become the main feature or choose the optional outer frame.
£983.00
---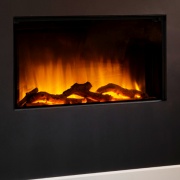 With a lower height than the standard Gotham 750, the 750S version provides a more landscape look whilst retaining the fabulous flame pattern Flamerite are renown for. This frameless, inset electric fire will allow the flames to become the main feature creating a stunning focal point.
£1,291.00
---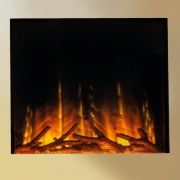 This inset, wall-mounted electric fire boasts the very latest features including a dedicated Tablet controller allowing full operation of all the fires features from the comfort of your chair. The Gotham 750T provides a taller option to the rest of the range and is also suited to combining within a fireplace.
£1,459.00