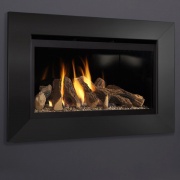 The stunning, glass-fronted Flavel Rocco gas fireplace offers incredible efficiency and heating performance combined within a stylish, wall mounted feature. Choose from a reflective silver or a dramatic black four sided trim which frames this high efficiency gas fire beautifully.
£1,189.00£1,525.00
---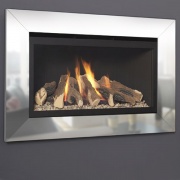 Designed to create an imposing, modern feature in properties which don't have a conventional chimney or flue, the Flavel Rocco balanced flue gas fire will provide a highly efficient heat output of up to 5.5kW and is offered with the choice of two trim colours.
£1,899.00£2,465.00
---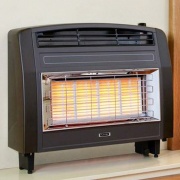 Suitable for hearth or wall mounting, the Flavel Strata is a outset gas fire with an incredible 5.2kW maximum heat output from its radiant bars. Operated by a easy to turn Electronic Top Control and available in a choice of brown, black or cream finish.
£419.00£535.00
---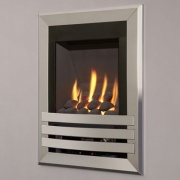 The new, wall-mounted Flavel Windsor Contemporary gas fire offers a simple solution to add a modern, hole-in-the-wall style feature in your home at a superb price. A sleek, silver 4 sided fascia frame and your choice of coal or pebble fuel effect.
£459.00£589.00
---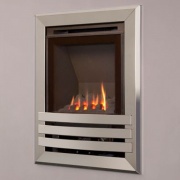 Anyone looking for a simple way to add a stylish, highly efficient centrepiece which is suitable for all flue types, look no further than the new Flavel Windsor HE wall-mounted gas fire. Slimline inset dimensions mean it is especially popular for shallow, Pre-Cast flues in modern properties.
£579.00£745.00
---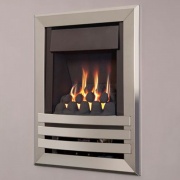 From Flavel's exclusive range of 'Plus' fires which offer improved efficiency compared to standard open-fronted gas fires, the Windsor Plus wall-mounted model will provide a stylish solution without compromising on performance. Impressive heat output of up to 4.0kW.
£519.00£669.00
---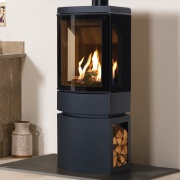 This balanced flue version of Gazco's stunning Loft gas stove is available with an extensive selection of base plinths and optional top extensions allowing to create a truly unique centrepiece for homes without a chimney or flue. There is also a wall mounted kit offered for 'floating' installations.
£2,459.00£3,079.00
---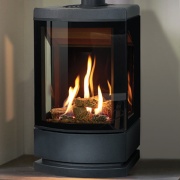 Bringing a completely new gas stove aesthetic to the Gazco line-up; the Gazco Loft gas stove striking design takes its inspiration from contemporary Nordic styles creating an impressive focal point that can be tailored to suit any interior with extensive plinth and top section options.
£2,279.00£2,849.00
---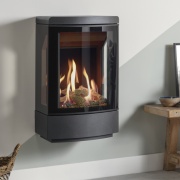 The Gazco Loft gas stove is available in a wall mounted version if you are looking for an alternative installation to the standard Loft. With its tall striking firebox, this floating installation is framed with reflective black glass, adding a striking two-tone contrast to the matt steel body.
£2,574.00£3,218.00
---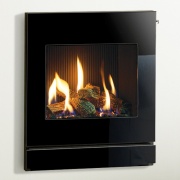 A stylish offering from Gazco, the Designio2 sleek fascia option brings a new dimension to the Logic HE balanced flue gas fire. Available in a choice of Graphite steel or Black Glass, it allows you to fit this popular fire either hearth mounted or inbuilt installations further up the wall.
£1,069.00£1,334.00
---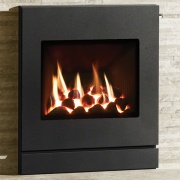 Boasting cutting edge design, this fabulous new frame available in a selection of colours including shining black glass is a stylish companion to the versatile Gazco Logic HE gas fire. The Designo2 opens up the options to the installation possibilities including wall-mounting.
£819.00£1,014.00





---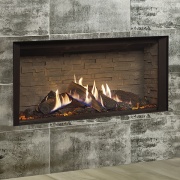 A modern, highly advanced gas fire in landscape format designed for homes without a chimney or flue. The Reflex 105 Balanced Flue 'Edge' is a frameless design that can be fitted raised up in the wall or combined within a suitable fireplace at hearth level. Remarkable heating performance and efficiency.
£4,099.00£5,145.00
---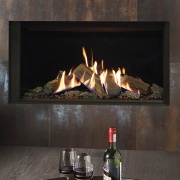 The Gazco Reflex 105 gas fire is offered here as an Edge fire for a stunning, hole-in-the-wall installation. Surrounded only by your interior décor, the Reflex 105 Edge gas fire provides the ultimate in contemporary fireside ambiance, with nothing but the expansive flame picture on show.
£3,689.00£4,619.00
---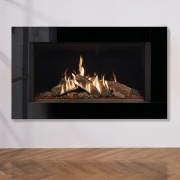 Create the ultimate centerpiece in almost any room with the fabulous Reflex 105 Balanced Flue with Icon XS fascia. The sleek, Black Glass Icon XS fascia provides a dramatic frame around this extra large, landscape feature fire. Offered with a choice of Balanced Flue kits to suit most installations.
£4,889.00£6,120.00