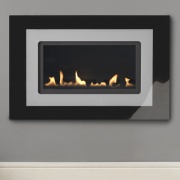 The Burley Latitude gives everyone the opportunity to enjoy a real flame fire that doesn't lose any of the heat produced up a chimney or flue. Supplied with a choice of fashionable fascia frames, the Latitude will add instant warmth and ambience in modern homes.
£999.00£1,200.00
---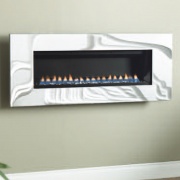 The stunning, sleek design of the Burley Longitude makes a perfect centrepiece for contemporary living areas. This highly advanced flueless gas fire is extremely slim in design which means that it can be fitted on a
flat wall without being recessed. Operated by remote control as standard.
£1,229.00£1,480.00
---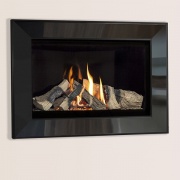 The Aleesia HE is an absolutely gorgeous, high efficiency gas fireplace that recreates the charm and character of a real log fire but with the convenience and controllability of gas. Special 'Non-Reflective' glass gives the illusion of an open flame whilst the fire boasts impressive efficiency and performance.
£2,799.00£2,945.00
---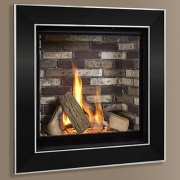 Similar to the Celena HE model in style but with a taller profile providing the ultimate in contemporary design! The Asencio from The Collection by Michael Miller performs as good as it looks and features a choice of three trim options and five striking interior panels.
£2,079.00£2,195.00
---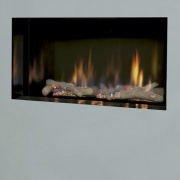 The Collection by Michael Miller Atina HE is a glass-fronted, high efficiency hole-in-the-wall gas fireplace offered as a minimalist, 'frameless' model or you can combine with an exclusive trim or fascia. It is supplied with two fuel effects giving you the option to select the best suited for your home.
£1,659.00£1,749.00
---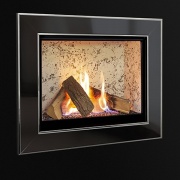 Newly updated high efficiency gas fire designed to be wall-mounted. The Celena HE will provide a stylish centerpiece to your home with perfect proportions which allow the authentic log fuel bed and flickering flames to be the main feature. Impressive 79.3% efficiency and up to 3.8kW of heat.
£1,869.00£1,970.00
---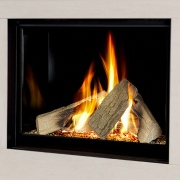 Providing a stylish alternative to a standard 16" inset gas fire, the Collection Celena HE can be fitted into a fireplace without the need for a frame around the fire. With larger proportions, the Celena will make a striking impact allowing the authentic log effect and dancing flames take center stage!
£1,699.00£1,795.00
---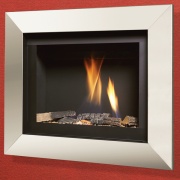 If you live in a property without a chimney or flue, the Celena balanced flue gas fire offers straight forward installation with no stud wall required to accommodate the appliance depth. With a slimline fire box, the Celena can be recessed into the cavity wall and vented horizontally outside.
£2,409.00£2,539.00
---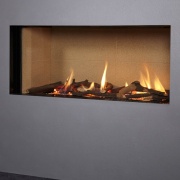 Despite it featuring a slimmer depth than the original Eden HE, the Collection by Michael Miller Eden Elite boasts a taller viewing window resulting in even more visual impact of the fantastic flame picture. Choose from black or cream interior and install as a hole-in-the-wall or combine within a fireplace.
£2,559.00£2,695.00
---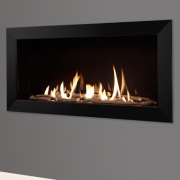 The stunning Eden Elite contemporary gas fire offered here as a slimline balanced flue model. The Eden Elite Slimline is designed to be fitted on a standard external cavity wall with no need to build a stud wall in the room!
£2,819.00£2,969.00
---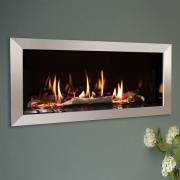 A stunning, glass-fronted hole-in-the-wall gas fireplace boasting incredible heating performance and high efficiency. The Collection Eden HE features enchanting, flickering flames operated by a state-of-the-art thermostatic remote control allowing you to maintain optimum room temperature.
£2,189.00£2,295.00
---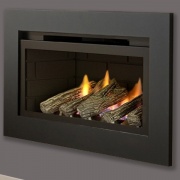 Superb performance and efficiency in a neat, modern design. The glass-fronted Crystal Boston gas fire gives you the opportunity to tailor the fuel bed, interior and trim to your personal taste to create a stylish 'hole-in-the-wall' gas fire feature ideal for fashionable modern living.
£895.00£999.00





---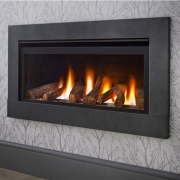 A wider option of Crystal Fires superb Boston glass-fronted, high efficiency gas fire. Offered with a wide selection of trim colours to suit any colour scheme, the 'hole-in-the-wall' Boston Wide is capable of providing up to 4.6kW of heat and is offered with manual or remote control.
£1,095.00£1,245.00
---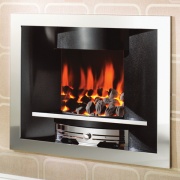 The Emerald is one of a small number of open-fronted 'hole-in-the-wall' style fireplace that has performance to match it's fashionable looks. Combing the Crystal Gem inset gas fire with a stylish outer fascia in a choice of 'Emerald' or 'Scoop' designs. Coal or Pebble effect with heat output of up to 3.88kW!
£689.00£879.00