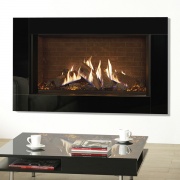 Dancing flames. A glowing ember bed. Logs that look as real as, well… the real thing. These are all the elements that make the landscape Gazco Reflex 105 so realistic, you may find it hard to believe it's a gas fire. Combined with the luxurious Icon XS frame, this is an ideal choice for contemporary living.
£4,469.00£5,594.00
---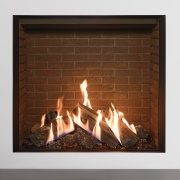 The Balanced Flue version of Gazco's spectacular Reflex 75T is designed to be fitted in properties where no chimney is present. A choice of balanced flue kits allow you to vent the fire horizontally through an external wall or up through a single storey roof. Superb heating performance of up to 8.3kW!
£3,719.00£4,649.00
---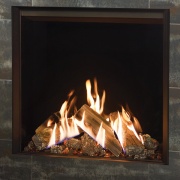 The Reflex 75T is Gazco's premier, high efficiency gas fire boasting truly incredible flame visuals. Three dynamic features create extraordinary levels of realism meticulously crafted to mimic a real woodburning fire. The Reflex 75T Edge can be recessed in the wall or combined within a suitable fireplace.
£3,319.00£4,149.00
---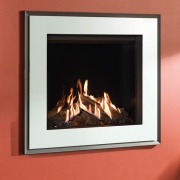 The Reflex 75T Balanced Flue combined with the stunning Evoke Glass fascia is guaranteed to become the main focal point within any setting. Offered in a choice of Black or White glass set in front of a Graphite rear trim. Non-reflective glass on this model provides a spectacular view of the flames.
£4,679.00£5,858.00
---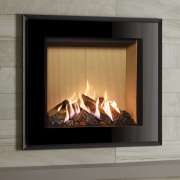 For an eye-catching finish to the Reflex 75T gas fire, the Evoke Glass frame layers different materials for a sophisticated look. This frame gives a certain presence to the fire, making it a great addition to the room. Available in Black or White glass with graphite rear outer frame.
£4,279.00£5,358.00
---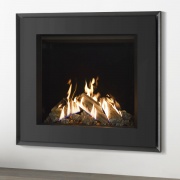 The Evoke Steel fascia is a stunning, two-part design that blends expertly into today's modern interiors. The front face of this frame comes in a stylish Graphite finish & the attractive bevelled rear is left in Graphite to perfectly complement the incredible flame visuals on the Reflex 75T Balanced Flue.
£4,229.00£5,294.00
---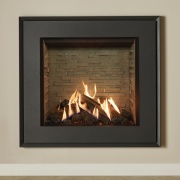 Prominence and definition make the Evoke Steel a natural choice for creating additional presence. Finished in Graphite, this modern fascia frames the Gazco Reflex 75T beautifully and creates a piece of art for your wall which create warmth and ambience whenever needed!
£3,829.00£4,794.00
---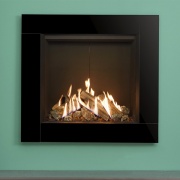 A frame with real impact, the Gazco Reflex 75T Icon XS balanced flue has been created to make a bold style statement with its sleek, black reflective surfaces and a chic geometric design. At home in both modern and more traditionally styled interiors, the Icon XS frame will add a touch of grandeur.
£4,459.00£5,578.00
---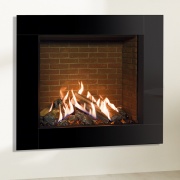 The Icon XS frame adds a luxurious, contemporary finish to the Gazco Reflex 75T, surrounding the fire with highly reflective black glass. Contrasting starkly with the glow of the flames, this frame choice enhances any interior with its chic, minimalist styling. A 'WOW' factor for any modern interior!
£4,059.00£5,078.00
---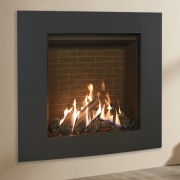 Adding a contemporary style statement to almost any room, the Reflex 75T Balanced Flue with Verve XS fascia is capable of providing up to 8.3kW of heat whilst boasting an incredible energy efficiency rating of 92%! Gorgeous, modern subtle curves and finished in a striking Graphite colour.
£4,089.00£5,118.00
---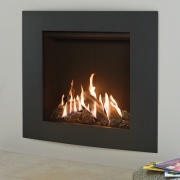 When combined with the striking Verve XS fascia, the Gazco Reflex 75T conventional flue gas fire will provide a spectacular 'hole-in-the-wall' style feature within your home. Finished in graphite, this contemporary, curved fascia provides a wonderful frame around this cutting-edge gas fire.
£3,689.00£4,618.00
---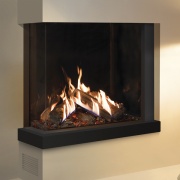 The elegantly and contemporary Gazco Reflex 75T-2 allows for a beautifully bespoke fireplace. It is designed for corner installations and can be selected in either right or left corner versions to suit your home. Create a designer fireplace that will become the heart of your home!
£4,099.00£5,145.00
---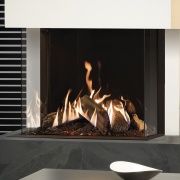 The 75T-3's panaromic display offers stunning views from any angle, with three sides showing the deep log composition and dancing flames. A powerful and efficient gas fire boasting an unparalleled view of the stunning flame visuals, which can be viewed from almost anywhere in the room.
£4,219.00£5,285.00
---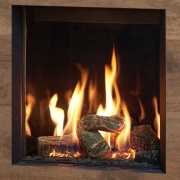 The most compact model in Gazco's range of Riva2 high efficiency gas fires, the Riva2 400 Edge offers the chance to add a stylish feature as either a minimalist hole-in-the-wall on its own or combined within a suitable fireplace surround. Glass-fronted with an authentic log effect fuel bed.
£1,349.00£1,689.00