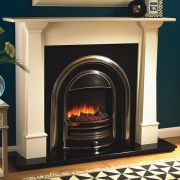 The Flamerite Bronte is a gorgeous, free-standing electric fireplace suite that combines a classic, stone-effect mantel, cast effect arched insert with realistic, LED electric flame effect and a granite effect hearth. Simple installation allow the fireplace to be fitted flush against a flat wall.
£1,728.00
---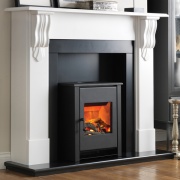 Oozing character, this complete electric suite includes the Little Atom electric stove to create a fashionable centrepiece for homes with or without a chimney. The 54" Flamerite Corbel surround is offered in three paint colours and is complimented by a granite effect chamber and hearth.
£1,774.00
---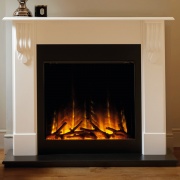 Blending classical with contemporary, the Flamerite Corbel 54" fireplace surround is offered here with the stunning Gotham 750 LED electric fire. To complete this freestanding suite is a granite effect hearth. Compatible with the new control system which allows operation via your mobile phone.
£2,014.00
---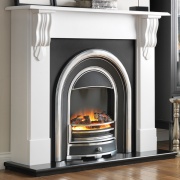 Incorporating the popular Tennyson cast effect arched insert with the Corbel surround, this beautiful free-standing electric fireplace suite will add a charming, classical feature in your home. Enjoy the flickering flames on their own and when the need arises, instant convected heat of up to 2kW.
£1,778.00
---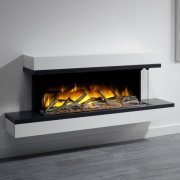 The amazing 3-sided Glazer 1000 electric fire is offered here with a complete 'flat wall' installation solution in three contemporary designs. The standard model features a wide floating hearth plinth and top plinth, there's an optional base model or a false chimney breast top section version.
£2,146.00
---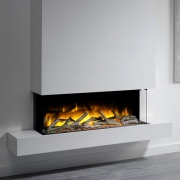 Similar to the Exo version but without the granite effect top on the hearth, the Flamerite Glazer 3-sided electric fire in the fabulous Iona suite will take centre stage in any room. A wonderful, modern addition to main living rooms, extensions, conservatories and even bedrooms!
£2,146.00
---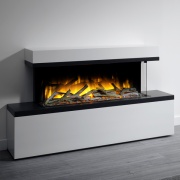 The Tropo suite by Flamerite offers you style, choice and complete versatility. This clever modular system has been designed accommodate the highly advanced Glazer 1000 3-sided electric fire by simply attaching to a flat wall. For something a little extra, an optional TV link is also available.
£2,194.00
---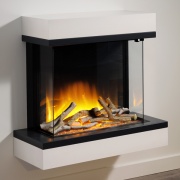 A complete solution to allow you to hang the stunning Flamerite Glazer 600 3-Sided electric fire on the wall without the need for any extra building work. The Exo suite available with the Glazer 600 is offered in two variants, one with a top shelf 140mm high, the other a full height version 1305mm.
£1,786.00
---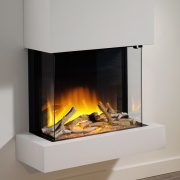 For those not wanting to carry out any extra building work to install the Glazer 600 3-sided electric fire should look at this complete solution with a choice of dedicated enclosures. The Iona suite is a pre-constucted selection of plinths and top section providing an easy way to install this amazing fire.
£1,786.00
---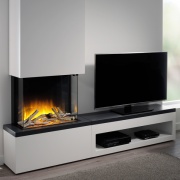 Combining the cutting-edge Glazer 600 3-sided electric fire within a fashionable furniture unit which can accommodate your television and media equipment. The Flamerite Tropo Suite boasts simple installation and provides a stylish companion for this incredible triple aspect fire.
£1,807.00
---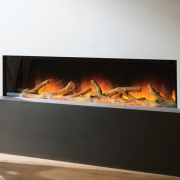 The largest model in the range of inset designer electric fires from Flamerite, the Gotham 1300 is guaranteed to make a spectacular visual focal point in any home! Minimalist in design with just the flames as the main feature, this panoramic fire boasts the very latest in Radia Flame 3D technology.
£1,897.00





---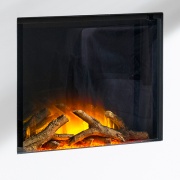 Create a simple, yet highly desirable feature in almost any room in your home with the Gotham 600 inset electric fire from Flamerite. Available as a frame-less model for a minimalist contemporary feature that let the flames become the main feature or choose the optional outer frame.
£983.00
---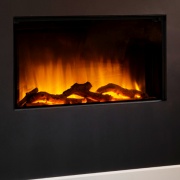 With a lower height than the standard Gotham 750, the 750S version provides a more landscape look whilst retaining the fabulous flame pattern Flamerite are renown for. This frameless, inset electric fire will allow the flames to become the main feature creating a stunning focal point.
£1,291.00
---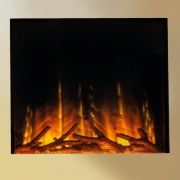 This inset, wall-mounted electric fire boasts the very latest features including a dedicated Tablet controller allowing full operation of all the fires features from the comfort of your chair. The Gotham 750T provides a taller option to the rest of the range and is also suited to combining within a fireplace.
£1,459.00