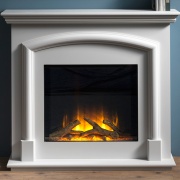 This alluring electric suite features a glorious curve across the chest which extends down each side and frames the glass-fronted electric fire beautifully. Offered in smooth or textured finish and with 3 stylish paint colours, the Manhattan will appeal to both classical and contemporary tastes.
£1,541.00
---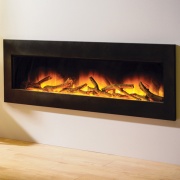 Incorporating a cleverly concealed heater capable of providing up to 1500W of convected heat, the OmniGlide 1300 not only offers an astonishing feature but will offer warmth whenever needed. A panoramic expanse of flickering, LED illuminated flames dance over an authentic Cinderwood fuel bed.
£1,908.00
---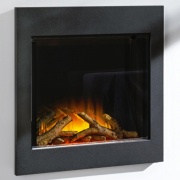 The OmniGlide 600 is a stylish inset electric fire designed for wall-mounting. Featuring Flamerite's unique 'OmniGlide' 2 position front glass panel which allows you to tilt the glass back giving the LED flames even more realism. Available frame-less or with either a dedicated silver or brass trim.
£1,110.00
---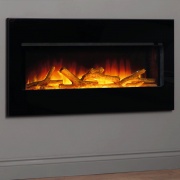 A wide, landscape 'hole-in-the-wall' style electric fire benefiting from Flamerite's innovative flame technology. The OmniGlide 900 is offered with a choice of four attractive fascia finishes plus two fuel effects and features the OmniGlide 2 position glass panel which accentuates the authentic effect.
£1,259.00
---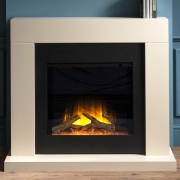 Boasting simple installation with no chimney or flue needed. The Flamerite Payton incorporates a highly advanced electric fire using LED illumination and OmniGlide glass front panel to produce a mesmerising flame picture. Smooth or textured paint finish in a choice of three colours.
£1,429.00
---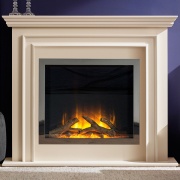 Classical in design and incorporating a large aspect, Cinderwood log effect electric fire set behind a glass panel with OmniGlide capability. The Princeton offers an easy solution to add a charming feature to almost any room in your home. Choose from 3 colours in smooth or textured finish.
£1,541.00
---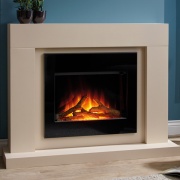 Offered in a choice of three stylish colours and with the option of selecting two striking fascia options on the fire, the Flamerite Reverie allows you to create a individual focal point for your home. Free-standing and requiring no chimney or flue, this gorgeous fireplace can be fitted almost anywhere!
£1,369.00
---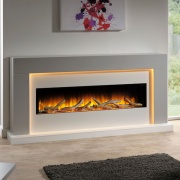 Low, wide and incorporating a state-of-the-art, panoramic electric fire with a choice of two amazing flame effects. The Flamerite Sholus fireplace suite has an overall width of 1885mm (74¼") and features a multi-colour ambient lit back panel. The Sholus is ideal for those who plan to fit a TV above.
£2,704.00
---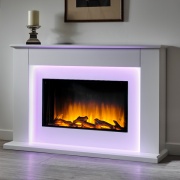 A gorgeous, modern fireplace suite featuring colour changeable back panel illumination which enhances the contemporary looks. The Flamerite Telisa incorporates the Gothom 750S electric fire at the heart of the design providing wonderful flame visuals.
£1,950.00
---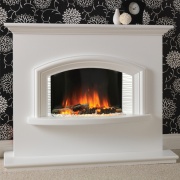 A lovely free-standing fireplace suite with attractive arched section at the front with curved plinth displaying the realistic 'Radia' or Flamerite's latest colour changeable 'Nitra' flame. The Flamerite Valentino can be operated by using you mobile phone or tablet in addition to the manual controls.
£1,285.00
---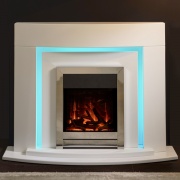 In addition to the glorious flame effect provided by the Ennio fire, the Flamerite Virtue suite features a multi-colour ambient lit floating back panel feature which creates a contemporary effect allowing you to select from a wide range of dazzling colours. Free-standing suite designed for flat wall fix.
£1,402.00
---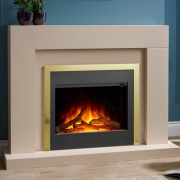 The Votary suite comprises of a simple 'goalpost' style surround with matching back panel and boxed hearth and includes the popular Atlanta 3 wide aspect electric fire with a choice of brass or silver trim. Allowing for simple, free-standing installation making it ideal for virtually any room.
£1,369.00
---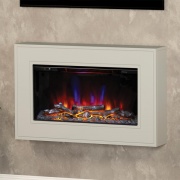 A painted frame in Stone or Anthracite surrounds the landscape electric fire on the FLARE Albali to create a modern feature designed for mounting flush on the wall. No chimney or recess required making this stylish electric fire ideal for any room and a popular model for mounting below a TV.
£549.00£729.00
---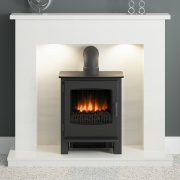 A wonderful, marble fireplace suite with choice of back panel which is especially designed to accommodate an electric stove to create a gorgeous 'Inglenook' feature capable of installing on to a flat wall. The FLARE Collection Allensford is made in the UK and includes ambient downlights.
£769.00£949.00