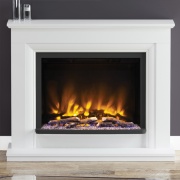 The Arana is a timber, free-standing electric fireplace suite painted in a stylish Ash White finish. Boasting flat wall installation, the Elgin & Hall Arana incorporates the revolutionary, widescreen Pryzm electric fire for the ultimate in mesmerising flame performance.
£1,119.00
---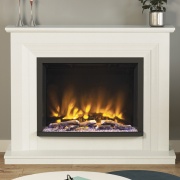 A premium quality, marble fireplace suite featuring the incredible Pryzm panoramic electric fire with multi–LED effect fuel bed with 13 colour options and rotation setting. The Cabrina will suit a variety of interiors and being electric, does not require a chimney and can be fitted against a flat wall.
£1,649.00
---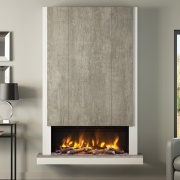 The Camino is a stunning concept from Elgin & Hall. A complete chimney breast incorporating the amazing 'Pryzm' electric fire which can be hung on a flat wall to create a spectacular feature in any room. Painted in Ash White with Vintage Oak Grey or Chicago Concrete effect fascia panel.
£1,539.00
---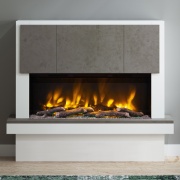 A floor standing version of its counterpart the Camino, the lower stance of the Elgin & Hall Caselli provides the perfect area to house your television or prized artwork to your wall above. Ash White finish with a choice of Chicago Concrete or Vintage Oak Grey fascia panel and hearth shelf top.
£1,264.00
---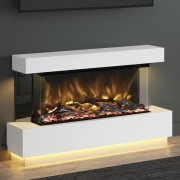 Designed to be fitted against a flat wall, the sensational Evento 54 from Elgin & Hall features their cutting-edge Arteon 3-sided electric fire with Pryzm LED flame technology. It also incorporates LED colour changeable mood lighting under the hearth plinth which work off the same remote control handset.
£1,999.00
---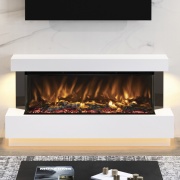 Create a stunning, contemporary feature in any room with the Evento 64 fireplace suite featuring the highly advanced 3-sided Arteon Pryzm electric fire. The largest model in the range which boasts incredible flame visuals on the fire plus extra LED mood lighting operated by the same remote.
£2,299.00
---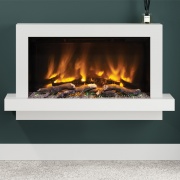 Fitting comfortably against any flat wall, installation is quick and simple on the Huxton 41" suite with innovative Pryzm electric fire. Stability and support is supplied with an easy fit bracket which will be fitted to your wall, ruling out the need for messy building work - A style statement for any room!
£969.00
---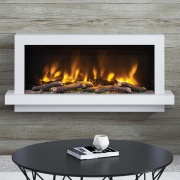 The 51" Pryzm Huxton designer wall-mounted suite is enrobed in a choice of striking Ash White painted finish or an attractive combination of Matt Cashmere & Anthracite. A sleek, wall-hung electric fireplace suite that will enhance any room with its spectacular Pryzm 5D flame.
£1,058.00
---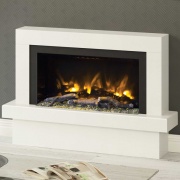 The Pryzm Impero 47" is the aspirational addition to your home that you've been waiting for! A floor standing marble electric fireplace suite complete with plinth which incorporates a landscape electric fire which celebrates contemporary design and embraces advanced LED technology.
£1,469.00
---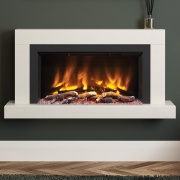 An exquisite, white marble fireplace suite that floats above your floor. The Pryzm Impero 47" wall-mounted electric suite is a stunning, modern fireplace that does not need a chimney, flue or recess. Simply hung on a flat wall, this contemporary design will add style and ambience to any room in your home.
£1,398.00
---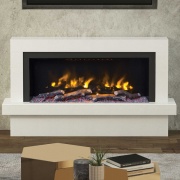 An industry first in electric fire innovation, the Pryzm Impero 57" lives up to the reputation that proceeds it. Elgin & Hall have a patent filed to protect their unique 5D flame effect which delivers a realism which will amaze. Durable and luxurious, the micro marble is hand finished to perfection.
£1,598.00
---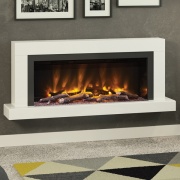 Designed with energy efficiency in mind, the wall mounted Impero 57" features a daily pre-program function ensures maximum results when needed most, with no wastage. This luxurious, marble fireplace conveniently hangs on any flat wall, with no need for a chimney breast or flue.
£1,494.00
---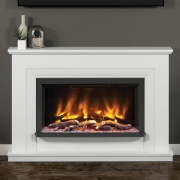 The panoramic screen of the floor-standing Elgin & Hall Lavina stretches across the width of the surround to showcase the 5D flame performance which is created using highly advanced LED technology. Versatility and beauty combine to offer the ultimate centerpiece for your home.
£1,019.00
---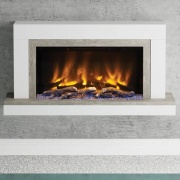 Ideal for compact living spaces, the 47" Vardo suite with Pryzm electric fire will fill your home with comforting heat, in an instant. Offered in a choice of two stylish colour combinations, this cutting-edge fireplace delivers a bold statement that demands visual attention.
£1,129.00