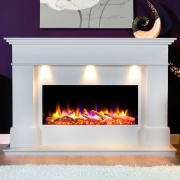 Offered in a choice of three finishes, this beautiful freestanding fireplace suite can be fitted in virtually any room with no chimney or recess needed. The Ultiflame VR Adour Elite Illumia Suite will transform any space with its spectacular flame visuals, innovative technology and timeless design.
£1,490.00
---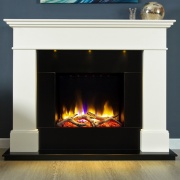 The gorgeous, free-standing fireplace surround on the Ultiflame VR Adour Illumia is offered in a choice of three attractive smooth finishes that provide a striking contrast to the black painted back panel and hearth. The centrepiece of this suite is Celsi's 22 inch Ultiflame electric fire.
£1,279.00
---
Another model from the premium range of natural limestone electric fireplace suites from Celsi, the Ultiflame VR Angelo mixes the opulence of natural Portuguese stone with the highly advanced technology in this brand new 22" electric fire with a 'Virtual Reality' 3 dimensional flame picture.
CALL
---
The Asencio suite is crafted from beautiful Portuguese Limestone with Celsi's superb Ultiflame VR frameless electric fire at the heart of the design. This glass-fronted electric fire boasts incredible realism with two flame colours and LED flame brightness control.
CALL
---
Incorporating the larger, 33" version of Celsi's amazing Ultiflame VR inset electric fire, the Avignon Elite suite combines cutting-edge styling with the latest technology to produce a truly spectacular flame effect. Crafted from opulent Portuguese limestone and available in two sizes.
CALL
---
A lovely addition to either classical or contemporary homes, the Ultiflame VR Boticelli Suite is crafted from premium quality Portuguese Limestone and features the latest, innovative electric fire from Celsi which boasts incredible realism using low cost LED illumination with flame effect only setting.
CALL
---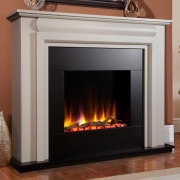 Another stylish free-standing electric fireplace suite from Celsi, the Ultiflame VR Callisto combines a classical inspired surround in a modern Smooth Mist finish with a granite effect back panel & hearth. At the heart is the innovative, wide format 22" Ultiflame VR LED electric fire with stunning flame picture.
£1,175.00
---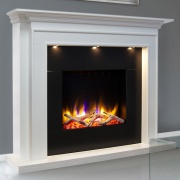 Whilst the fireplace surround on the Canelo electric fireplace suite takes inspiration from classical designs, being paired with a black back panel and under mantel lighting, it means this attractive design will complement more modern interiors. At the heart is Celsi's incredible Celena 22" electric fire.
£1,475.00
---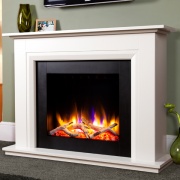 Whether you prefer classical or contemporary, the spectacular Celsi Ultiflame VR Elara Suite offers a easy solution to add a beautiful centrepiece in your home. This free-standing 'one-box' unit can simply be placed against a flat wall for instant ambience and heat whenever needed!
£1,175.00
---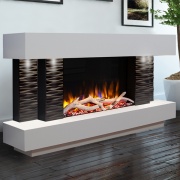 A gorgeous, contemporary electric fireplace that incorporates the hugely popular Ultiflame VR Celena electric fire. The Celsi Gemma 600 is a freestanding suite which is easy to install and will enhance any interior. Its low proportions lends itself to being ideal for installation below a TV.
£1,359.00
---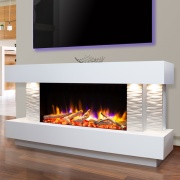 A stunning addition to any modern home, the Celsi Gemma 800 has a width of 1466mm (57¾") and will become the major focal point within the room. In addition to the dazzling flames provided by the highly advanced electric fire, there's also downlights fitted on the surround for extra ambience!
£1,519.00
---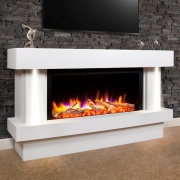 Looking to add a stylish, modern focal point into virtually any room of your home? The Orbital Illumia is a free-standing contemporary fireplace suite from Celsi that incorporates the latest 'Ultiflame VR' electric flame technology. Offered in three finishes with ceramic log fuel effect.
£1,549.00





---
A simple fireplace suite that shows the opulent qualities of natural Portuguese Limestone in all its glory! The Celsi Ultiflame Pablo suite also provides the perfect companion for the wide aspect Ultiflame VR electric fire. Simple installation allowing you to create a spectacular feature in any home.
CALL
---
Crafted the finest quality Portuguese Limestone with lovely, neutral tones and a modern chalky finish, the Celsi Ultiflame VR Parada Elite Illumia will appeal to those who are looking for the pinnacle in contemporary electric suite design. Available in two sizes with remote control operation.
CALL